Stäubli is a mechatronics solutions provider with three dedicated activities: Connectors, Robotics and Textile. With a global workforce of over 4,500, the company generates annual turnover of 1.1 billion Swiss francs. Originally founded in 1892, today Stäubli is an international group headquartered in Pfäffikon, Switzerland.
Stäubli Anniversary: Quality and Innovation as a driving force for 125 years
Jan Abel | Stäubli
In 1892, a company was founded in a small workshop that developed into a leading industrial partner for high-quality mechatronic solutions and technologies in three dedicated activities: Connectors, Robotics and Textile. In 2017, the Stäubli Group celebrates its 125th anniversary. In order to appropriately underline this special event, the Stäubli Group, featuring business units in 29 countries, is celebrating under the motto "125 years of passion for innovation."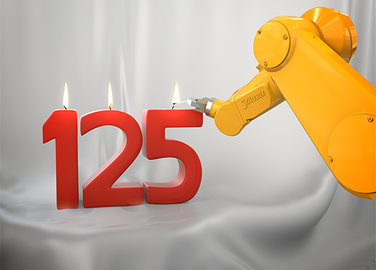 Two family threads interwove at the end of the 19th century at the height of the Swiss textile industry: Rudolph Schelling and Hermann Stäubli showed commercial instinct and technical skill in 1892 when they founded the company "Schelling & Stäubli" in the Swiss village of Horgen on the shores of Lake Zurich. Ever since, the company has evolved from a "mechanical workshop" to an international mechatronics group, which today is appreciated by industrial customers worldwide for its cutting-edge technologies.
Thinking ahead of its time
The developments in the past 125 years attest to continuity and passion for innovation, which is the foundation of the company. Fittingly, "125 years of passion for innovation," has become the motto for the anniversary year 2017. Modern, technological advancements and visionary ideas have formed a company that is able to work as successfully in the new millennium as it did at the end of the 19th century.
"Passionate inventing and the highest demand for quality, coupled with reliability, customer focus and a strategy based on long-term commitments are values that have been passed on in the Stäubli family for generations, with the goal to be able to hand a modern and healthy company over to successive generations," says Rolf Strebel, CEO of the Stäubli Group. "This includes acting in an environmentally and economically sustainable manner, as well as always thinking ahead technologically, tobe able to provide value-added solutions to our customers."
From dobbies to collaborative robots
In the late 19th century, the textile industry had its heyday. Stäubli became an important supplier in the weaving trade with a focus on dobbies. Hermann Stäubli acquired his know-how first by repairing imported machines. He soon set a goal to produce a superior product. His demand: the highest quality and a pronounced customer focus. He wanted no less than to construct the best dobbies, with which weaving mills would achieve optimal results. Even at that time, Stäubli had high requirements with regard to efficient production, allowing customers to produce more fabrics at lower cost, with better quality and with a greater variety of patterns. In 1893, "Schelling & Stäubli" delivered their first self-constructed and designed dobby. In 1900, another new development resulted in the first paper card dobby, which was also equipped with a warp leasing system still widely used today. Following the death of Rudolph Schelling in 1909, the company was renamed Stäubli.
First connectors, then robots
After decades as a technological pioneer and reliable partner of the weaving industry, Stäubli expanded its expertise in 1956 into quick-connection solutions.
"With the start of production of connectors, the Stäubli family took the far-reaching decision to transfer its competencies into additional fields of activity, laying the cornerstone of the company as it is today," says Strebel.
Ever since, Stäubli has been looking for possibilities to develop future-oriented technologies, to further simplify the industrial processes of customers, and enhance their safety. Therefore, it was only consistent to enhance the Stäubli portfolio with electrical connectors in 2002.
Another important diversification step was taken in 1982, when Stäubli started its collaboration with the U.S. robotics pioneer Unimation. The acquisition of Unimation in 1989 has been the foundation of Stäubli's Robotics division, which today is one of the world's leading players in industrial robotics and automation.
Constantly improve and further develop, in all areas
"A spirit of innovation has defined our company since the beginning; it is rooted deeply in the nature of Stäubli," says Strebel. "It is the reason why we constantly develop new solutions which add value for our customers. But also the spirit of cohesion amongst our staff around the globe, the curiosity and the awareness about the philosophy of continuous improvement are decisive for our long-term success. This is our motivation: to improve – on a human, professional and technical level, to be just as successful in the next 125 years."
Geographical spread and portfolio expansion
Since 1892, the Stäubli Group has grown substantially, both technologically and geographically. In 1909 Stäubli built its first production unit in France, followed by additional production sites in other European countries as well as in the Americas and China. Today the Group has 12 production units and business units in 29 countries. In the age of digital transformation and Industry 4.0, Stäubli continues on its dynamic path as a technological pioneer for the collaboration of man and machine in one of the most advanced and most innovative branches of the industry.
Stäubli – 125 years of passion for innovation
Stäubli is a mechatronics solutions provider with three dedicated activities: Connectors, Robotics and Textile. With a global workforce of over 4,500, the company generates annual turnover of 1.1 billion Swiss francs. Originally founded in 1892, today Stäubli is an international group headquartered in Pfäffikon, Switzerland.
The content & opinions in this article are the author's and do not necessarily represent the views of RoboticsTomorrow

Staubli Corporation
Stäubli is a leading manufacturer of textile machinery, quick release couplings and robotics systems. With a workforce of over 4500 employees Stäubli is present in 25 countries supported by a comprehensive distribution network in 50 countries worldwide. Stäubli's North American headquarters is located in Duncan, South Carolina and has over 200 employees supporting Textile, Connectors and Robotics customers, with a dynamic sales force strategically placed on the West Coast, Canada, Mexico, and elsewhere throughout the continent.
Other Articles
When you visit us at booth 3323 , you will be able to experience a live demo of our robotic tool changer system, as well as live presentations throughout each day.
Last month, Stäubli introduced 5 new models of tool changers to round out our MPS product line. These new models open up much of the smaller payload robots to using tool changers.
"Stäubli's vision for the factory of the future is built on interconnected devices that operate collaboratively with humans to improve efficiency and the quality of goods," said Sebastien Schmitt, Robotics Division Mgr of Stäubli NA." Booth #4524
---
Comments (0)
This post does not have any comments. Be the first to leave a comment below.
---
Post A Comment
You must be logged in before you can post a comment. Login now.
Featured Product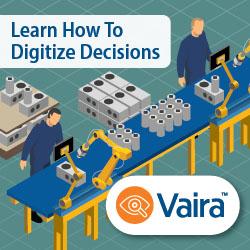 Pleora's Visual Inspection System helps operators detect errors and defects for unique component types, assembly steps, and custom low-run products where automated optical inspection (AOI) is too complex and expensive. The system helps DICA Electronics: Avoid costly, errors as a result of detecting errors at different phases in production, Speed time in detecting the root cause of the in-field errors with Tracking & Reporting apps for traceability, Maintain consistency in training new employees on requirements or with staff any time a new product is added, Easily train the system using 'good product' images for multiple product lines with no programming skills required, Reduce subjective decision-making, especially over a long shift, reducing error-escapes.