Though AI topics are not new to Japan and the companies promoting their products were not completely new; all of sudden a surge, huge interest in Artificial Intelligence among most of the mid aged workers, salary men in Japan has risen.
Artificial Intelligence Fever in Japan: 40000 people visited first Japan AI expo
Junko Nirmala for | RoboticsTomorrow
"Japan`s 1st AI · Artificial Intelligence EXPO" was held from 28th to 30th June 2017. Approximately 110 enterprises engaged in AI related services exhibited, and demonstrated various AI based products and services. During the three days event Visitors count crossed 40,000 , Organizers were fully occupied and had to reprint badges and arrange additional entry counters.
The companies, products and exhibits were in the category of Deep Learning, Machine Learning, Neural Network, Natural Language Processing(NLP), Hardware for AI based computing, Big Data, Al Applications, Image Recognition, Speech Recognition, Chatbot and others relating to AI Robots.
Though AI topics are not new to Japan and or the companies promoting their products were not completely new; but all of sudden a surge, huge interest in Artificial Intelligence among most of the mid aged workers, salary men in Japan has risen.
The reasons may not differ from the global push on the topic, Job security and so on, Being Japan a mechanical oriented country and products manufacturing thinking AI seems have attracted with a sense of fear on losing jobs to new tech.
Japan`s Tier one companies almost all have set up R & D labs and making huge investments to research and hire with specific backgrounds while there are companies which have already have products that are ready to commercialize.
Product and service like Shopping cart to recognize ingredients and suggest recipe for each shopper was attracting visitors. "AMY (Amy)", the robot concierge cart is Robot shopping cart with cameras installed in shopping carts for use in such as supermarkets. Food ingredients are recognized when putting the products in carts. If one shopper has a apple or vegetable, the monitor in the shopping store introduce recipes using the products along with other core details of the product.
Companies engaged in research and development of artificial intelligence, explained with the demo of real-time image recognition by deep learning, DEEP analyzer or deep layer analysis technology and DEEP volume 3D convolution object recognition solution, etc.
Focusing on exhibits related to high-fidelity computing, many products were appealing that on performance of IaaS (Infrastructure as a Service) and including cost advantages. NTT DoCoMo conducted a demonstration to identify merchandise lined up on its shelf simply by taking photo in convenience stores and supermarkets with smartphones or tablets. This is realized by combining image recognition utilizing deep learning and product photo database. Currently, these specialties are carried out by specialist personnel around the store, The system is aimed put to practical use, it will lead to improvement in efficiency of order placement and inventory management.
While companies are on rush to get on to the new wave; Middle aged employees have also been on the new look out , some of them fear of losing job, some of them feel the pressure to skill up to sustain and so on. There are as many as Job openings in AI domain across Japan; and current workers already fear the skill up need to sustain in the new tech era.
The need to learn and skill up has brought or attracted the visitors to the Expo in huge numbers. Companies in the AI education are cashing on in Japan.
About Junko Nirmala
Junko Nirmala is a Tokyo resident with 17 years of Professional experience in Technology and business consulting services. Her diverse background includes Advisory assignments completed for 70 plus Japanese companies on Globalization, Founder of startup company in Green Technology, conducting Training and seminars for Global Workforce in Japan and so on. Currently she is involved in Promoting Japan Robots Industry. She has authored 3 books and consistently writes for newspapers and magazines in Japan.
The content & opinions in this article are the author's and do not necessarily represent the views of RoboticsTomorrow
---
Comments (0)
This post does not have any comments. Be the first to leave a comment below.
---
Post A Comment
You must be logged in before you can post a comment. Login now.
Featured Product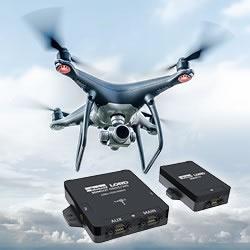 The new complete inertial navigation solution comes with GNSS/INS 3DMGQ7 sensor, 3DMRTK correction modem and real time SensorCloud RTK correction network. The sensor comes with Dual antenna GNSS, tactical grade IMU with centimeter-level accuracy with RTK. Low profile and light weight at 78 grams, this sensor is The sensor is optimized for size and weight in Unmanned Ground Vehicles, mobile robots and autonomous vehicles. The network interface 3DMRTK modem is seamlessly integrated into the 3DMGQ7 sensor supports industry-standard NMEA and RTCM 3.1 protocols. The network RTK support comes with cellular data plan. The SensorCloud RTK is a cloud-based RTK correction system with private encrypted data stream. Check out our G Series and C Series OEM products.