The process of building a diversified investment portfolio is a substantial advantage for robo-advisors. The account setup process usually takes minutes and knowledgeable investors with a do-it-yourself mentality welcome the ease of executing trades.
Is There a Robo-advisor in Your Future?
Len Calderone for | RoboticsTomorrow
"Good Morning, you are speaking to Robo Joe at the financial services division of World Wide Bank. How can I service your account today?"
You hated it when a computer answered the phone and gave you a list of options, of which none were for the information you wanted. You hated it even more, when the phone rang and you heard, "Hi, I'm Jeanie and I have a great deal for you . . ." Of course, Jeanie sounded like a real person, but eventually you figured out you were talking to a dumb robo-caller.
Yep, the world is being taken over by robots and the latest disruption is in the world of financial services.
The technological advances in robotics have affected the financial industry in unanticipated ways. 25 years ago, who would've guessed that there would be an option for people to talk to a robot, who would give them financial advice? However, we see that this is very much a possibility and robo-advisors are increasing.
Robo-advisors are digital platforms that provide automated, algorithm-driven financial planning services with little or no human supervision. When connected to a robo-advisor, the client will take an online survey, disclosing data on their current financial situation and future goals. Then, the robo-advisor will compute where the client should invest his or her money. Most advice is based on modern portfolio theory.
Vanguard Personal Advisor, Schwab Intelligent Portfolios and Betterment are leading in this field, according to a recent Moody's Investor Services report. Robo-advisors are off to a good start with retail investors.
Although Robo-advisors are becoming a valuable tool in a financial advisory position, there is still a great deal of confusion surrounding them. Some of the confusion can be ascribed to a lack of well-defined terminology. The term robo-advisor refers to technology-driven platforms that are consumer oriented. These platforms were not designed for use by advisors, but rather to bypass them and compete with them.
Robo-advisors might replace some of the functions of a human advisor, but they could also be a big help in a support capacity, increasing the consultant's productivity, as the consultant won't have to focus as much on fund selection or the tasks that could be automated. The consultant could spend more of their time concentrating on higher value-added services.
These robo-platforms are designed to be used by independent financial advisers while they work with their clients. What differentiates a robo-platform created for advisers from a retail one? One significant difference is the ability for advisors to private-label the platform with their own branding. Another is, the ability to tailor the investment selection and the client experience to the needs of the individual firm. Yet another differentiator between adviser platforms and the early robo-advisors is that the former are designed to allow advisors to collaborate with clients and prospects digitally.
Robo-advisors will ask a client to fill out a questionnaire. The responses will determine which model portfolio will best suit the client. Robo-advisors will use multiple models that are based on investor age, risk tolerance, and performance expectations. Most Robo-advisors will invest in Exchange Traded Funds to minimize investment expenses.
Traditional advisors will obtain detailed information and use it to develop a personalized investment strategy. The best independent advisors in this category can provide relatively unlimited investment choices that include Exchange Traded Funds, separate accounts, and active portfolio management.
IBM Watson, the computing system smart enough to provide doctors with recommendations for treating cancer, is now ready to assist financial planners to give advice. Watson is a question answering computer system capable of answering questions posed in natural language. It is the simulation of human thought processes in a computerized model, which involves self-learning systems that use data mining, pattern recognition and natural language processing to mimic the way the human brain works.
Studies indicate that personality influences an individual's risk-taking behavior in financial decisions. IBM Watson uses personality insights to determine an individual's personality from available content the individual has authored. The inferred personality is then used to determine the individual's risk propensity and assist the advisor in the selection of fund recommendations.
Once a risk assessment based on personality is available, Watson can be used to balance multiple financial objectives along with personality match to help the advisor determine the best funds for the individual. Knowledge about an individual's personality can be used to match him or her to an agent who is most likely to close the business and drive value out of the relationship. These insights can also be leveraged to provide recommendations to the advisor in developing the optimal engagement strategy.
Presently, wealth management lean towards the high net worth clients, all the way up to private bankers. By taking the expertise of wealth advisors and building it into robo-advisors, people could interact with the robo-advisors, taking the wealth advisor to scale. There would be more client interaction that doesn't have to be face to face or on the phone.
The benefits of using a robo-advisor are the ease of online access as a core feature of online investment platforms. Tech savvy investors like the ability to setup and fund an account through the simplicity and expediency of a computer or smartphone. The process of building a diversified investment portfolio is a substantial advantage for robo-advisors. The account setup process usually takes minutes and knowledgeable investors with a do-it-yourself mentality welcome the ease of executing trades.
One of the most important benefits of using a robo-advisor is the capability to invest in a diversified portfolio that is based on modern portfolio theory research. Robo-advisors provide a lower cost alternative to traditional asset management firms; and they can help eliminate the potential for advisory firms to recommend their own products or let self-serving biases influence investment recommendations.
At the opposite end of the scale, a robo-advisor with a human component is not provided, leaving access to certified financial planners a missing element. There aren't any robo-advisors that can fully assess whether it makes sense to save for emergencies, pay down debt, or invest for long-term goals such as retirement. There are multiple components of risk involved with the investment process and no single risk measurement tool exists that can claim 100 percent accuracy in assessing risk.
Logically, as technology continues to develop, we might see a handheld version of a robo-advisor, possibly the size of a cellphone. Once consumers have a personal robo-advisor in their pocket that can analyze the market and trading trends in real-time and offer investment strategies, why would an experienced investor need a human financial advisor?
The content & opinions in this article are the author's and do not necessarily represent the views of RoboticsTomorrow
---
Comments (0)
This post does not have any comments. Be the first to leave a comment below.
---
Post A Comment
You must be logged in before you can post a comment. Login now.
Featured Product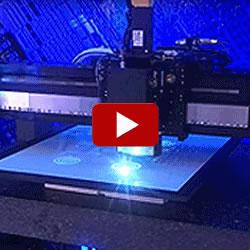 A traditional gantry system employs X-Y or X-Y-Z range of motion. Mounted on a base plate, usually granite, 2 parallel rails constitute the synchronized Y axis motion while the cross axis (bridge axis) provides the X motion. A vertical axis can be added on the bridge for the Z motion. A Split Bridge system can be less complex than a traditional gantry system because synchronization of the two parallel linear motors is not required. Both systems are used in industrial production, testing, and additive manufacturing.