Stairs are still unsurmountable obstacles for many robots. Yet a young team at ETH Zurich is building a vehicle designed to negotiate steps with ease – by hopping.

Adrian Venetz | maxon motor
Reprinted with permission from the maxon motor drive.tech:
Stairs are still unsurmountable obstacles for many robots. Yet a young team at ETH Zurich is building a vehicle designed to negotiate steps with ease – by hopping.
"Ascento" is the name given to the sophisticated device by its creators, a team of eight students majoring in mechanical engineering and one in electrical engineering. The robot is quite special: It moves and balances on two wheels. From an engineering standpoint, this is significantly more difficult than building a device on four wheels. However, a bipedal robot provides much better mobility and adaptability to different terrain types.
That's not all: The main goal of the nine up-and-coming engineers is to make the robot leap. They want it to be able to jump high, like a kangaroo, and land again safely on its two wheels. "This would enable the robot to master stairs and other obstacles," student Florian Weber explains. The Ascento team originated from a focus project. In this type of project, undergraduate students of various disciplines have a chance to apply their knowledge to a concrete project – from the initial idea to a functioning prototype.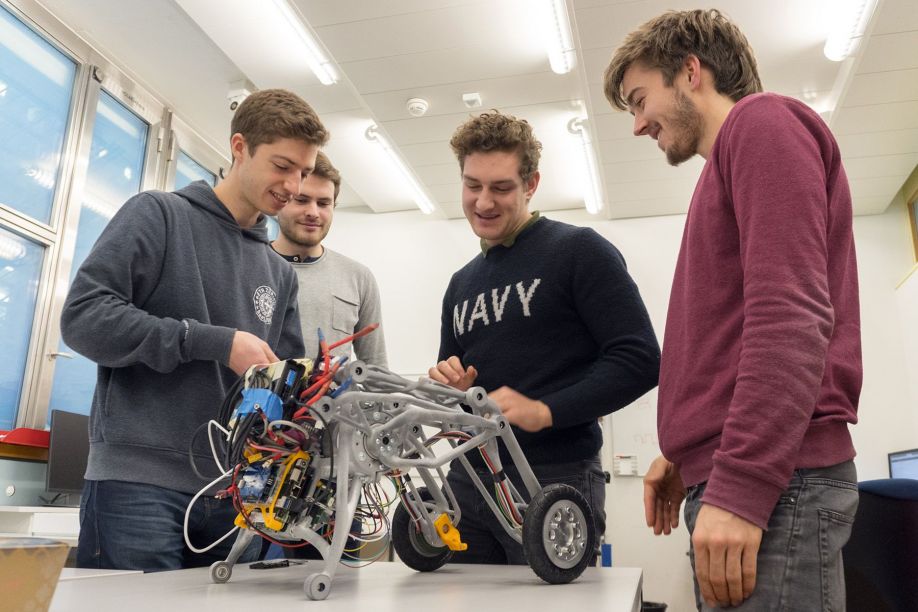 from left: Ciro Salzmann, Marcus Vierneisel, Lionel Gulich, Florian Weber
The special feature of the Ascento is that it is designed as an inverted pendulum: The center of gravity is above the axis. As a result, the Ascento is able to stand and move only as long as it is powered and actively maintaining balance on its wheels – similar to a standing human, who continuously has to expend energy to maintain balance. This makes the Ascento comparable to a Segway, which is also driven by two wheels that are on the same axis and requires a controlled drive to maintain balance.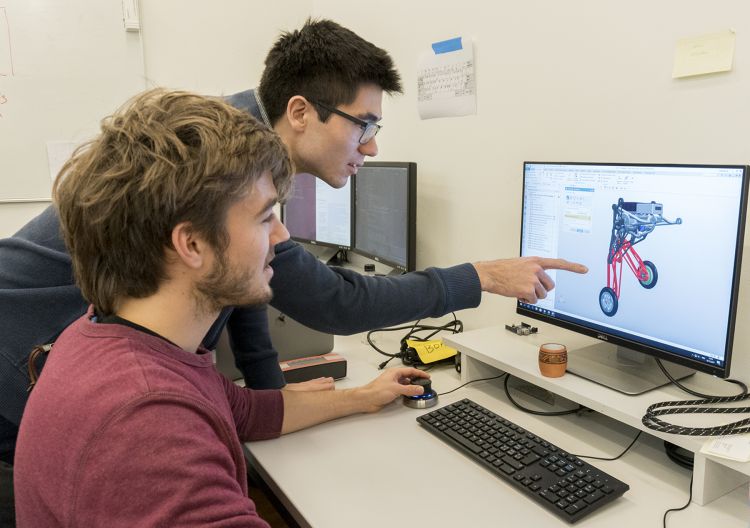 from left: Florian Weber, Dominik Mannhart
Potential applications for the Ascento are for example building inspections. For example, the vehicle could enter a house that's on fire or in danger of collapse. A built-in camera would deliver valuable information to rescuers outside the building. There are already various robots for these purposes. However: "Especially when it comes to climbing stairs, many robots reach the limit of their ability," says Marcus Vierneisel, who is also a member of the nine-person focus group. The goal for the Ascento is to enable it to climb stairs at a human's walking speed. Due to its lightweight two-wheeled design, the Ascento is more agile than other robots anyway. "On the other hand, larger robots are able to interact with their environment. This is something that Ascento cannot do," adds mechanical engineering student Lionel Gulich. Equipped with sensors, the Ascento would be able to scout a building and deliver 3D scans of the rooms in a short time. Of course, the prototype won't be able to scout a whole building by itself yet. However, it will be able to approach a flight of stairs on remote control and then use its sensors to measure and calculate the height and length of the jumps required to climb each step. "Triggering each jump via remote would be too complicated and slow," Florian Weber says. This puts the Ascento in the category of semi-autonomous robots.
It is still uncertain whether the focus project and the Ascento prototype will eventually become an inspection robot ready for commercial production. However, this is not the primary goal. Focus projects serve mainly to let ETH students try their hand at an actual project instead of just cramming theory.
The students are receiving technical and financial support from the drive specialist manufacturer maxon motor, as part of the company's Young Engineers Program (YEP). The Ascento's drives include two maxon EC 90 flat motors. Technically, the torque of 963 mNm delivered by these motors is somewhat overdimensioned when the robot is moving along a single plane. The drives come into their own when balancing the Ascento after landing on a narrow step, as this requires high torque and precise control. The ETH students decided to use the frameless version of the motors. Rotor and stator are delivered separately and without an output shaft. The rotor and stator are connected only during the integration into a system. Especially in robotics, maxon frameless motors are often the first choice because they enable space-saving and elegant integration into joint structures. Each motor is driven by an EPOS4 module.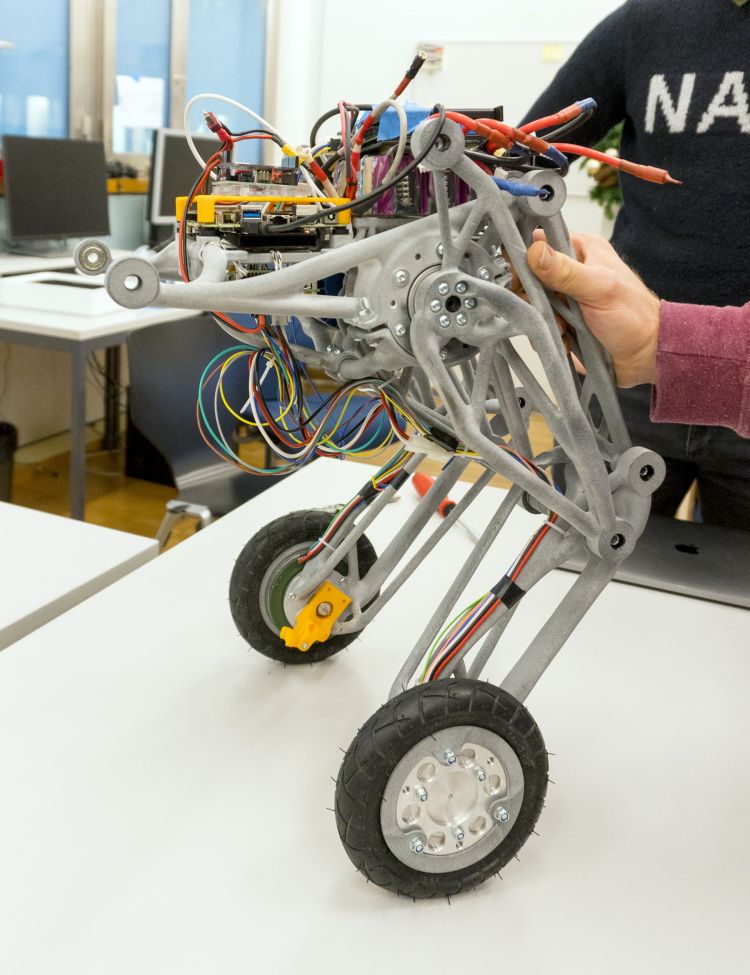 The content & opinions in this article are the author's and do not necessarily represent the views of RoboticsTomorrow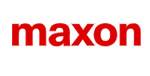 maxon group
maxon is a leading supplier of high-precision DC brush and brushless servo motors and drives. These motors range in size from 4 - 90 mm and are available up to 500 watts. We combine electric motors, gears and DC motor controls into high-precision, intelligent drive systems that can be custom-made to fit the specific needs of customer applications.
Other Articles
The teams at Enchanted Tools aim to revolutionize robotics by improving the acceptability of robots to promote their large-scale adoption. We take a look back at the origins of a project that is ambitious in many respects, and one in which maxon is proud to participate.
A classic problem in engineering is the rotational inverted pendulum. It is used to demonstrate and examine movement patterns and control algorithms in control and electrical engineering as well as in mechanical engineering. These help to control robots and other machines.
Any automated system is only as good as its reliability. An automated guided vehicle (AGV) for example, needs to do the job it is programmed to do; without error, quickly and efficiently.
---
Comments (0)
This post does not have any comments. Be the first to leave a comment below.
---
Post A Comment
You must be logged in before you can post a comment. Login now.
Featured Product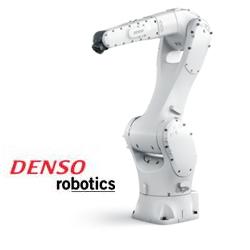 The new VMB series represent some of the newest members to our 6-axis family of robots. These high-performance, versatile units offer a longer arm reach and a higher load capacity than traditional models which make VMB an excellent solution for palletizing, packaging, and material handling. New features include greater air piping, valve and signal line options, as well as new programming options with state-of-the-art functions using our new WINCAPS Plus software. VMB offers an IP67 protection grade along with meeting ISO Class 5, which makes them suitable for electric parts, food manufacturing processes, and pharmaceutical and medical devices. With the addition of the new VMB large robots, all manufacturing processes can now be automated by DENSO Robotics.