With seven degrees of freedom in its arm – and its new mobility platform – Sawyer SDK with Clearpaths Ridgeback platform enables researchers to deploy the robot to a wide range of tasks, providing the flexibility needed to test various projects.
Sawyer Goes Mobile for Researchers
Ian McMahon | Rethink Robotics
Can you tell us a bit about the partnership between Sawyer from Rethink Robotics and Clearpath Robotics?
Rethink Robotics and Clearpath Robotics have partnered to enable researchers in both corporate and academic settings to deploy the Sawyer robot to a wide range of tasks through increased freedom of mobility. Rethinks' Sawyer software development kit (SDK), along with Clearpath's Ridgeback mobile platform, help researchers advance the impact of robots on multiple industries, including household, hospital and warehouse settings. The partnership came about as a direct result of researcher feedback, as well as the companies' observations of mobile robots in action and the potential they could achieve.
What role do collaborative robots (cobots) play in research, specifically with Clearpath?
Cobots have the potential to accomplish a number of tasks that have traditionally been reserved for humans. They play an important role in research by allowing users to visualize and control how the robot interacts with its environment, empowering researchers to run and test code in a simulation before running it on the robot itself. Sawyer's SDK is designed for researchers and students to build and test programs on the Sawyer robot, offering further compatibility with robot operating systems (ROS) and state-of-art open source robotics tools. With improved mobility and a motion interface that allows researchers to program the robot in Cartesian space, Sawyer SDK – in partnership with Clearpath – lowers the barriers for mobile manipulation for programmers without a full robotics background, and allows researchers to leverage new impedance and force control.
How do cobots compare to traditional research solutions?
Cobots enable a decreased work cell space and can deal with crowded scenes in a smaller footprint to mirror the real-life challenges of automation in research settings. Mobile cobots are better equipped than their stationary counterparts to move through constricted spaces to complete the programmed task. By focusing on mobility, this partnership allows researchers to explore a vast array of new applications.
Why should researchers consider automation?
In any industry, automation provides the opportunity for increased accuracy and efficiency, and the same can be said in research applications. Cobots can perform routine or dangerous tasks, allowing human workers to take on more valuable activities that demand higher skills. With support and collaboration between researchers and other organizations – government, developers, corporations – robotic technology can help create even more efficient and safer workplaces and living environments. Automation and collaborative robots enhance the human potential that already exists in research.
What are the benefits of mobile cobots?
Simply put, mobile cobots allow researchers to explore new uses for automation. With seven degrees of freedom in its arm – and its new mobility platform – Sawyer SDK with Clearpath's Ridgeback platform enables researchers to deploy the robot to a wide range of tasks, providing the flexibility needed to test various projects. This also allows the robot to maneuver in tight spaces, like hallways and kitchens, allowing for an unrestrained path and algorithm planning that provides the opportunity for small lateral corrections without forcing the robot to back away from a table, re-localize and reposition.
What are some of the applications envisioned for mobile cobots?
Giving Sawyer automated mobility opens up a new world of application possibilities, as researchers can now use the cobot for tasks where mobility and manipulation are required. This could include service robotics, tele-operated robotics and human-robot interaction. The mobile platform could also be used with Sawyer in a warehouse or order-fulfillment environment.
Is Rethink working on any other projects you would like to talk about?
Rethink has also partnered with a number of universities to provide researchers and students the opportunity to build and test programs using the Sawyer SDK. Sawyer SDK is being used in robotics programs at multiple universities, including Stanford University, University of California at Berkeley, Georgia Institute of Technology and Northwestern University. Stanford's Vision and Learning Lab works on endowing robots with diverse object manipulation skills for both industrial and day-to-day personal robotics applications. The SDK was also recently made available on all Sawyer robots, allowing access to both the Intera manufacturing software and the SDK software.
About Ian McMahon
As a senior robotics software engineer at Rethink Robotics, Ian is a technical lead for the company's research and education products (Sawyer SDK). He brings a demonstrated history of working in the industrial automation industry to focus on robot software architecture, computer vision and motion planning, and helps construct and maintain the ROS API layer to enable researchers to implement their own robot applications.
The content & opinions in this article are the author's and do not necessarily represent the views of RoboticsTomorrow
---
Comments (0)
This post does not have any comments. Be the first to leave a comment below.
---
Post A Comment
You must be logged in before you can post a comment. Login now.
Featured Product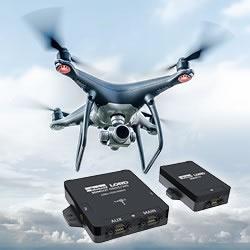 The new complete inertial navigation solution comes with GNSS/INS 3DMGQ7 sensor, 3DMRTK correction modem and real time SensorCloud RTK correction network. The sensor comes with Dual antenna GNSS, tactical grade IMU with centimeter-level accuracy with RTK. Low profile and light weight at 78 grams, this sensor is The sensor is optimized for size and weight in Unmanned Ground Vehicles, mobile robots and autonomous vehicles. The network interface 3DMRTK modem is seamlessly integrated into the 3DMGQ7 sensor supports industry-standard NMEA and RTCM 3.1 protocols. The network RTK support comes with cellular data plan. The SensorCloud RTK is a cloud-based RTK correction system with private encrypted data stream. Check out our G Series and C Series OEM products.