FIRST Robotics Competition is the definitive sport for the mind, where high-school students participant in building and programming industrial-size robots to play a difficult field game against robotic competitors.
The FIRST Robotics Competition
Len Calderone for | RoboticsTomorrow
The FIRST Robotics Competition is an international high school robotics competition. FIRST stands for "For Inspiration and Recognition of Science and Technology." Each year, teams of high school students (ages 14 - 18/grades 9 - 12), coaches, and mentors work during a six-week period to build game-playing robots.
FIRST Robotics Competition is the definitive sport for the mind, where high-school students participant in building and programming industrial-size robots to play a difficult field game against robotic competitors.
Each year, FIRST introduces a scientific and real-world challenge for teams to focus on and research. The robotics part of the competition involves designing and programming robots to complete tasks. The students work out solutions to the various problems they are given and then meet for regional tournaments to share their knowledge, compare ideas, and display their robots.
"FIRST Power Up" was the FIRST Robotics Competition game for the 2018 season. Two alliances of three teams each, with each team controlling a robot, performed specific tasks on a field to score points. The game had a retro 8-bit theme. The teams were required to place power cubes on large balancing scales to tip the scale and secure ownership. The alliances also traded power cubes for power ups, which gave them a temporary advantage in a match. At the end of the match, the robots climbed the tower attached to the center balancing scale, using a rung attached to the tower, which gave them additional points.
2018 was the 27th year of the competition where 3,647 teams and more than 91,000 students and 25,000 mentors from 27 countries competed. The United States, Canada, China, Mexico, Israel, Turkey and Australia contributed the majority of teams.
For several weeks in April of this year, a record 70,000 people traveled to Houston and Detroit to applaud inspiring adolescent innovators and leaders at the 2018 FIRST Championship presented by Qualcomm Incorporated. The world's largest fanfare of STEM (Science, Technology, Engineering and Math) for students included 30,000 students, supported by 6,000 coaches/mentors and 2,400 volunteers. These were cheered for by 30,000 sponsors and spectators.
The rules are strict. The resources are limited. There is an intensive six-week time limit. Teams of students are tested to raise funds, design a team brand, and enhance collaboration skills. It's as close to real-world engineering as a student can get. Professional mentors volunteer their time and talents to direct each team.
The competition runs during the school year with teams forming in the fall. The official season begins in January. The teams are then given six weeks to create their robot. District and Regional competition events start in February and continue through April.
Students are encouraged to bring any skills that they already have, such as programming, electronics, metalworking, graphic design, web creation, public speaking, videography, and others. The competition accepts every student, with or without special skills.
The positive impact on FIRST Tech Challenge participants is rewarding with over 86% of the participants having more interest in doing well in school while 87% have developed a desire to attend college.
The FIRST LEGO League (FLL) is a partnership between FIRST and the LEGO Group. It also has a scaled-down robotics program for students ages 6–9. It is called FIRST Lego League Jr.
At the start of the competition season, FIRST LEGO League sends official materials to each registered team. These consist of a challenge mat, LEGO bricks, and the instructions for building the items that go on the challenge mat. Each year there is a new theme.
The teams receive a list of tasks, or missions, to complete each model on the mat. FIRST LEGO League gives teams the freedom to use whatever method is needed to accomplish the missions, as long as the missions are completed by a programmed LEGO Mindstorms robot with no outside assistance. The robot has two and a half minutes to complete the missions. Each team has a minimum of 8 weeks to evaluate the challenge mat, design and build a LEGO Mindstorms robot, and program it to fulfill the given missions in any manner they see fit. The robot must be autonomous and may contain only one LEGO Mindstorms programmable block and no more than 4 motors.
Guided by adult coaches, First Lego Leagues teach students to work on real-world problems and challenges that the students need to develop a solution using Lego Mindstorms technology. Students then display their work on a local and national level.
Using grants, classrooms receive FLL kits along with teacher training and laptops, if needed. The program teaches children science and math and uses the lessons for real-world applications. Since we live in a technology age, the FLL helps the next generation get excited about the 1.2 million STEM jobs that are available.
LEGO MINDSTORMS is a programmable robotics construction set that allows a child the ability to build, program and command LEGO robots. The new LEGO MINDSTORMS EV3 set includes everything needed to create any of 17 robots and make them walk, talk, move and do what a student's mind can imagine. The version sold through LEGO Education is designed for a deep level of learning with support called the Robot Educator. This includes 48 tutorials to take a beginner through the basics of coding to more sophisticated and complex concepts such as data logging.
FLL teaches time management, conflict resolution, and team work. This is accomplished by students creating an innovative solution for the team's research project, by solving problems, and by having the belief that they can succeed if they try. Their STEM awareness and skills come from designing a robot, explaining how the robot works, actually building the robot, and programming the robot. This gives the student a better awareness of STEM, an increased interest in going to college, and interest in a job that uses science and technology.
The main benefit of participating in FIRST is getting access to millions in college scholarships, which are made available by the colleges, universities, and corporations who support FIRST. This is exclusive financial help available only to FIRST team members, furnishing them with a competitive advantage over other students looking for educational funds.
To contact FIRST: https://www.firstinspires.org/about/contact-us
For additional information:
The content & opinions in this article are the author's and do not necessarily represent the views of RoboticsTomorrow
---
Comments (0)
This post does not have any comments. Be the first to leave a comment below.
---
Post A Comment
You must be logged in before you can post a comment. Login now.
Featured Product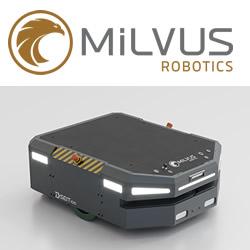 Enhance your material transport capabilities - even in the busiest warehouse or production environments - with SEIT robots. Made by Milvus Robotics, these reliable and safe AMRs efficiently move materials with no human intervention required. They work seamlessly alongside people, forklifts, and other equipment. Requiring no infrastructure, SEIT robots are suitable for a range of manufacturing environments, distribution centers and more.