Booth #121838 - We'll be showcasing Energid's real-time adaptive unified online robot control software called Actin, and demonstrating it being used in a variety of applications one of which is a turn key bin-picking solution

Contributed by | Energid
Tell us about your company.
Established in 2001 and headquartered in Cambridge, Massachusetts, United States, Energid develops advanced real-time motion control software for robotics. Energid's general robot control and tasking framework, Actin®, is built to meet the rigorous requirements of industrial, commercial, collaborative, and consumer robotic systems. Energid licenses Actin as a cross-platform software toolkit and provides integration services to help its customers get to market quickly.
In 2018, Energid was acquired by Teradyne, the leading supplier of automated test equipment used to test semiconductors, wireless products, data storage, and complex electronic systems. Teradyne's Industrial Automation group includes collaborative robots, autonomous mobile robots and sensing and simulation software, used by global manufacturing and industrial customers to improve quality and increase manufacturing efficiency. Energid continues operations under the same management while Energid's headquarters, R&D, and engineering facilities remain in Massachusetts, USA.
Your company will be exhibiting at IMTS, what is it that makes this an important event for your company?
Off-line programming is something most manufacturers will be familiar with and it's an important component to any automated manufacturing operation, but the missing piece is taking those off-line programs and giving them the ability to adapt in real-time. That is a core strength of Energid's Actin software. Anything that deviates from the absolute perfect scenario of the off-line program can cause a robot fault and completely stop an entire assembly line.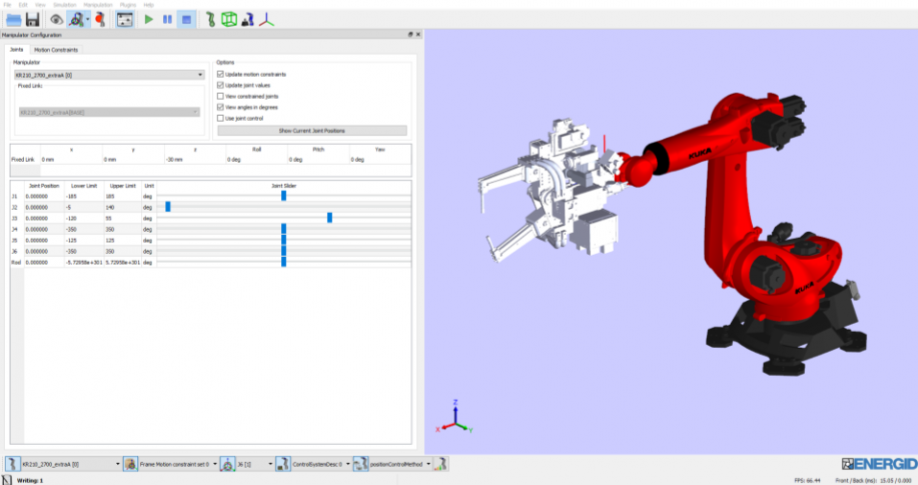 Automation Engineers are usually obsessing over takt-time decreases as small as a few seconds and a manual reset can have a large impact on the overall factory throughput. The future of robotic applications in manufacturing is streaming online robot control in real-time. Having the opportunity to interact with a larger number of Manufacturers and Automation Engineers in one place who are seeking cutting-edge solutions that are state aware and adaptive makes IMTS a valuable opportunity.
Highlight a 2 or 3 products you will be showcasing at the event?
We'll be showcasing Energid's real-time adaptive unified online robot control software called Actin, and demonstrating it being used in a variety of applications one of which is a turn key bin-picking solution using Universal robots and powered by Actin.

IMTS has many educational sessions & Demo's, is your company involved in any of them this year?
The Energid booth will have multiple hardware demonstrations running Actin. These include a material removal demo using a UR-3 completing a tool path via an external tool center point and also a new 7 degree of freedom robot.
When you get a chance to walk the exhibit hall floor yourself, what is it you will be most interested to see? Any educational sessions you plan on attending?
Actin is unified control software for any robot that offers a communication interface. We're always interested to see applications or hardware configurations with multiple robots working together as those can be difficult to program with traditional methods and it an area where Actin's automatically optimized control and real-time collision avoidance capabilities become apparent quickly.
When you book a booth for a tradeshow like this what are your expectations and what does your company hope to accomplish at the event?
At IMTS, we hope to maximize the exposure of our core products, the Actin SDK (adaptive robot control software development kit) and Actin-enabled bin-picking system to a self-selected audience who know there must be a better way.
A tradeshow of this magnitude is extremely busy and stressful for the staff of exhibiting companies. Any fun things or places your team can suggest in Chicago to help unwind?
With Actin, robotics ARE what is fun!
The content & opinions in this article are the author's and do not necessarily represent the views of RoboticsTomorrow
---
Comments (0)
This post does not have any comments. Be the first to leave a comment below.
---
Post A Comment
You must be logged in before you can post a comment. Login now.
Featured Product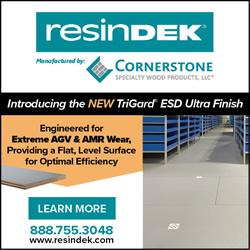 We know that the durability and condition of floors are important for optimal performance of AGV's and AMR's. Coefficient of friction, surface roughness, floor flatness, gloss, and wear can all affect the ability of robots to run at their peak performance. That's why we go to great lengths to extensively test internally and send our products to be evaluated by independent laboratories as well as the robotic manufacturers. In addition, we can customize the finish for any specification required.