Booth #236200 - KUKAs KMP 1500 is an omnidirectional, mobile platform that combines autonomous navigation with modular versatility.

Contributed by | KUKA
Tell us about your company.
Established in 1898, KUKA is a leading global supplier of intelligent, robotics-based automation solutions that create value for our customers by helping them optimize their production capabilities and lower costs associated with manufacturing. We utilize a culture of collaboration and creativity along with a comprehensive portfolio of automation products and services to provide our clients with innovative solutions that help them reimagine their production environments and overcome their most complex challenges. From individual robots to complete, customized systems, KUKA is dedicated to delivering the leading-edge products and services to meet our customers unique needs today while anticipating the obstacles and requirements of tomorrow.
Your company will be exhibiting at IMTS, what is it that makes this an important event for your company?
As the largest and one of the most historic manufacturing events in North America, IMTS offers us a unique opportunity to connect and engage with a signifcant cross section of manufacturers from different industries. IMTS 2016 attracted over 115,000 industry professionals from 117 countries. There are not many events that offer that kind of exposure. But it goes beyond that. McCormick Place is a premier settings for an event like this, and when you add in the educational expertise of the many presentations being offered at the show, it equals a great chance for our employees to learn about the latest technologies and solutions. It's a great experience all around.
Highlight 2 or 3 products you will be showcasing at the event?
KMP 1500
KUKA's KMP 1500 is an omnidirectional, mobile platform that combines autonomous navigation with modular versatility.
Bringing the next level of automation to production facitilites, the KMP 1500 is an autonomously controlled, omnidirectional, mobile platform that can independently transport products through all process steps while seamlessly integrating into the production environment. The KUKA Navigation system eliminates the risk of collision and allows for autonomous movement of the mobile platform without artificial markings in the production facitiliies. The KUKA Sunrise controllers interface with all standard robots, allowing for the platform to be easily extended with any special equipment or sensors.
The KMP 1500 combines the utmost precision with simple operator control, utilizing the latest in omnidirectional wheel technology to enable unrestricted motion in any direction with a postitioning accuracy of up to ± 5 mm. The mobile platform meets all required safety standards for automous guided vehicles, offering a payload capacity of 1,500 kg with maximum safety. Integrated laser scanners allow for safe autonomous navigation throughout your production shop.
While painting applications previously were difficult to automate, KUKA and its partner, Dürr, have come up with ready2_spray: a powerful, maximum-performance solution which is simple and cost-effective – and includes service around the globe.
A worldwide premiere in its payload and reach class. This best-in-breed spray application is a unique combination of the best-in-class robot manufacturer KUKA and the expertise of Dürr. KUKA, one of the leading robotics companies, joins strengths with one of the global painting application leaders. The collaboration of KUKA and Dürr reflects the demand for high quality and affordable packages available on a global scale.
KUKA ready2_spray at a glance:
Applications:
Paint robot KUKA ready2_spray is particularly suitable for painting applications that need to meet the highest standards and which require integrated explosion protection.
KMR iiwa
KUKA's autonomous KMR iiwa robot combines all the benefits of the lightweight, collaborative LBR iiwa robot with a flexible, mobile platform to meet all Industry 4.0 requirements and modern production challenges. The KUKA Sunrise, a multi-functional controller for both the vehicle and robot, allows for easy operation throughout the production environment. The vehicle and robot are independently powered directly through the same Li-ion battery.
The KMR iiwa offers the latest safety functions that allow it to navigate safely and without protective fencing. The LBR iiwa is equipped with seven special, highly sensitive joint sensors in each axis that cause it to stop when touched. The mobile platform comes furnished with laser scanners that react immediately when a person or object is in its path.
The KMR iiwa provides optimal precision, with positional accuracy of up to ± 5mm in the tightest of spaces. Specially developed Mecanum wheels deliver maximum agility, allowing the mobile platform to move omnidirectionally and execute 360˚ rotations to shorten throughput times and enhance productivity.
IMTS has many educational sessions & Demo's, is your company involved in any of them this year?
Yes, we were very fortunate to have two of our company's thought leaders get the opportunity to share their experiences with other attendees. First, KUKA Chief Regional Officer, Americas Joe Gemma will be presenting The Next Step: Taking 3D Priniting from Prototyping to the Production Floor on September 13th. And KUKA Director of Product Marketing, Americas Andy Chang will be presenting Utilizing IoT Technologies to Reduce Robot Downtime and Optimize Operational Efficiencies on September 11th at the 2018 Integrated Industries Conference being held in conjunction with IMTS.
When you get a chance to walk the exhibit hall floor yourself, what is it you will be most interested to see? Any educational sessions you plan on attending?
IMTS has so much to offer that it's hard to pin down just one thing that will draw our interest. Our robots and other solutions have many uses in a lot of different industries, so it will be good to see the different potential applications that are exhibited at the show, as well as many of the other technologies and solutions that other companies have developed. The same holds for the educational sessions. The tracks that stand out for us include Manufacturing Process Innovations, Additive Manufacturing and Industry 4.0/IIoT.
When you book a booth for a tradeshow like this what are your expectations and what does your company hope to accomplish at the event?
Just like every other exhibitor, we are looking to get maximum exporsure for KUKA and to position ourselves as a leader for the products and service we provide. This takes several forms. Obviously, we would like to get as many people as we can to our booth, but we also would like them to leave with a clear understanding of who we are, what our products and services do, and how we can help enhance their processes. On the flip side, we also put the focus on our thought leaders at their educational sessions and media events to show the innovative ideas and people that make up the KUKA family.
The content & opinions in this article are the author's and do not necessarily represent the views of RoboticsTomorrow
---
Comments (0)
This post does not have any comments. Be the first to leave a comment below.
---
Post A Comment
You must be logged in before you can post a comment. Login now.
Featured Product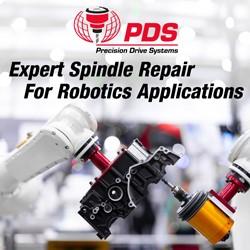 Precision components machined by CNC robot machining systems require compact, lightweight, and high-speed motorized spindles capable of delivering higher efficiency, performance, and reliability than those used in many other industries. That's why manufacturers of milling, cutting, trimming, grinding, polishing, and deburring trust Precision Drive Systems (PDS) to provide accurate and dependable spindle repair to perform to the most exacting standards.