Specialized AI applications will become both progressively ordinary and more useful by 2030, improving our economy and quality of life.
AI Could Beat Humans at Everything by 2030
Len Calderone for | RoboticsTomorrow
AI is coming—coming soon! Now is the time to prepare. There is an excellent chance that Artificial Intelligence (AI) will outperform humans in most mental tasks.
In the next six years, AI will be able to translate better and quicker than humans. Within ten years, they will start replacing truck drivers. We are starting to see that happen now. Need an essay written? Turn to AI.
Robotics is being used in surgery today and within the next fifty years, the surgeon will only be an observer as a robot, using AI, will actually perform the surgery. Actually, the timeline may move up quicker than we expect. The experts predicted that AI would not be able to beat a human at the game, Go, for another nine years. Yet, this has already taken place.
2030 seems like a long way off, but it will be here sooner than we expect. Therefore, there isn't much time before AI will be able to take over almost every job that presently exists. We need to tackle the potential fallout that will come about to our economy and culture now, not later. This means that we need to prepare for the age of AI by investing in training and education. Are our schools preparing for the changes needed in our children's education to prepare them for a future that will be much different than their parents?
Universities are not effectively preparing students for a world dominated by AI. To better prepare students for this changing world, AI needs to be increasingly fixed into higher education. There is an assortment of exciting new career choices, which focus on data science, machine learning or advanced statistics.
The future will create new job types from machine regulators to emotion engineers. To succeed, all students will need to realize how machines function. Executives and managers will work closely with AI in sales, human resources, and analysis. Attorneys will depend on AI to do the legal research. Doctors will look to AI to find better ways to treat patients. AI will replace up to 800 million jobs by 2030, and we better be prepared.
Newsflash—AI is already taking over jobs where humans previously dominated. For those who work in a profession that lends itself to potential automation, the possibility of machines doing the job faster and cheaper is a real risk.
If you depend on driving to make a living, today is the time to find an alternative career. Truck drivers, bus drivers, and taxi drivers can expect AI to take their jobs. More people and businesses are relying on automating accounting software as they switch to do-it-yourself methods whenever possible to save money. This means accounting could find itself in the replacement mode.
Large lawsuits require many paralegals to sort through documents, find legal statutes, and dig through legal code to find what the attorneys need. But now, all the case law is archived and available at the push of a button. Software exists than can analyze millions of documents in a short time and cost far less than paralegals.
I personally avoid self-checkouts. I don't think that I should save the store money by checking myself out, and bagging my own purchases. But now, in addition to the self-checkout lanes, some stores allow customers to carry around scanners. When the customer selects items, the items are scanned and logged. When the shopping is complete, the customer simply scans the entire stored list of items at checkout. The total due is presented, the customer pays, and they're out the door without interacting with a cashier.
Assessing credit history, and approving or disapproving extension of credit are the basic duties of a credit analyst, but that job can be performed by machines. Have you ever argued with a machine?
We all know what a robo call is and it's rare to get spam calls from a real person. Actually, I immediately hang up if I answer at all, but telemarketing companies are using AI to make the call, act like a human, give a presentation, and then react with the poor homeowner, who did not hang up. Think of the office space robo calls save.
STEM education (science, technology, engineering, and mathematics) is very important today, but in the future, it will be indispensable as unskilled labor will be severest hit by automation. The dominance of robots and automated systems will mean a heightened need for engineers, technicians, and managers to build and maintain the robo workforce of the future. Even robots aren't perfect.
Emotions, understanding, empathy are things that AI has yet to interpret, which means that positions like teachers, doctors, nurses, and therapists are safe. Creative people should be safe and sound for the same reasons, as AI may struggle with expressive creativity in fields like writing, art, design, and music.
There are many jobs today that did not exist 15 years ago. Data scientists, social media managers, and digital marketers are all recent creations.
When it comes to AI and transportation, autonomous vehicles and even aerial delivery drones could change both travel and life patterns in cities. Home service robots won't just clean but will offer security. Smart sensors will monitor a patient's blood sugar and organ functions. Robotic tutors will provide extra instruction.
Increased automation and AI-powered productivity can help us to balance the unbalanced lifestyle that we are experiencing today. We could see a four-hour workday where a factory worker manages 40 robots, which are able to produce 10 times as much as the factory worker could by himself every single day.
At its beginning, very few people expected the speed at which the internet would spread across the world, or the influence it would have in reshaping business and culture. Specialized AI applications will become both progressively ordinary and more useful by 2030, improving our economy and quality of life. Eventually, these smart machines will design smarter machines and on and on. When we build an ultra-intelligent machine, it just might be the last innovation we ever create. But, can we control it?
For additional information:
The content & opinions in this article are the author's and do not necessarily represent the views of RoboticsTomorrow
---
Comments (0)
This post does not have any comments. Be the first to leave a comment below.
---
Post A Comment
You must be logged in before you can post a comment. Login now.
Featured Product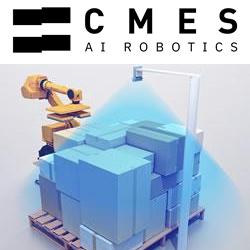 Powered by AI, CMES Robotics enables 3D vision for factory robots. CMES AI vision software enables robots to recognize unstructured, flexible, or deformed objects, pick them up, and loading and unloading. CMES Vision software has been deployed worldwide for random palletization and depalletization along with void filling applications. CMES Robotics automates your warehouse, logistics, and supply chain. For more information, please visit: cmesrobotics.com or email info@cmesrobotics.com.