The traditional industrial robots, engineered with advanced sensors and AI, have found several applications in manufacturing and electronics, which boosted the growth of the service robotics market.
Artificial Intelligence: The Next Big Thing In Service Robotics
Contributed by | Allied Market Research
Service robotics coupled with artificial intelligence (AI) applications are popping up in various industries. From healthcare to hospitality market, the applications of service robotics are spreading worldwide. The traditional industrial robots, engineered with advanced sensors and AI, have found several applications in manufacturing and electronics, which boosted the growth of the service robotics market. According to Allied Market Research, the global service robotics market is expected to amass $34.7 billion by 2022, registering a CAGR of 23.9% from 2015 to 2022. Today, service robots are working side by side with humans by performing dirty, mundane, or dangerous tasks, which in turn minimizes human error.
AI-based service robots
Cheetah Mobile, a Chinese mobile internet company, partnered with an artificial intelligence research firm, OrionStar to release a new receptionist robot called "Cheetah GreetBot".
The company has sales agreements with 13 firms in 10 industries to deploy this novel "robotic greeter" at hotel and company front desks. To offer a natural and friendly experience, the service robot is engineered with high-end hardware chip platform for optimized data operations and faster reaction speed and high-speed controller-area network (CAN). In fact, the company developed GreetBot's voice and visual recognition system, algorithms, indoor navigation among several other core technologies from scratch.
Zhenxian Yang, CEO of AI travel app, Etoury, expressed his confidence in GreetBot and stated that the integration of the AI-based robotics technology developed by OrionStar with Cheetah mobile's human-machine product interaction would help businesses in several scenarios. Moreover, the GreetBot can adapt according to the guest's needs as it is built around practical and open technologies.
Fu Sheng, Chairman and CEO of Cheetah Mobile said in his statement, "Service robotics would become as entry points and growth points for future markets, while AI would be a core component of the next phase of technological innovation."
Train service robots with VR
The major obstacle to the installation of service robots in industries is the time and expertise required to teach them the routine tasks. Companies including OpenAI and Embodied Intelligence are opting for virtual reality (VR) technology to train the service robots. Human teleoperators perform actions in the virtual environments in which robots can copy and eventually apply the knowledge in real life. This technology is called "imitation learning", which enables robots to learn various skills at low cost and most importantly in no risk environment. As robots are learning from observing humans, it helps improve the quantity as well as the quality of the service robots. The technological advancements in VR, AI, and material science have supplemented the demand for service robotics. Moreover, as these robots acquire skills, the traditional models will ultimately get replaced with more intelligent and applicable alternatives.
Future of service robotics
After conquering the manufacturing market, service robotics is expected to set foot in the hospitality market. From answering simple questions of guests to offering door-to-door services, robots can take over the mundane tasks of the hotel staff. Robby Pepper, Italy's first concierge, is the next step in the service robotics. Robby Pepper has programmed to answer frequent questions from guests. It can understand and respond in English, German, and Italian. It helps customers to find nearest spas, restaurants along with the information about the operating times. Robby Pepper is just an example of how the incorporation of AI can open new doors in service robotics.
Automated robotic kitchen is another application service robotics to improve hospitality. Moley Robotics has created the world's first fully automated kitchen that features an advanced and fully functional robot integrated into a professional kitchen. This automated kitchen consists of two fully articulated robot arms and equipped with glass screens that close the kitchen space while the robot is cooking to ensure the safety. The pair of fully articulated robotic hands can reproduce the entire function of human hands with the same speed, movement, and sensitivity, increasing the efficiency for businesses such as hospitals, hotels, and individuals.
Another development of service robotics is "soft robots". Unlike the clunky metallic exterior of traditional robots, soft robots are manufactured using silicon and other pliable alternatives. Moreover, the developments in 3D printing have allowed researchers to manufacture robots with hollow legs. Researchers at the University of California San Diego recently invented an extremely light and easily maneuverable 3D printed robot. The goal was to develop soft robots to expand their capabilities whilst improving its ability to handle delicate tasks. Moreover, these service robots could be used in industrial applications that must be done in the harsh or dangerous environment and require high-level precision.
The content & opinions in this article are the author's and do not necessarily represent the views of RoboticsTomorrow
---
Comments (0)
This post does not have any comments. Be the first to leave a comment below.
---
Post A Comment
You must be logged in before you can post a comment. Login now.
Featured Product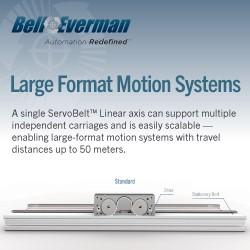 Manufacturing and packaging operations that still depend on manual material or parts handling operations can reap immediate benefits from a type of automation based on long-travel Cartesian robots with custom end-of-arm tooling (EOAT) and advanced sensing capabilities. These robots can support a variety of machines - performing otherwise manual tasks such as machine tending or transferring in-process parts - making long-travel Cartesian transfer robots a major upgrade to processes and operations. Download the White Paper from Bell-Everman