Ready or not, advanced robotics, AI and automated hardware are all making their way into the construction industry. As these technologies are adopted on a grand scale, we'll start to see many archaic processes upgraded — not just to be more modern, but also more efficient...
How Robotics and Automation Are Changing the Construction Industry
Kayla Matthews | Productivity Bytes
The construction industry has long been associated with manual labor. Because of this, there's lots of potential when it comes to productivity and efficiency in the field. Advanced robots, for example, are a suitable alternative to human laborers because they never tire and always operate at the same efficiency levels unless there's a maintenance issue.
Perhaps that explains why modern robotics and advanced automation are really starting to have an impact on the wider construction industry. Many are realizing the incredible benefits offered by these technologies, including huge cost savings and operational efficiency boosts.
It's safe to say these technologies are changing the face of construction. Here are some of the ways these two technologies are disrupting the field.
1. On-Demand and Custom Development Practices
Additive manufacturing, or 3D printing, changes the game entirely. Before this, construction projects were multi-step affairs with complex planning and development processes. Now, all of this can be sped up. There are still planning and design processes involved, of course, but 3D printing puts the assembly and development process on-site.
Even projects that start off-site can be sped up through the creation of prefabricated components or parts, similar to conventional manufactured housing. The parts or pieces are printed by the machines on-site, where they are then quickly assembled and installed. 3D printers can be configured to work with a wide variety of materials, too, from wood and metal to concrete.
New York-based Construction Robotics already has a machine, called the SAM100 masonry robot, which can lay up to 350 bricks per hour. These machines already exist and are currently being deployed and improved.
2. More Collaborative Processes
In the past, humans and robots have worked side by side. But the machines generally handle rote or repetitive tasks, many of which are not that complex. With the help of AI, data processing and advanced robotics, the machines can be augmented to do much more mission-critical work. They don't just speed up processes and take some of the onus away from humans — we're talking about machines that completely alter the flow of the modern job site.
Cobots are famously used in manufacturing for things like auto production. What makes them so special is that they are easy to program and can handle a variety of more complex tasks with little to no additional development time. You don't need a full-scale development or engineering team to restructure their usage and operation.
Ekso Bionics offers several exoskeletons, or "industrial body frames," which improve capabilities and increase the safety of their wearers. They are collaborative in a different sort of way — they completely augment the abilities of workers and keep them safe and productive.
3. Automated Logistics and Management
Artificial intelligence and big data systems can be used to really dig into the efficiency of a project or job site and more accurately manage the goings-on. Entire software systems can autonomously handle logistics and management, delivering real-time updates to an entire crew via mobile devices.
A simple way to describe it would be if Alexa or Siri were controlling the operation of a construction site, issuing orders and delivering project updates. All information can be collected in real-time, too, where it is then reported to managers and overseers. The AI has a swath of data that makes it more accurate at delivering orders and increasing project productivity.
4. Streamlined Responsibilities
Advanced robotics and AI software can also be used to vastly improve the efficiency and accuracy of existing duties. Robotic total stations, for example, allow for one-person job site layout and measurement operations. In the past, these kinds of tasks would be multi-person jobs requiring at least a half-day of work or more. Now it can be done in mere minutes with a single person at the helm.
This is related to collaborative robots, or cobots, but the reason it's separate is because human laborers are still largely the ones responsible for the work. The machinery, tools and software are just designed to make the process go much faster.
The Future Is Here
Ready or not, advanced robotics, AI and automated hardware are all making their way into the construction industry. As these technologies are adopted on a grand scale, we'll start to see many archaic processes upgraded — not just to be more modern, but also more efficient and capable.
The field has long been in need of modernization, particularly when it comes to the digitization of processes and systems. We're now seeing that happen, and robotics serve as a major catalyst for it.
* Image by Pixabay
The content & opinions in this article are the author's and do not necessarily represent the views of RoboticsTomorrow
---
Comments (0)
This post does not have any comments. Be the first to leave a comment below.
---
Post A Comment
You must be logged in before you can post a comment. Login now.
Featured Product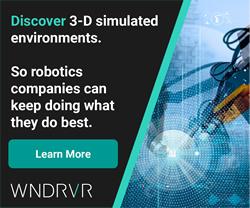 Advances in AI and deep machine learning have ushered in incredible potential for ground-based, aerial, and maritime robotics. Robotics is moving from an opportunity in business and facility operations to a necessity in many industries. As a result, organizations must plan for multi-vendor robots, intelligent traffic flows, storage, and more.