Using drones, automation, robotics, and artificial intelligence, companies are leveraging these important warehouse metrics to better serve their customers while improving their own bottom lines.
6 Warehouse Metrics You Can't Afford to Ignore
Rafael Granato | PINC
In this fast-paced distribution environment, knowing where products are at any given time—and how quickly they can be packed, shipped, and delivered—is a "must have" that most companies continue to struggle with. To meet the demands of a customer base that expects next-day, and two-day deliveries; perfect order accuracy; and reliable shipment status updates; companies need accurate and real-time inventory visibility across all segments of their supply chains.
"Unfortunately, despite the effort and resources invested to date, many companies are still not performing to their full potential when it comes to omni-channel fulfillment, and they continue to experience challenges related to inventory visibility and optimization," Adelante SCM points out in a recent inventory insights report. In fact, 30% of companies say their omni-channel fulfillment performance (relative to peers in their industry) is "below average."
Here's the good news: there are key warehousing metrics that companies can establish and track to improve order fulfillment speed, decrease transit times, and keep customers happy. Add advanced technology like aerial drones, warehouse automation, robotics, and artificial intelligence (AI) to the equation, and the end result is a solution that provides new levels of inventory visibility in a logistics environment that demands it.
"Robotics can yield high returns, as the technology can often be implemented without drastic changes to infrastructure," Deborah Abrams Kaplan writes in Supply Chain Dive. Drone technology is also coming of age in the warehouse environment. For example, Walmart and others are conducting pilot projects to check warehouse inventory with a drone. "They found that the drone could potentially eliminate a month of human labor," Kaplan writes, "with the drone working one day."
Building a Strong Foundation
The foundation of a strong distribution operation is identifying the right metrics to put in place and building your supply chain processes around them, Adelante SCM points out in its report. "Surprisingly," it adds, "the survey results showed that even leading companies are falling short in their use of inventory metrics that are proven to drive omni-channel success." Here are six warehouse metrics that all companies should be tracking, monitoring, and acting upon:
Order Fill Rates. The percentage of an order that is filled on the first shipment, this metric is important for two reasons: It relates to customer satisfaction (do a large percentage of items take more than one shipment to be filled) and to transportation efficiency, which can be affected if multiple shipments are often needed to fill orders, the SIPMM Institute points out in Key Performance Metrics for Effective Warehousing and Customer Service. For example, a customer orders 20 units of SKU 2677, but the seller ships the 15 units it possesses. The fill rate equals 15/20 = .75. "An out-of-stock situation occurred, but demand was partially filled," the Institute concludes. "From this simple definition, a large number of combinations exist in how to craft fill rate measures."
On-Time Shipping. "A distribution center's primary objective is clear in its name: It must accurately and efficiently distribute goods that are coming in and out of the warehouse," Catch-Up Logistics' Demetra Mallios writes in Top 10 Logistics Metrics to Measure Supply Chain Efficiency in Your Warehouse. Put simply, the correct product must be placed on the correct transportation method at the appropriate time. Making this happen requires monitoring of late shipping departures to the warehouse and early completion of freight loading time, both of which can be managed with inventory visibility tools like automation, robotics, and drones.
The Perfect Order. A calculation of the error-free rate of each stage of a PO, the perfect order is a much sought after—but often elusive—fulfillment metric. "Every warehouse strives for perfect orders, in which customers consistently receive the right product, on time, undamaged, and with the correct documentation," Adam Robinson points out in Warehouse Metrics to Track to Improve Profitability and Operations. With virtually error-free shipments, customer satisfaction increases and customer support costs decrease. "This is the backbone of the reasons why tracking metrics, and in this case, warehouse metrics, is so vital," he adds, "to have more control and affect change."
Accurate Tracking of Trailers. If your warehouse distribution center makes use of trailers for shipping product, it is essential that you are aware of their location and status at all times. "A lot of warehouse yard facilities and dock doors are pinch points for companies," ARC Advisory Group's Steve Banker told Logistics Management. "It's about being able to properly time the dock door scheduling and making people show up on time and then fully utilizing those dock doors." However, when you add a Yard Management System (YMS), robotics, automation, and other advanced technologies to the equation, the return on investment (ROI) becomes readily apparent. A great method for tracking this information is through the use of passive RFID and GPS tracking system.
Recording Storage Temperatures. If you have a food storage warehouse facility, it is essential to install a temperature-monitoring system. That means monitoring daily temperatures of all the freezers, coolers, and ambient temperature storage spaces to ensure the optimal temperature for proper food storage and health reasons. Not only inside of the warehouse, but also in the trailer yard. A task that can be easily managed by an advanced yard management system. "Additionally, such a system will notify you of any irregular changes in temperature," Mallios writes, "so that you can immediately solve an arising problem before the food product becomes unusable inside of a trailer."
Customer Retention. Keeping customers coming back for more is a mounting challenge right now, when the nearest competitor is literally one screen tap or click away. According to Robinson, the customer retention metric charts the number and percentage of customers during the prior time period who are also customers in the current period. "Depending on the frequency of purchase, longer time periods, such as six months or one year, provide a more meaningful measurement," he advises. "Over several years, you can chart the trend of increasing or decreasing retention."
Once you have the warehouse metrics in place, and once the transaction data points have been accrued, Robinson says establishing realistic productivity standards becomes much easier. "Consider benchmarking the warehouse cost structure and productivity per person against other [companies]," he writes, "or benchmark against industry survey results such as the annual research survey conducted by Georgia Southern University and other major reports from various consultants."
The content & opinions in this article are the author's and do not necessarily represent the views of RoboticsTomorrow
---
Comments (0)
This post does not have any comments. Be the first to leave a comment below.
---
Post A Comment
You must be logged in before you can post a comment. Login now.
Featured Product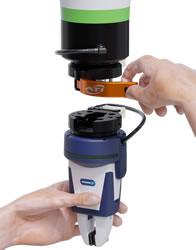 Simpler, stronger, and more precise. ATI Industrial Automation has developed a series of Manual Tool Changers that provides a cost-effective solution for quickly changing tools by hand. They feature a unique design that combines high strength, excellent repeatability, and a patent-pending screw-cam locking mechanism with multiple fail-safe features, which resists vibration and prevents loosening. These robust and compact Manual Tool Changers can handle payloads up to 80 pounds (36 kg) and pass pneumatics and electrical signals.