This automated grocery fulfillment solution can be placed wherever grocers and their customers need it most. This technology lowers grocer's last-mile and assembly costs, giving them the flexibility to grow with their customers.

José Vicente Aguerrevere & Max Pedró | Takeoff Technologies Inc.
Tell us a bit about Takeoff and what it is that you do?
Takeoff is a Boston-based tech company that leverages hyperlocal automation to offer grocers a dynamic and viable eGrocery solution. Shoppers place orders online with established retailers, either through their existing eCommerce platform, or one provided by Takeoff, and Takeoff's automated technology takes it from there. Robots fulfil the order inside a Microfulfilment Center (a micro warehouse that is compact enough to fit inside a store) and in a few minutes, the order is ready for pick-up or delivery. The bottom line: we lower grocers' assembly and last mile costs, increase their profitability, and offer superior shopper satisfaction of online orders.

What inspired the founding of Takeoff?
José Vicente Aguerrevere and Max Pedró both worked as grocers for years, so they have first-hand experience with the challenges and the opportunities that come with running a grocery retail business. Very early on, they recognized the need for grocers to evolve their customer proposition as eCommerce continues to grow. José had many conversations with Mick Mountz, the founder of Kiva Systems, who started using mobile robots for order fulfillment in warehouses; ultimately Kiva Systems was bought by Amazon. These exchanges planted the seed that eventually blossomed into Takeoff Technologies: it became clear that leveraging automation to fulfill online grocery orders, while operating at the store level, would significantly reduce last mile costs. This idea eventually led to the founding of Takeoff.
How does the AI technology work/assemble orders?
Machine learning has great potential to continuously improve product slotting and storage location within the Microfulfillment Center, based on product rotation and demand patterns. This is far more advanced than static logic, as it logs and analyzes these evolving patterns, and leverages them to increase efficiency. This is relevant for picking productivity, as it reduces the time the machine takes to retrieve each tote and route it to the picking station. Even at the picking station, customer orders can be introduced through a sophisticated logic that optimizes the sequence in which orders are picked.
What are the benefits?
There are several benefits to leveraging hyperlocal automated microfulfillment. Automation is extremely efficient. An automated order can be assembled ten times faster than an order that is manually picked. The "micro" aspect of microfulfillment is another essential piece of the solution. By shrinking down an automated warehouse into a compact Micro Fulfillment Center (MFC), retailers can save on real estate costs (rather than investing in a large warehouse, grocers can make use of their existing retail space), time (an MFC can be assembled in 3 months, as opposed to the 2-3 years it takes to assemble a large automated warehouse), and delivery costs (the commpact size of an MFC makes them extremely versatile, meaning they can be placed strategically to cut down on the last-mile cost). All of these factors make the technology extremely convenient and beneficial for retailers as they embrace their eCommerce opportunities.
How are robotics shifting eGrocery?
Robotics are an essential key to unlocking eGrocery as a viable option for retailers. In a conventional grocery store, shoppers assemble their own orders. However, when grocery orders are placed online, the task of assembly falls to the grocer. Manual picking is highly inefficient and expensive to maintain. It will ultimately erode retailer's profits as eGrocery penetration becomes more and more significant. You can see that the leading retailers (Amazon, Kroger etc.) have all invested in automated methods. It is the difference between a person roaming the aisles in search of products, versus a machine picking the products and delivering them directly to the person. Takeoff's purpose is to help grocers not only embrace eGrocery, but actually thrive in an online market. Robotics are the key to helping grocers thrive in eCommerce.
How is the timing right for this technology?
When Amazon purchased Whole Foods in 2017, it sent a shockwave through the grocery industry. Online penetration has been growing rapidly ever since. Some projections say the industry will be at $334 billion worldwide by 2022. Most retail industries have already successfully made the transition into ecommerce. Grocery, on the other hand, is uniquely difficult to bring online. The nature of grocery products present significant challenges to grocers: they are bulky, perishable, delicate, require storage at different temperatures, and all of the products sell at very slim margins -- meaning grocers are facing a specific dilemma: there is a gap between shopper expectations, and the long-term viability of most of the current eGrocery models. Automated, hyperlocal microfulfillment is one of the only solutions that is profitable for grocers, and affordable for shoppers.

Are there any companies using the technology at this time or schedule in the near future?
We are the only company that is currently deploying this technology to fulfill real orders with real grocery retailers. We are proudly partnered with Ahold Delhaize, Albertsons, and Sedano's. Two sites are already live, one in Miami FL and another one in Windsor, CT. We are actively working on rolling out dozens of Micro Fulfillment Centers in the upcoming months.
What are the future plans/long-term vision for the company?
What we offer is an eGrocery solution, but what drives us is the potential to reimagine what a grocery experience can be. Grocery shopping in 2019 has become a hassle for many people. Of course, a grocery store still offers many benefits: experience, community, immediate gratification and the ability to hold a piece of fresh produce in your hands, to name just a few. Takeoff's vision is a grocery experience where customers can enjoy the environment without the hassle of roaming crowded aisles, grabbing products in a rush to check items off a list. Instead, we envision a grocery store where shoppers can meet with members of their community, gather inspiration for recipes, and relax, all while a robot assembles their grocery order behind the scenes. Basically, people can shop how they want, when they want, what they want.
About José Vicente Aguerrevere
José Vicente Aguerrevere is a serial entrepreneur with a passion for retail and disruptive business models, who has successfully developed businesses in technology and retail targeting the base of the socioeconomic pyramid. Jose Vicente is Co-Founder and CEO of Takeoff Technologies, Inc. Additionally, Jose Vicente is the Co-Founder, Chairman and former CEO of Dia Dia Practimercados (www.diadia.com.ve), an innovative business platform dedicated to efficiently distribute food, financial services and other basic categories to low income sectors of Venezuela with great convenience at competitive prices.
About Max Pedró
Max Pedró is an eCommerce and Financial Services entrepreneur and executive with a strong track record of transforming industries, re-imagining retail and delighting customers. Max is the Co-Founder, President and COO of Takeoff Technologies Inc. , aiming at transforming on-line grocery retailing by developing a marketplace of efficient automated micro fulfillment centers to solve the cost and immediacy of the last mile.
The content & opinions in this article are the author's and do not necessarily represent the views of RoboticsTomorrow
---
Comments (0)
This post does not have any comments. Be the first to leave a comment below.
---
Post A Comment
You must be logged in before you can post a comment. Login now.
Featured Product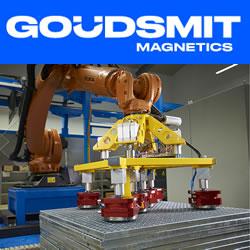 Magnetic robot end-of-arm tooling are suitable for the automated pick-up and positioning of steel or other ferromagnetic objects. They can be switched on and off and have a threaded mounting hole for robots. Magnetic grippers are an efficient alternative for traditional robot grippers. Application in automated production lines and for robots and pick-and-place systems. Magnetic product handling reduces the duration and number of operations. Goudsmit Magnetics is driven by magnetism since 1959. See how it works: https://youtu.be/hcXJ98mXHZE