Presently, end-user industries such as oil & gas, construction, manufacturing, aerospace, and healthcare industries are witnessing significant traction for high precision automated drilling robots.
The Robust Hardware Design and Robotic Software Lies at the Heart of Efficient Robotic Drilling Applications
Ankush Yadav | The Insight Partners
In the past few years, robotic drilling market has attracted unprecedented attention from leading enterprise owners, robot manufactures, and capital investors globally owing to continuous advancement in the technological capabilities of the robots. Also, the versatile benefits of industrial robots such as reduced CapEx costs and improved operational efficiencies, without compromising quality coupled with lower downtime have further facilitated its penetration across various manufacturing and production process across different industry verticals. According to Oxford, the word "robot" derives its origin from the Czech word, "robota" meaning forced labor. Moreover, the leading organization such as International Federation of Robotics (IFR) and International Organization for Standardization (ISO) defines the term industrial robot as, "automatically controlled, reprogrammable multipurpose manipulator programmable in three or more axes." Thus, the robots are automated machinery or equipment capable of performing physically enduring tasks with or
Currently, the industrial robot continues to witness an increase in its scope of application across different end-user industries despite its high capital expenditure and total cost of ownership. For instance, the industrial robots have a profound impact in process simplification, or assist in improved efficiencies across industries such as automotive, manufacturing, aerospace, defense, healthcare, and electronics industry among other major industries. Also, the consistent development in machine vision, pattern recognition, and sensing technologies, continue to increase its scope of application across other end-user industries. Among these, the drilling industry has witnessed a seamless transition towards adoption of robots for efficient as well as precision-based drilling applications in the past few years. Factors such as depth sensing technology, a kinematic model of the robot, robotic control, and user interface to name a few critical factors, to play an essential role development of a reliable and efficient automated drilling robot. The conventional approach towards drilling utilized supervision, prompt action as well as process understanding based on drilling application and end-user industry. The drilling robot analogues to other industrial robots constitute an articulated robotic arm, sensors, end-effectors & grippers, and its brain, i.e., the robotic software. Besides, based on the nature of application and deployment, the drilling robot could be stationary or mobile with the corresponding degree of freedom for its movement, within the workplace.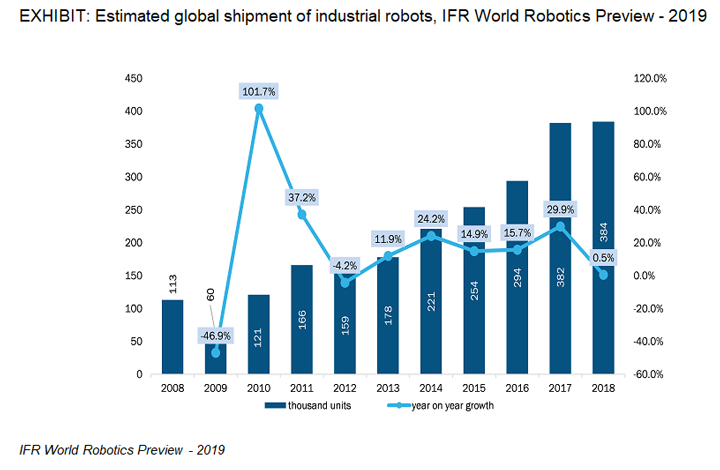 Presently, end-user industries such as oil & gas, construction, manufacturing, aerospace, and healthcare industries are witnessing significant traction for high precision automated drilling robots. For instance, a drilling robot could have a significant positive impact over the effectiveness level, as well as lower the time required for job completion, along with reduced costs. However, the challenges associated with delivering consistent, accurate, and precision drills, especially across off-shore and uneven level significantly complicate the continuous feedback process for achieving the desired drilling depths, for the robot manufacturers. Thus, creating a strong demand for robotic solutions capable of flexible and accurate performance delivery across motion platform. However, the key to successfully develop an efficient drilling robot lies in the communication, such as the ability to sense the real world and through continuous feedback communication and supervision form the individuals. The constant investment in research & development by the manufacturers towards identifying improved depth sensing, minimizing tolerances, and robotic control system to improve the robot dexterity and ingenuity skills of the drilling robot is expected to improve their drilling capabilities in the future.
The market players currently offering drilling robots offer robots focus on superior lifting capacity, high degrees of motion, improved accuracy, ability to exchange tools & end-effectors, and increased spinning capabilities among other customization for various floor drill operations. Also, the growing integration of different artificial intelligence approaches such as machine learning, pattern recognition, predictive analytics, and other AI driven strategies to aid in improved environment sensing capabilities for the drilling robot. Subsequently improving the depth sensing abilities, for improved feedback process during the automated drilling process for achieving accurate and precision drilling solutions. Besides, selected leading players in oil & gas, aviation and manufacturing industry are providing a platform for facilitating innovative and creative robotics drilling solutions through collaborative partnerships and open competitions.
As a result, the robotics driven drilling process owing to its versatile operation and safety benefits is expected to offer a viable alternative solution for conventional manual, or heavy equipment driven drilling process. Moreover, growing advancement in machine learning and artificial intelligence capabilities and its subsequent integration in robotics software for development of superior robotics solutions is expected to gain a significant audience among various end-users globally
About Ankush Yadav
Ankush has always had a keen interest in reading and writing. Though an MBA Post - graduate, He forayed into the field of writing due to his love for words and the urge to do something different. The Insight Partners has given his the chance to gain knowledge about different subjects. He aspires to make each of his written works a piece of art.
The content & opinions in this article are the author's and do not necessarily represent the views of RoboticsTomorrow
---
Comments (0)
This post does not have any comments. Be the first to leave a comment below.
---
Post A Comment
You must be logged in before you can post a comment. Login now.
Featured Product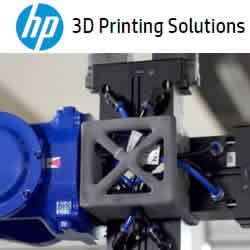 From molds to final and spare parts, produce quality 3D printed parts with optimal mechanical properties without the long lead times. See how HP 3D Printing with HP Multi Jet Fusion helps these companies reinvent the design and manufacturing of custom robotics and grippers.