While the popular view of robots may be car assembly, in fact, 90 percent of manufacturing today is not automated and takes place in small and medium size companies.
Agile Automation for Small-Batch Manufacturing
Q&A with Dave Henderson, CEO of New Scale Technologies, Inc. (NST) | New Scale Robotics
Tell us about New Scale Robotics and your role with the company.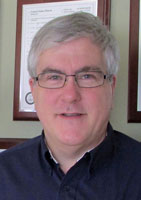 I am the CEO of New Scale Technologies, Inc. (NST) and also CEO of our new division, New Scale Robotics (NSR). I founded NST in 2002 to create smart motion systems that make our customers more competitive. Our embedded modules provide the smallest size, highest precision, "plug-and-play" integration, and save time. How small? We have made modules that move optics in mobile phone cameras with micrometer precision. In 2018 we launched our new NSR division to serve the fast-growing collaborative automation market by delivering "plug & play" tools for collaborative robots (cobots). Our tools install in minutes, operate seamlessly inside the cobot controller, and are ideal for high-mix small-batch manufacturing companies where frequent product changes are required.
When we picture collaborative robots we often vision large robots working to assemble cars. New Scale Robotics specializes in the smallest of collaborative robotics, where are you seen the most uses for this type of robot now?
While the popular view of robots may be car assembly, in fact, 90 percent of manufacturing today is not automated and takes place in small and medium size companies. Collaborative automation addresses the needs of these companies for lower cost-of-entry, fast deployment and fast re-deployment when products frequently change. ROI of less than one year is expected. A significant number of applications work with small parts, less than 100 grams, and include CNC machining, injection molding, die casting, grinding and polishing optics, electronics assembly and testing, and lab automation. NSR precision grippers, installed on cobots, automate labor intensive inspection tasks by integrating part picking, measurement, data logging, sorting and assembly.
What are some of the challenges when building and designing grippers and end-of-arm tooling for these?
Our objective is a plug and play tool that can be installed in a few minutes. This installation includes mechanical mounting, electrical connections and loading software. Unfortunately, each cobot brand is different. Mechanical specification are nearly standardized. However the electric and software standards very greatly.
In July 2019 we introduced a new gripper that takes full advantage of the new eSeries interface on the Universal Robots (UR) cobots. The NSR-PG-10-20-URe Precision Parallel Gripper and NSR-MTM-3-URe Multi-Tool Mount use fast RS-485 communications at the cobot tool port to communicate with the embedded processor inside the gripper. No external cables are needed. A new e-Series software plug-in, NSR-Devices URCap, operates one or multiple grippers installed on a single cobot using UR control software. We are currently working with other cobot companies to emulate this functionality. The challenge is to accommodate the different digital connections and software programming environments.
Tell us a bit about agile automation and why it is a competitive solution for high-mix, small-batch manufacturing?
Agile Automation is flexible manufacturing that enables fast deployment and re-deployment of automation in response to product changes. This contrasts with traditional "hard tooled" automation that makes the same part for a long time and requires significant time and money to re-tool. Agile automation empowers the company's manufacturing team to create and re-create solutions as needed. Hard-tooled automation requires "outside" integration teams to make changes which is a significant barrier to automating high-mix small-batch processes.
How does automated small-part inspection make a factory more competitive?
Inspection is an essential step in all manufacturing processes that directly adds to product cost and limits capacity. For example, today a person may be manually measuring critical part dimensions on a molded optical component with digital calipers. These measurements are continuous ( in-line ). The values are typed into a computer. After measurement parts are manually sorted according to size. The measurements are used to chart process drift, track yield, and meet customer reporting requirements. The work is tedious, repetitive and prone to error.
A cobot with a precision gripper automates part picking, measurement, data logging and sorting. The precision gripper is an electronic caliper that combines movement and measurement. The measurements are automatically transferred to a separate computer for charting, tracking and SPC analysis. The person is now responsible for providing pallets of parts, ready for inspection, and removing inspected and sorted parts. The person's productivity is multiplied and their skills upgraded to include teaching and operation of the cobot inspection work station. The company increases capacity with fewer new hires and reduces cost.
What cobot-gripper systems are the best fit for small part manipulation, measurement, sorting and assembly.
New Scale recently introduce the NRS-PG-10-20-URe Precision Parallel Gripper and NSR-MTM-3-URe Multi-Tool Mount. The MTM integrates three grippers on a single UR3e cobot with a mass of only one kilogram. This low mass compatible with the smallest cobots. Each gripper has fingertips configured for unique movement and measurement operations. In this example, the workstation makes five part measurements with three grippers including thicknesses, outside diameters and inside diameter. Measurements are made with 2.5 micrometer resolution and 10 micrometer accuracy. See the video at https://www.newscalerobotics.com/new-ure-gripper-and-multi-tool-mount-system-for-cobots/ By integrating three grippers on one cobot more measurements are made in less time while minimizing the number of large moves and maintaining safety.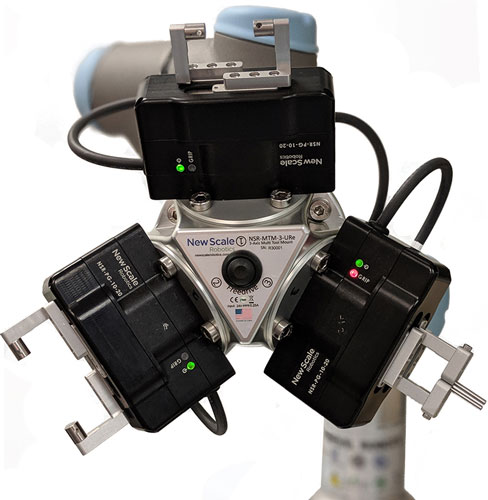 What are some of the challenges a manufacturer may face when implementing small cobots?
Manufacturers new to automation need to build the awareness and application knowledge inside their team so that each automation project builds on past successes. Experts at cobot and accessory companies and their distributors can help identify and validate project opportunities. Companies new to automation should start with simple automation projects to quickly demonstrate success. Emphasis should be on operations described by the 3 D's….dull, dirty or dangerous. Each manufacturing team will know best where to begin. Smaller cobots are generally easier to fit into existing work cells and floor layouts which reduces implementation time, disruption and cost.
Looking down the road, where do you see the biggest growth potential for small collaborative robots use and why?
In the future robots will be as common as PCs on the manufacturing floor and as easy to operate as your smart phone. Employees will be trained and expected to use robots everyday with agility and confidence. Easy-to-use automation "apps" will be created and distributed to maximize productivity. Systems of cobots and accessory tools will plug and play together like a PC connects to a printer today. Today 90% of manufacturing companies are not using automation. The growth potential is realized when most of this companies adopt agile automation. Small robots will address companies that need small part picking, inspection, and placement while taking full advantage of Industry 4.0 interconnectivity.
The content & opinions in this article are the author's and do not necessarily represent the views of RoboticsTomorrow
---
Comments (0)
This post does not have any comments. Be the first to leave a comment below.
---
Post A Comment
You must be logged in before you can post a comment. Login now.
Featured Product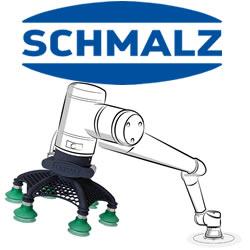 In order to interact with their environment and perform the tasks, lightweight robots, like all industrial robots, depend on tools - and in many cases these are vacuum grippers. These form the interface to the workpiece and are therefore a decisive part of the overall system. With their help, the robots can pick up, move, position, process, sort, stack and deposit a wide variety of goods and components. Vacuum gripping systems allow particularly gentle handling of workpieces, a compact and space-saving system design and gripping from above. Precisely because the object does not have to be gripped, the vacuum suction cupenables gapless positioning next to each other.