As robots grow in popularity, expect to see them in more common, repeatable tasks – like oil changes and tire replacements and rotations – to create increased efficiencies in service operations.
Adopting Service Robot Technology
Gary Brooks | Syncron
Tell us a bit about Syncron and your role in the robotics industry?
Today's manufacturers are on a transformative journey to servitization, where they are shifting from selling just products to selling the outcome or output those products deliver. As a result, OEMs are developing for the future of their businesses while simultaneously optimizing today's operations.
At Syncron, we understand that today's manufacturers are uniquely positioned to shape industries and service for generations to come. We are uniquely positioned to partner with these leading brands on this journey, as we are the only provider of a scalable technology platform that will enable OEMs to meet their near-term service goals and objectives while simultaneously accelerating the execution of their servitization initiatives.
And while Syncron is a SaaS provider and does not provide robotics-specific technology, we do believe robotics – like any other technology that optimizes and autotomizes manufacturing and service processes – are here to stay. However, it is critical that any new technology an OEM adopts – regardless if it's software, a service robot or an IoT platform – should support business goals and objectives and be fully integrated into processes and existing infrastructure. Technology is just one component of manufacturers' journey to servitization. The journey also entails fundamental shifts in business processes, resources and infrastructure.
Why are automotive OEMs opting more for service robots?
It's clear the robotics market is growing – and isn't going anywhere anytime soon – as it's expected to reach $64.0 billion by 2023 from $38.1 billion in 2018 at a compound annual growth rate (CAGR) of 10.9% for the period 2018-2023. In the automotive sector, in particular, are opting for service robots for a variety of reasons, including:
robots offer improvements in productivity, consistency and safety
robots allow technicians to focus on more complex service issues opposed to routine maintenance like oil changes or tire replacements and/or rotations
increased efficiencies, especially in repeatable processes
What are the common tasks these robots are performing?
Robots are taking on jobs that are "dirty, dull or dangerous." As mentioned previously, automotive OEMs are looking for efficiencies in all areas including technology, resources, business processes and infrastructure. As robots grow in popularity, expect to see them in more common, repeatable tasks – like oil changes and tire replacements and rotations – to create increased efficiencies in service operations. This will allow service techs to take on and focus on more complex issues.
How does this impact servitization?
One of the most radical aspects of servitization is that the responsibility, risk and cost associated with maintenance and repairs will shift from the end user to the OEM. In this new era, OEMs take on the full responsibility for maximizing the uptime of their products, which they are offering as outcome-based, on-demand access to customers. OEMs are now responsible for ensuring that products are maintained proactively so downtime is minimized and in order to ensure customer loyalty. Previously, when the customer owned the product, they assumed the full risk for any repairs that might need to take place (outside of standard OEM warranties). In the servitization era, OEMs assume the full risk for any product defects and necessary repairs, putting more pressure on engineering and product development to ensure the highest quality designs and manufacturing. While subscription models will be more expensive initially than purchasing and maintaining equipment and having the necessary insurance for the asset, customers are willing to pay more for the total added value the subscription offers. However, the OEM now bears the entire cost of maintaining equipment and bears the brunt of depreciation, so an entirely new mindset of how to balance P&L will need to be cultivated to be successful in this new era. For OEMs with dealer networks, service delivery management will become increasingly integrated as they jointly work to provide maximized product uptime to subscription-based customers. To meet these quickly changing needs and expectations, OEMs will need to invest in new technologies – like robotics – to succeed.
What are some of the challenges in adopting service robot technology?
The biggest challenge is probably cost. Any time an organization is exploring new technology, it needs to be cost competitive with human labor.
Do you believe that service robots will be in use in many international markets or just a few?
For manufacturers with large, global distribution markets, robots will most likely be used where it's most efficient for the particular business needs, regardless of location.
How will service robots impact the automotive supply chain?
In a research from Deloitte, they identify final manufacturing and warehousing as key areas of opportunity for robots. However, as technology continues to grow in sophistication and capability, it will start to become more commonplace to see robots in more complex environments.
In what other industries are service robots being implemented in a big way?
In addition to manufacturing, we'll see an increase in robots in health care, the military, agriculture and potentially even construction.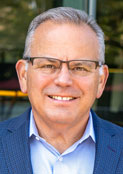 About Gary Brooks
As Chief Marketing Officer at Syncron, Gary Brooks is responsible for global marketing and focuses on enabling leading manufacturers around the world transform their after-sales service operations to maximize product uptime.
The content & opinions in this article are the author's and do not necessarily represent the views of RoboticsTomorrow
---
Comments (0)
This post does not have any comments. Be the first to leave a comment below.
---
Post A Comment
You must be logged in before you can post a comment. Login now.
Featured Product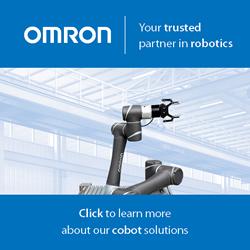 Humans and robots can now share tasks - and this new partnership is on the verge of revolutionizing the production line. Today's drivers like data-driven services, decreasing product lifetimes and the need for product differentiation are putting flexibility paramount, and no technology is better suited to meet these needs than the Omron TM Series Collaborative Robot. With force feedback, collision detection technology and an intuitive, hand-guided teaching mechanism, the TM Series cobot is designed to work in immediate proximity to a human worker and is easier than ever to train on new tasks.