At booth #US-8071 attendees will see our entire family of user-friendly, powerful and robust AMRs for heavy and light transport that optimize logistics throughout the entire production chain, from the warehouse to the delivery of goods.

PACK EXPO Q&A with | MiR - Mobile Industrial Robots
Tell us about your company.
Mobile Industrial Robots (MiR) is a leading manufacturer of collaborative, autonomous mobile robots (AMR). We are dedicated to developing user-friendly, flexible and safe robots to help companies increase the efficiency of their operations. Our AMRs are advanced mobile robots that offer a rapid return on investment, often with a payback period of less than a year.
As a first mover in the field, we have enjoyed rapid, worldwide adoption by manufacturers and other companies – including Toyota, Ford Motors, Raytheon, ABB and CABKA North America - wanting to automate – and optimize – their internal logistics and 3PL applications, and increase the efficiency of their supply chain management. We have branch offices in Odense (HQ), , Frankfurt, Barcelona, Shanghai, Singapore, San Diego and New York, and through an extensive global distribution network in 50 countries.
Your company will be exhibiting at PACK Expo, what is it that makes this an important event for your company?
The autonomous mobile robot industry is still relatively new, so manufacturers and other companies are only beginning to understand the myriad ways in which these robots can benefit their organization. PACK Expo is the largest packaging trade show in U.S in 2019, and this gives us a unique opportunity to share our robots and these applications with thousands of packaging and logistics professionals looking for the best automation technologies to optimize workflows and gain competitive advantages in the production and supply chains. In fact, we see the third-party logistics (3PL) industry as a huge potential market for us and expect to further validate that belief at the show!
What makes your booth a must visit for PACK Expo Attendees?
At PACK Expo, attendees will see our entire family of user-friendly, powerful and robust AMRs for heavy and light transport that optimize logistics throughout the entire production chain, from the warehouse to the delivery of goods. We'll share our MiR100 and MiR200—able to carry 100kg (220 lbs) and 200kg (440lbs)—to our newest robots designed to automate the transportation of pallets and heavy loads, the MiR500 and MiR1000. These latest additions are collaborative, safe and flexible alternatives to potentially dangerous and expensive fork lifts on the factory floor as well as inflexible conveyor belts and traditional automated guided vehicles (AGVs). As our CEO Thomas Visti said when he launched the MiR1000 this spring, the new robot "extends the possibilities for automating internal logistics, especially for those who want to transport very large materials without reconfiguring their infrastructure."

As companies continue to recognize, human workers still spend too much valuable time moving pallets of materials around facilities, so there are significant efficiencies to gain by automating this task and redeploying human workers for higher valuable activities. Since our AMRs can find their destinations on their own and always take the most efficient route to pick up, transport and deliver pallets autonomously, workflows will be optimized and bottlenecks avoided in the production due to missing transports.
We'll also be demonstrating different top modules that can be customized for different applications, a conveyor band on the MiR1000, pallet lifts and a delivery station to connect with production lines.
When you get a chance to walk the exhibit hall floor yourself, what is it you will be most interested to see? Any educational sessions, pavilions etc. you plan on attending?
PACK Expo is one of the largest gatherings of suppliers and manufacturers of packaging technology across multiple industries, so we're eager to see the latest innovations for those spaces as well as the other new technologies designed to advance automation and overall improve logistics for these companies.
The factory floor is undertaking rapid advancements, be it automation, robotics, machine vision or data. Automation Technology is a huge part for many manufacturers, so give us an idea on how your company and product is being utilized now in the smart factory.
Today's manufacturers across nearly all industries are facing shrinking product lifecycles with frequently changing customer demands, which means they need agile production and flexible factory layouts that can be easily modified as needed. That isn't possible with forklifts, conveyor belts, or automated guided vehicles (AGV) that require permanent wires, magnetic stripes or sensors embedded in production floors.
As a result, many "smart factories" are turning to autonomous mobile robots to automate their internal transportation and logistics, and they are experiencing optimized workflow; increased productivity and reduced costs as employees are moved to higher value tasks, and fewer injuries (and compensation claims) as the often unsafe forklifts – and repetitive load-and-lift activities – are replaced with the these user-friendly, flexible and safe robots.
For example, CABKA North America is using the MiR500 in a new, fully automated production line that includes a six-axis robot to autonomously unload pallets from the injection molding machine, trim the pallets, and load the finished products directly onto the MiR500, which is equipped with a MiR pallet lift. The MiR robot transports the finished products out of the manufacturing floor to a separate staging area as soon as the job is complete. In the staging area, the pallets can be checked for quality and wrapped and then fork trucks can transport the finished pallets to the warehouse and loading docks without having manufacturing workers present. This allows Cabka to eliminate fork truck traffic in the production area, replacing them with safe, collaborative mobile robots.
Give us your thoughts on what the future holds for manufacturers and automation technology.
Expect artificial intelligence to continue to make robots and other automation technologies smarter. In fact, last spring, MiR began incorporating AI capabilities in our robots for better navigation, enabling them to recognize the different types of obstacles they might encounter and then react accordingly. For example, with strategically placed cameras, the robots can continue driving as usual if they detect a person but will park if they detect an AGV so the AGV can drive by. The robot can also predict blocked areas or highly trafficked areas in advance and reroute instead of entering the blocked area and then re-routing. These more intelligent robots make it even easier for manufactures or others to install entire fleets of robots to help improve logistics and contribute to the overall success of their businesses.
To setup an appointment for a booth demo or visit please contact Ed Mullen, VP of sales, Americas, at emu@mir-mobile.com or call +1 (631) 675-1838.
The content & opinions in this article are the author's and do not necessarily represent the views of RoboticsTomorrow
---
Comments (0)
This post does not have any comments. Be the first to leave a comment below.
---
Post A Comment
You must be logged in before you can post a comment. Login now.
Featured Product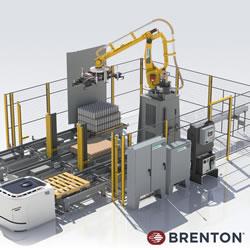 Brenton is a leader in robotic solutions with standard product offerings including palletizing and depalletizing for efficient an option for carrying hard-to-handle products, as well as larger scale systems with an optimized footprint; and case and carton loading solutions for numerous industries. In addition, Brenton works with customers on integrated solutions, offering robotics in a broad spectrum of robotics to fully integrate end of line systems. Brenton helps packaging customers protect their reputation and grow the trust of their consumers.