Manufacturing

Marketing Partner
---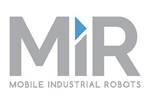 MiR - Mobile Industrial Robots Inc.
Mobile Industrial Robots is a leading manufacturer of collaborative mobile robots. We are dedicated to developing user-friendly, flexible and safe robots to help companies increase the efficiency of their operations.
---
Mailing Address:
Emil Neckelmanns Vej 15F
Odense, 5220
Denmark
Tel: (631) 675-1838
Fax:
Email: emu@mir-robots.com
Website: http://www.mobile-industrial-robots.com/en/
Company Category: Industrial Robotics
Geographic Region: Europe - West
Company Sector: Manufacturing
Keywords: autonomous, mobile, robot, warehouse, motion, logistics, tra
Partner Status: Marketing Partner
---
Products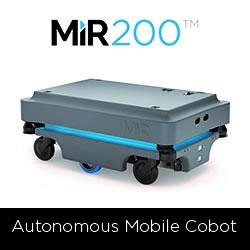 MiR200 is a safe, cost-effective mobile robot that automates your internal transportation. The robot optimizes workflows, freeing staff resources so you can increase productivity and reduce costs. MiR200 safely maneuvers around people and obstacles, through doorways and in and out of lifts. You can download CAD files of the building directly to the robot, or program it with the simple, web-based interface that requires no prior programming experience. With its fast implementation, the robots offers a fast ROI, with payback in as little as a year.
---
Articles
The company has turned to collaborative automation to help it compete in this high-cost labor market, while preserving jobs for its skilled, long-term employees.
What Every Business Owner Needs to Know About the Technology Behind Autonomous Mobile Robots
Two mobile robots independently transport goods internally in the Austrian location of Flex, one of the world's leading technology companies. The automation of these monotonous tasks keeps processes lean, efficient and flexible and takes the strain off the employees and enables them to devote more time to more important activities.
---
White Papers
This Company does not currently have any White Papers
---
---