At its core, the Coapt Gen2 system uses algorithmic pattern classification to determine wearers' intuitive, real-time intent for moving the joints of a prosthetic arm and/or hand.
Next-Gen Control System for Prosthetics
Blair Lock | Coapt
Tell us a bit about Coapt and your role in the robotics industry?
Coapt is best described as a human-machine interface company with a marquee product called COMPLETE CONTROL; a modern and advanced controller system for upper limb powered prosthetics. Power-actuated prosthetics could be considered a close cousin to robotics – with some obvious similarities in mechanical and electrical drive systems – but differ greatly in how they are physically implemented and controlled. Coapt's role in the prosthetics industry is as a technology trailblazer in the intuitive control of prosthetic arms. That is, producing a one-of-a-kind interface that lets amputee wearers control these actuated limbs in a seamless and easy way.
What inspired your complete reengineering of the Coapt COMPLETE CONTROL system?
Our first generation of the COMPLETE CONTROL system has been on the market for nearly six years. In that period, our interactions with countless users and their clinicians provided invaluable feedback. We learned what aspects of the system worked well and what needed improvement. This true-life data gave us the information and, most importantly, the drive to re-engineer Gen2 into something really special.
Can you describe the system and what sets it apart from other prosthetic control systems?
At its core, the Coapt Gen2 system uses algorithmic pattern classification to determine wearers' intuitive, real-time intent for moving the joints of a prosthetic arm and/or hand. The algorithms are specifically tuned for data streams that are deconstructed biopotential signals from the residual limb of the amputee wearer. The system can be quickly trained and calibrated by the user, on-the-go. Without this technology, most powered arm prostheses were controlled with one or two basic muscle sensors in a rudimentary way. Those sensors would only detect signal level (not rich signal content) and act as basic switches. Users were required to learn a system of pulsing and twitching in order to access movement commands, thus making overall prosthetic arm control cumbersome and non-intuitive.
How are machine learning and artificial intelligence involved in this upgraded control system?
In the upgraded Coapt Gen2 system, the machine learning pattern classification and the AI system are operating somewhat in parallel. The machine learning system is greatly optimized for the type of human data it needs to process and therefore does the bulk of the real-time control work. The AI system is programmed with specific information that makes it an ideal "supervisor" of the variations in the character of the data from the wearer; it is trained to act as a virtual coach, detecting and teaching things that will help the user continually improve their control performance and function.
What benefits will users experience?
Prosthetic arms and/or hands that have wonderfully modern design and actuation technology have not typically been developed with an equally state-of-the-art human control interface. The addition of Coapt, however, lets users benefit an easy, natural, and personalized way to control these prosthetic devices. Users also get the benefit of powerful tools like the AI Control Coach to have a technology companion helping them incorporate the use of the prosthesis in their daily lives.
Are there any other systems that you are working on and would like to talk about here?
Coapt has a very active R&D segment. There are a few funded, academic efforts underway that seek to validate some exciting new features of the control system. Coapt is collaborating with other manufacturers in the field to develop novel devices and there are also a number of adjacent applications of our technology in the rehabilitation space; such as powered orthotic control and virtual/augmented reality tools. Finally, Coapt is exploring a few applications outside of the Prosthetics and Orthotics space that we hope to be able to discuss in the near future.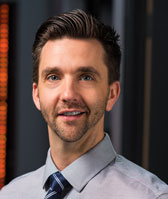 About Blair Lock
Blair Lock, MScE, has been a leader in the field of upper limb prosthetics and myoelectric control since 2005. He is the CEO of Coapt, which he co-founded in 2013 as the world's first and only provider of advanced pattern recognition systems for upper limb prostheses. Prior to that, he was the Operations Director for the Rehabilitation Institute of Chicago (now Shirley Ryan AbilityLab) group responsible for the introduction of the Targeted Muscle Reinnervation (TMR) procedure. Blair earned graduate degrees in engineering, entrepreneurship and management from the University of New Brunswick. His mission is to use Coapt's strong clinical research background and its portfolio of transformative technologies to offer innovative solutions that improve the quality of life for prosthesis users.
The content & opinions in this article are the author's and do not necessarily represent the views of RoboticsTomorrow
---
Comments (0)
This post does not have any comments. Be the first to leave a comment below.
---
Post A Comment
You must be logged in before you can post a comment. Login now.
Featured Product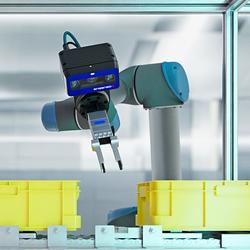 Combining the ease of use of a webcam with the performance and reliability of an industrial camera? The uEye XC autofocus camera from IDS Imaging Development Systems proves that this is possible. Its high-resolution imaging, simple setup and adaptability make it an invaluable tool for improving quality control and streamlining workflows in industrial settings - especially for cases where users would normally employ a webcam. The uEye XC autofocus camera features a 13 MP onsemi sensor and supports two different protocols: USB3 Vision, which enables programmability and customization, and UVC (USB Video Class). The UVC functionality enables a single cable connection for easy setup and commissioning, while delivering high-resolution images and video. This makes the uEye XC camera an ideal option for applications that require quick setup and need to manage variable object distances. Additional features such as digital zoom, automatic white balance and color correction ensure precise detail capture, which is essential for quality control.