Physical therapists are crucial to the design, development, and the operation of sensing technologies and robotic interfaces. Physical therapists are proactive partners, who work with engineers to encourage discoveries that will enhance best practice principles for patients.
Robots Assisting with Physical Therapy
Len Calderone for | RoboticsTomorrow
Robots are not new to the medical environment. They are used in a variety of ways, such as telepresence, surgical assistance, rehabilitation, medical transportation, sanitation and disinfection, and dispensing prescriptions. They relieve medical personnel from routine tasks, and make medical procedures safer and less expensive for patients, including accurate surgery and the transport of hazardous substances.
Physical therapists are crucial to the design, development, and the operation of sensing technologies and robotic interfaces. Physical therapists are proactive partners, who work with engineers to encourage discoveries that will enhance best practice principles for patients.
Physical therapists are an important part of today's health care environment and are essential providers of rehabilitation, performance development, and risk-reduction services. They also play an important role in developing standards for the practice of physical therapy and in improving health care policy to ensure availability, accessibility, and the best delivery of physical therapy.
An autonomous robot could soon be a regular member of a hospital's medical staff, carrying out duties such as taking a patient's pulse, reading case notes and scanning vital signs. Remember the Tricorder from Star Trek?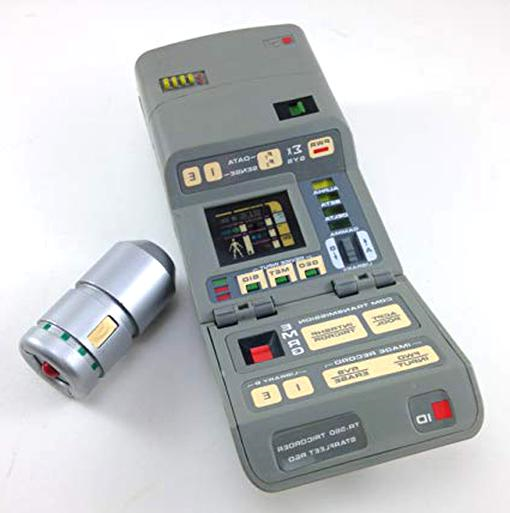 Assistive and therapeutic robotic devices are rapidly growing, including robots that help patients rehabilitate from serious conditions like strokes. Rehabilitation robots play a central role for people with disabilities, helping them recover mobility, strength, coordination, and quality of life. Through programming, these robots adapt to the condition of individual patients, who are recovering from strokes, brain or spinal cord injuries, neurobehavioral or neuromuscular diseases such as multiple sclerosis (MS).
Rehabilitation robots utilize sensors to examine human movement and positioning.
These assistive robotic devices are helpful as clinical interventions, but they can also help with improvement assessments. Many of these devices are capable of measuring and storing the limitations of a patient's performance, which can help in long-term clinical evaluation. Able to detect and measure slight changes in movements and forces, these devices aid therapists in the management of treatment planning and goal setting.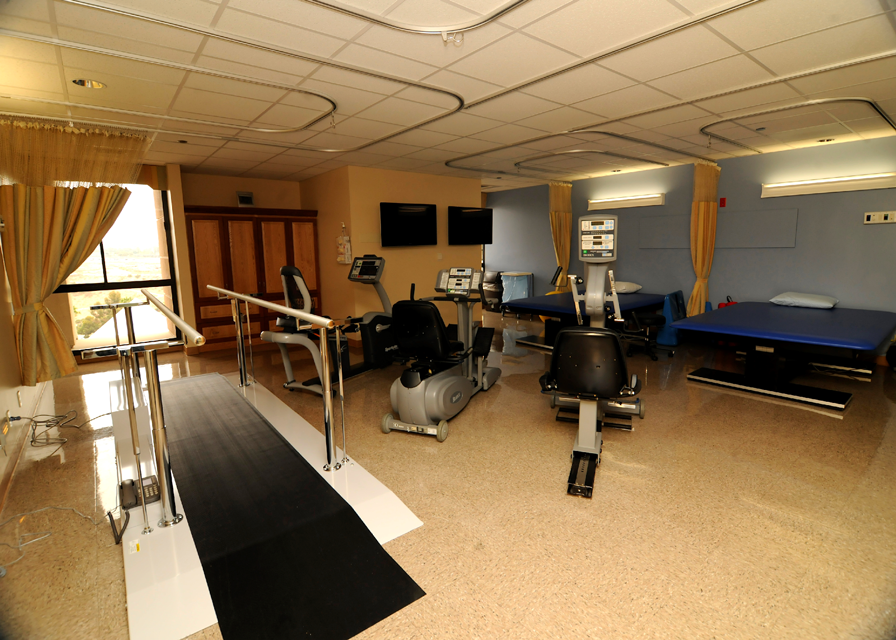 Navy physical therapy room
Rehabilitation robots include exoskeleton devices, which are wearable devices that assist the user. Exoskeletons are positioned on the user's body and act as amplifiers that enhance, bolster or reestablish human performance. An autonomous robot does the work instead of the user.
An ankle/foot orthosis (foot drop brace) is a brace that is worn on the lower leg and foot to support them, and keep them in the correct position to correct foot drop. Powered assistance is used to optimize a patient's walking pattern. Using this device, the ankle kinematics and muscle stimulation patterns return to a comparable state as they were during ordinary walking.
A treadmill gait trainer forces the patient to focus on foot placement, which is bolstered through visual prompts on the display. Sensory feedback from the recurrent treadmill belt movement assists with adjusting the central nervous system.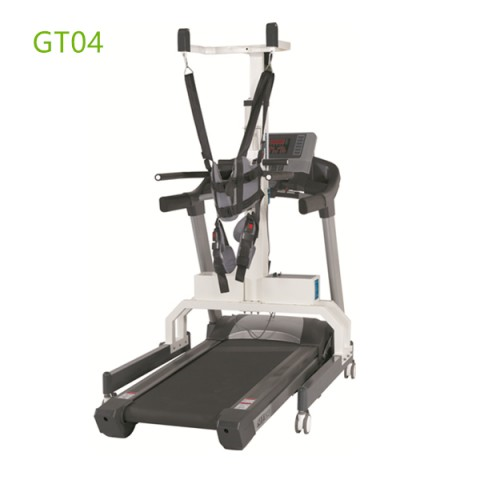 Adult Gait Training Treadmill-GT04 from Rehab Medical
Footplate gait trainers have movable footplates, where the patient's feet are positioned on a separate footplate. The footplate's movements are controlled by a gear system, which simulates foot motion during stance and swing. Pace and stride length are set individually. This device manages bilateral and distal gait training.
Human hands are complicated and adaptable. Many people suffer from hand weakening, such as spasticity, lack of control or muscle weakness, which could be the consequences of stroke, paralysis, injuries or muscular diseases. Dynamic hand orthoses aim to overcome these limitations, using hand exoskeletons, rehabilitation robots and assistive devices.
An orthotic robotic arm is a rigid brace having two degrees of freedom. It helps to restore function of forearm by empowering patients with paralysis to self-initiate and manage the movement of their partially paralyzed forearm by using their own muscle signals.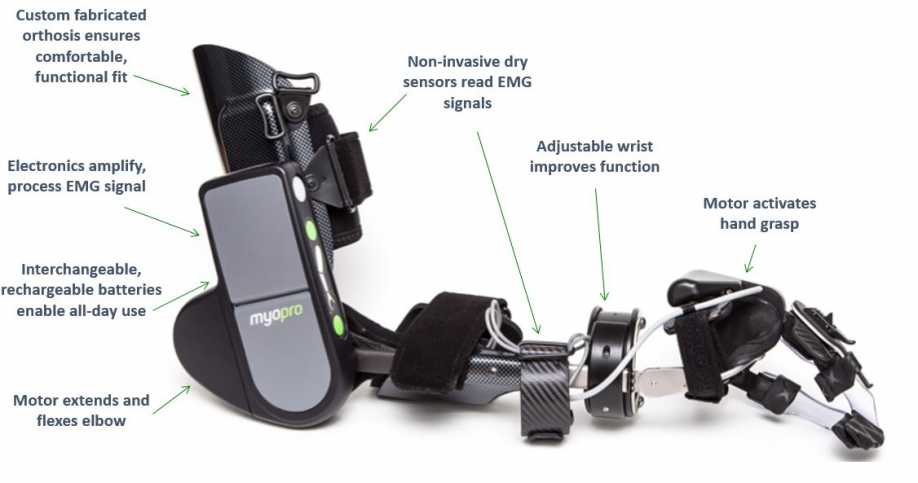 MyoPro powered arm and hand orthosis
Virtual reality is being combined with rehabilitation robots to increase the range of physical therapy exercises, motivation and the physical effects of treatment. The virtual reality setting can offer users with visual, auditory, or tactile feedback. Using virtual reality and robotics allows for the use of several modes of sensory interfaces to modify human behavior. In the restorative setting, these systems can be used to monitor, control, and enhance the patient's interaction with their environment with the goal of encouraging functional recovery.
Virtual reality and robotic systems have been studied for use with patients that have motor and sensory disorders of the central nervous system, which include cerebral palsy, multiple sclerosis, spinal cord injury, stroke, and traumatic brain injury.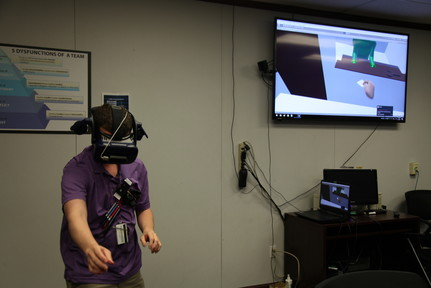 Photo By: Kristi Britt – Norfolk Naval Shipyard Public Affairs Specialist
Virtual reality systems are also being utilized in orthopedics and sports medicine to provide an attractive, structured environment for carrying out cardiovascular exercises, prosthetic training, strengthening, and stretching exercises.
Stroke effects around 15 million people throughout the world each year. In the United States, stroke is the third leading cause of death. It is also the number one cause of long-term disability. 75% of all strokes happen to seniors aged 65 and up. Because of this, there is a huge requirement for physical therapy and rehabilitation among seniors.
A robotics study conducted by the Veterans Administration showed that intensive robotic therapy led to significant improvements in movement and functional use of the upper limb, quality of life, and a 34% drop in healthcare costs when compared to stroke survivors receiving traditional care.
Human therapists have a need for help to put into practice evidence-based therapy during a patient's recovery. This help comes from robotic physical therapy systems powered by artificial intelligence (AI). Robotic physical therapy systems are able to more precisely detect movements during therapy sessions and deliver individualized assistance as needed. This means that approximately 600 to 1,000 movements are recorded in each session, which is considerably more than the 32 to 80 physical therapy movements detected by human therapists.
Providers must assuage patients' concerns and misconceptions of robotics, and rationalize to their patients that robotics are a tool to enhance and improve their therapy results, especially with seniors, who might be intimidated by new technology.
Robots do not have the dexterity that is essential to provide a human touch, which is key to the role of a physical or massage therapist. These jobs encompass the application of very delicate pressure with their hands while being able to detect minute responses from a patient's body. These are essential attributes that make this profession inherently humanistic, and not fit for AI. Therefore, robots will augment a physical therapist's job and not replace it.
Current technologies are being merged in new ways to make physical therapy operations more efficient. We are seeing emerging robotic technologies being channeled to bring about interesting breakthroughs in medical care.
The content & opinions in this article are the author's and do not necessarily represent the views of RoboticsTomorrow
---
Comments (1)
For over 10 year, Reha Technology has been successfully developing innovative, robot assisted gait therapy systems for use in the field of neurological rehabilitation. Based on the end-effector principle, the G-EO range of systems facilitates the work of therapists, reduces the physical burden and supports a wide and varied spectrum of patients with limited mobility and physical capacity.
Post A Comment
You must be logged in before you can post a comment. Login now.
Featured Product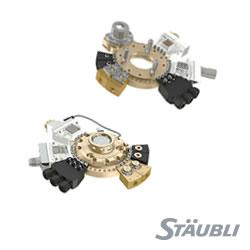 Stäubli is a pioneer in the construction and development of robotic tool changing systems. Our customers benefit from our many years of expertise in all industry sectors, as well as our modular product concept, which offers three efficient solution paths: MPS COMPLETE offers preconfigured robotic tool changers for immediate use. MPS MODULAR allows the user to determine the configuration, while MPS CUSTOMIZED allows the construction of special, application-specific systems.