Matt Wicks, Chief Robotics Solutions Architect at Honeywell Intelligrated shares with us his thoughts on how Honeywell Intelligrated is managing through the pandemic as well as insights into what the future of Robotics and Automation may be.
Business Perspectives and the Impacts of COVID-19 - Q&A with Honeywell Intelligrated
Q&A with Matt Wicks, Chief Robotics Solutions Architect | Honeywell Intelligrated
How are you seeing COVID-19 changing the way people do business?
In some ways, COVID-19 ushered in changes to business that were already on their way – the severity of the pandemic simply made these changes happen more quickly.
For example, we've been discussing a supply chain labor shortage for a while now, and companies are turning to robotics and automation more than ever to fill the manufacturing and supply chain gaps that have been generated by COVID-19. Many companies, including Honeywell, are adapting existing manufacturing capabilities to support the development of personal protective equipment and other essential supplies. Robotic solutions are a natural fit to usher in these changes because they are more flexible than other types of automation.
And even though we're seeing such high unemployment, there is still a shortage in labor in distribution centers and other areas of the supply chain. Robotics and automation can help to address these labor challenges and create resiliency in the fulfilment arena.
What type if any supply chain disruptions have you seen and can you share an example of how you are overcoming these?
We've seen the global supply chain impact many industries. As an example, look no further than the retail industry; specifically, your local supermarket, where shortages of certain foods and household items have become commonplace. And those retailers who invested in automated solutions pre-COVID were better equipped to handle some of these challenges, resulting in a competitive advantage and more positive consumer sentiment.
On the other end of the spectrum, we have witnessed some customers struggling to keep up with the changes in the marketplace. Those with limited or no automation are lagging and struggling in this current climate.
As of now, have you seen any effects on the robotics market? If so, how?
Definitely. In today's environment, organizations are looking to robotics to meet some of their immediate short term needs, including changes in manufacturing processes, delivery of goods in medical facilities, and disinfecting buildings and spaces.
Going forward, companies should consider how to future-proof their supply chains and fulfillment operations, finding areas that are most vulnerable to this type of disruption. They should consider how robotics and automated solutions can help alleviate some of these vulnerabilities.
How do you think people's view of robotics and automation will change as a result of this pandemic?
Here in the US, there has been some amount of existing cynicism about robotics – most prominent is the fear that they'll replace human jobs, and that they'll even turn against humans. We've never seen any indication that these fears are legitimate. At Honeywell, we're working with companies to implement robotics and automation within their operations and existing workforce, not in place of humans. We find that this type of implementation helps companies grow and weather these kinds of storms.
Now, more than ever, we're seeing that there is a benefit to automation and that it can help create more jobs because it makes your company more competitive and innovative overall. In the long-term, the pandemic could cause companies to rethink their automation plans. This experience will likely serve as one more example as to why companies should invest in automation for the long term.
Can you share what you have learned about your business and its employees from this?
Honeywell has demonstrated its agility and willingness to do whatever it takes to keep people safe. The company has rapidly expanded N95 face mask manufacturing operations in support of the U.S. government's response to COVID-19. Production is now underway at facilities in Phoenix, AZ and Smithfield, RI. Together, these sties will allow Honeywell to produce more than 20 million N95 disposable masks monthly to combat COVID-19 in the U.S. Building a new production line is a huge undertaking that can typically take up to nine months. Thanks to the dedication of our employees and the support of our partners, we were able to begin manufacturing in these two facilities in a matter of weeks.
The content & opinions in this article are the author's and do not necessarily represent the views of RoboticsTomorrow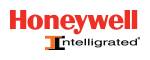 Honeywell Intelligrated
Honeywell Intelligrated designs, manufactures, integrates and installs complete material handling automation solutions, including conveyor, IntelliSort® sortation, Alvey® palletizers, Honeywell Robotics, automated storage and retrieval systems, and voice- and light-directed picking technologies - all managed by advanced machine controls and our best-in-class Momentum™ software (WES, WMS, LMS, eSIM, MC4, MCBL). By drawing on an ever-expanding portfolio and deep industry expertise, we provide best-fit, scalable solutions to help businesses optimize and manage their entire fulfillment processes, from receiving to shipping - and everything in between.
Other Articles
As a growing number of D & F operations embrace smart robotics, some powerful new synergies are starting to emerge. Each robotic system has strengths to offer, but when combined in an integrated workflow, the whole can be much greater than "the sum of its 'bots".
We're not just talking about our latest technologies; we're showing them. At the Honeywell Robotics booth, we'll have an integrated demo featuring the OTTO Lifter, a new autonomous forklift from our strategic collaborator Clearpath OTTO Motors
We'll be participating in an on-floor seminar, "Bridging the Labor Gap in your DC" where we'll discuss how robotic solutions can augment your labor force using the latest advances in robotic technology. Booth: #7619
---
Comments (0)
This post does not have any comments. Be the first to leave a comment below.
---
Post A Comment
You must be logged in before you can post a comment. Login now.
Featured Product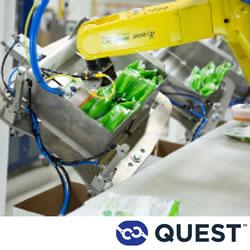 Quest is a leading manufacturer of industrial automation equipment focusing on robotics and vision-guidance. With expertise in the food, beverage, and dairy, Quest optimizes floor space for customers experiencing growing demand and helps improve their overall production line flexibility and efficiency. Quest offers application-specific software on their robotic products, including pick and place, case packing, and palletizing systems to simplify system setup and streamline configurability. Quest is a product brand of ProMach, a global leader in packaging line solutions.