Looking at robots I wanted something adaptable, flexible and quick to set up. We could have gone down the route of engineering our own solution to hold the parts, but this was an off the shelf unit interfaced to our machine with an automatic door, and it just does it all.
Oasis - Engineering Success With People and Automation
Case Study from | Halter CNC Robotics
Here at Oasis we're a close knit, dedicated and experienced team. Each employee has a diverse professional background that contributes significantly to our innovative engineering firm. In the past couple of years we've had significant growth, development of new products and employed new staff to the Production, Product Development and Assembly Departments.
We also have two new starters that everyone is watching closely (and have an opinion on). Roxanne and Kiki are 'HALTER LoadAssistant Universal 20kg' Payload Robotic Systems for CNC machine automation. They connect to new or existing CNC lathe or milling machines. Operating them is intuitive via the HMI (Human Machine Interface) screen and the process is quick – you can set up a new programme in approx 10min and the robot will be loading parts after 30min.
"Looking at robots I wanted something adaptable, flexible and quick to set up. We could have gone down the route of engineering our own solution to hold the parts, but this was an off the shelf unit interfaced to our machine with an automatic door, and it just does it all. You do pay more for an engineered solution like this, but it's much more flexible. Within three days they were consistently making parts." Mark Swetman, Oasis Engineering Workshop Supervisor.
Roxanne and Kiki provide Oasis Engineering with increased productivity by running overnight unmonitored. During the day they also provide flexibility because unlike humans, they don't need to take breaks so their machinist is released to concentrate on other tasks. By applying automated engineering to the factory floor, companies enable a shift from the traditional manufacturing model to a more flexible production line.
The CNC Machinist working with the robot will set the new programme and monitor functions like tool load monitoring and they can also switch over to extra 'sister' tooling to increase production. The machinist will watch closely for any weakness, whether it be the tooling, swarf build up in the jaws or the part, or consistency in holding tolerances and they will alter the programme accordingly to ensure reliability. Parts are therefore more consistent and generally of a higher quality because the Machinist has spent the initial time to ensure the process is robust.
The two team members using the robotic arms adapt the programmes for consistency and find the operation of the whole screen interface – HMI is simple and intuitive.
Sam McAulay has been using Roxanne since Christmas 2019 on his CNC machine and has been enjoying learning the programming part of the robotics. His machine is quite old so they're still fine tuning the setup, but they've had massive gains by running it non-stop through the weekends.
Joe Malone has been working with Kiki since May 2019. His CNC machine previously had no automation apart from a bar feeder so when he wasn't bar feeding they couldn't run the machine without a team member in situ:
"Previously I would get the machine set up (which is the skilled part of the job), then load them manually by hand which was incredibly boring. Now I can just set the robot on it and then do more interesting stuff like machine maintenance or running the saw. It's good experience and I'm learning a lot which is really fun. I'm always keen to learn new stuff because our industry is based on technology – you have to keep up with it or you're left behind."
In future we will continue to upskill our Oasis team and investigate further 'off the shelf' automation offerings that will complement our future business. We work in a progressive company that already uses other automation options such as an overhead gantry loader and Barfed Machines.
"We're still going to need staff, but we want to make it so there are tools for our guys to get more out of their day, for both themselves and Oasis. That's a challenge when you've got a robot doing what you need to do so I've encouraged them to be mindful that there's a place for them too." Andy Cameron, Managing Director at Oasis Engineering Ltd.
Robotics and automation in engineering aids Oasis Engineering in meeting Industry 4.0 and Lean Manufacturing targets. Profits increase due to improvement in production flexibility and our team members are more challenged, engaged and excited about the future of engineering. Almost half of respondents to the Annual Manufacturing Report stated that they expected production flexibility to improve because of investments in connectivity. We're proud to be at the forefront of this.
The content & opinions in this article are the author's and do not necessarily represent the views of RoboticsTomorrow
---
Comments (0)
This post does not have any comments. Be the first to leave a comment below.
---
Post A Comment
You must be logged in before you can post a comment. Login now.
Featured Product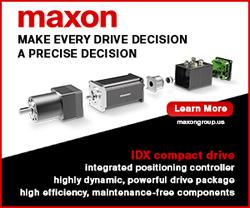 The compact brushless EC-i motor combined with an EPOS4 positioning controller delivers a highly dynamic, powerful drive package with field-oriented control (FOC), high efficiency, and maintenance-free components in a high-quality industrial housing. The maxon IDX drives are suitable for use across the entire speed range (from standstill to maximum speed) and have an extremely high overload capability. Together with a positioning controller, the integrated sensor (single turn) enables absolute positioning.