There are several industries that I believe will take off in the post-pandemic era. First and foremost are e-commerce and contactless shopping; this is an industry in which new protocols are expected to continue as social distancing has become mandatory.
Robotics and AI-based Automation in the Post Pandemic Era
Q&A with Anis Uzzaman, CEO and General Partner | Pegasus Tech Ventures
Tell us about Pegasus Tech Ventures.
Pegasus Tech Ventures is a global venture capital firm based in Silicon Valley that invests in emerging technology companies around the world. We work with startups to expand into new markets globally. Our portfolio companies target disruptive opportunities in Artificial Intelligence, Robotics, IT, HealthTech, IoT, Big Data, Quantum Computing, FinTech, and other next-generation technologies. Pegasus manages about US$1.5 billion across 25 funds, on behalf of 35+ corporate partners. By helping entrepreneurs connect with corporations and enter new markets, Pegasus Tech Ventures bridges innovation ecosystems around the world. Pegasus also founded and sponsors the Startup World Cup, one of the biggest startup competitions in the world. Startup World Cup covers more than 60 regional locations across six continents; the Grand Finale in San Francisco offers a US$1 million-dollar investment prize to the winning team.
What sectors do you see taking off during and post pandemic era?
There are several industries that I believe will take off in the post-pandemic era. First and foremost are e-commerce and contactless shopping; this is an industry in which new protocols, such as contactless delivery methods, are expected to continue as social distancing has become mandatory. Startups including Nuro and Starship Technologies have taken it one step further and created fully autonomous vehicles that deliver to your door without human involvement. Such advances will get increasingly popular as COVID-19 requires the world to adapt to new sets of living standards. We'll also witness a rise in popularity of E-Sports. Traditional sports-focused companies, including ESPN, have been doubling down on growing E-Sports businesses. We also see this trend in startups, with companies like Sleepr adapting its product roadmap to bring E-Sports to the forefront. Twitch, already an industry leader, has seen a surge in the first quarter of 2020, breaking its own records in hours watched and average concurrent viewership.
What about specifically with robotics and AI-based automation?
A few startups that are creating artificial intelligence-based robotics automation solutions include Osaro, Vicarious, and Kindred. These companies are applying different types of artificial intelligence to automate various tasks in the warehouse and distribution environment; this is key in ensuring that social distancing will continue to occur, while still properly maintaining the supply chain. Kindred.ai, in particular, has already deployed many solutions with popular brands including GAP and Nike. The retail sector has been hit particularly hard during this time. I anticipate there will also be an emphasis on accelerating automation of their operations to ensure they can better maintain operations in the future. Osaro is focused on both E-Commerce applications and food packaging, where there is a desperate need for more human-free solutions.
What are helpful tips for startups looking to survive in today's tough economy?
While there are a wide variety of tips I have in mind for startups at the moment, three of the best ones to begin with are:
Reconsider your financial spending and needs. What is the conversion on sales with your marketing campaign? What is your current sales productivity? How much cash do you have in the bank, and how long will it last based on the current burn rate? Companies need to determine the most essential expenditures required to reach minimum milestones during this environment.

Reset your stakeholders' expectations. Now is also the time to talk with your investors, customers, and employees to adjust expectations. In the past, current investors and potential investors may have indicated a particular revenue milestone that you need to reach for the next round of equity financing. Have a discussion with them and brainstorm what is realistic given the new macroeconomic environment.

Come up with an adjusted fundraising plan. Startups will need to adjust their fundraising plans based on the new economic reality. If a startup doesn't include an adjusted plan and cannot explain how it will take the new business environment into account, then investors will have an increasingly difficult time getting approval from their investment committee to finance that company.
You mentioned in our last Q&A Venture Capital-as-a-Service. Does that have a play in today's climate?
It is even more relevant today as startups need more revenue and corporations need to accelerate their innovation initiatives. As a way to address the market dynamic for startups and corporations, Venture Capital-as-a-Service (VCaaS), provides an optimal mix of capital and business value to startups through corporate fund networks. Pegasus Tech Ventures is providing startups with both flexible check sizes and business engagements with strategic corporate partners. Pegasus has partnered with 35+ corporations including ASUS, AISIN, and SEGA. For example, Pegasus and AISIN have recently partnered to help provide funding for autonomous vehicle technology company StradVision.
Can you weigh in on diversity and inclusion in the VC and robotics space?
As VCs we want to bring together those who may have been deprived of investment opportunities due to their backgrounds or ethnicities. Diversification, within robotics specifically, is key to ensuring that future technologies hold no biases. VCs in particular have an opportunity in front of them to empower diverse startups, and to help the companies become future leaders. VCs should use their influence to put diverse groups at the front of people's minds. Here at Pegasus, we've taken concrete steps to provide opportunities for people of all backgrounds and conduct our business with purpose - whether that means investing in women-led startups or black and Indigenous people of color-owned startups, or hosting our Startup World Cup with over 60 countries participating – to help ensure that everyone is able to play on the same field.
About Anis Uzzaman
Anis Uzzaman, Ph.D. is the CEO & General Partner of Pegasus Tech Ventures, overlooking overall management, investments, and operations. Located in Silicon Valley, Pegasus Tech Ventures provides early stage to final round funding. Anis has invested in over 170 startups across North America, Europe, and Asia. Anis is also the Chairman of Startup World Cup, a global startup pitch competition with 50+ regional events across the 6 continents, leading up to $1,000,000 in investment prize.
The content & opinions in this article are the author's and do not necessarily represent the views of RoboticsTomorrow
---
Comments (1)
Well, I must agree that the pandemic has paved way for a lot of innovative solutions. I work at https://www.cvgtechnocraft.com where we give a lot of custom solutions. It is a great opportunity to serve mankind and also get creative with robotics. Thanks for providing a lot of insights with this article.
Post A Comment
You must be logged in before you can post a comment. Login now.
Featured Product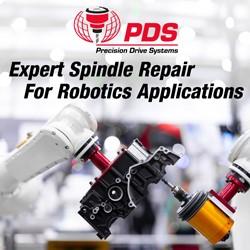 Precision components machined by CNC robot machining systems require compact, lightweight, and high-speed motorized spindles capable of delivering higher efficiency, performance, and reliability than those used in many other industries. That's why manufacturers of milling, cutting, trimming, grinding, polishing, and deburring trust Precision Drive Systems (PDS) to provide accurate and dependable spindle repair to perform to the most exacting standards.