As life drastically changed and businesses were forced to operate in new ways, robots were not only leveraged to adapt to current circumstances, but to prepare for those to come.
COVID-19 and Robotics: How the Past Year Transformed Automation
Tom Ryden, Executive Director | MassRobotics
Robots have gained traction in many forms over the past decade, offering unique solutions to complex challenges and driving efficiencies in our daily lives. While these innovations have evolved year after year, the emergence of COVID-19 has been a new awakening for the robotics and automation industry. As life drastically changed and businesses were forced to operate in new ways, robots were not only leveraged to adapt to current circumstances, but to prepare for those to come.
While there is no shortage of the robotics use cases that have emerged over the past year, the following stand out as significant areas of change:
Application Adaptability
While many robots are designed with specific applications in mind, 2020 proved just how adaptable many innovations can be. For instance, both large and small companies pivoted operations to develop disinfecting robotics to address the pandemic and keep people safe. Testing of these, such as UVC-based autonomous ground robots and sanitizer spraying aerial drones, have already been completed and we will see them used in real-world applications in 2021 and beyond.
While some of these use cases are temporary, 2020 has revealed that many robotics applications have the potential to quickly adapt to serve in different scenarios and help us navigate unexpected circumstances. As we move past the pandemic and return to normal life, different robotics innovations will likely be considered for a broad range of use cases going forward.
Changing Consumer Demands
The pandemic swiftly changed consumer purchasing behaviors as much of the population transitioned to online shopping and services. For instance, COVID-19 drove consumers to spend $861.12 billion online with U.S. retailers in 2020, up 44.0 percent from $598.02 billion in 2019. In addition, online grocery shopping grew from two to ten percent of total sales in 2020.
These statistics are not expected to revert following the pandemic and distributors must automate to keep up with this changing demand. This drastic change in purchasing behaviors puts a lot of pressure on the warehousing and logistics industry. While warehouse robotics adoption has increased significantly over the last several years, it has still been slow to ramp up due to the systematic overhaul adding robots requires. However, these significant changes could light a fire underneath potential buyers and drive tremendous growth in the area.
As warehouses scramble to adopt technology that can help them adapt to these changes and become more efficient, there is no shortage of the type of robotics applications that can help with these logistical challenges. In addition to automated warehouse robots, which move inventory from warehouse shelves to pack out areas, many warehouses are also adopting newer innovations including human-like robotic arms and mobile applications to pick and store inventory across the warehouses more efficiently.
Human-Robot Collaboration
The pandemic has highlighted the fact that robotics applications serve to collaborate and improve efficiencies for humans, not to replace them. In the context of warehousing, the pandemic has driven the use of collaborative arms allowing for simpler automation and better distancing on assembly lines and other tight areas. While these arms were implemented on a larger scale over the past year, they are in collaboration with other humans in the assembly line to adapt to social distancing demands while remaining efficient.
We have also seen human-robot collaboration through applications designed to adapt to today's changing workplace. As more businesses transition to full-remote or hybrid operations, telepresence robots have emerged as a collaborative solution to remaining efficient despite changing business environments. Through these systems, a remote operator can easily navigate a workplace and collaborate with those physically present through video conferencing capabilities. Ultimately, this technology improves team communications and drives better business outcomes.
These examples illustrate how different robotics systems can help maintain business efficiencies and improve collaboration despite uncontrollable circumstances. While the pandemic has driven the adoption of many of these use cases, it has also shown us a new way of working effectively alongside robots that will have a lingering impact for years to come.
Challenges Ahead
While the pandemic has already driven more robotics innovations and we can expect continued growth in 2021, the transition from the lab to the real world always presents unknown challenges. When it comes to embracing robotics for the first time or adapting to other application areas, there will always be a learning curve before companies can fully reap the benefits. However, through trial and error, companies will make appropriate adjustments and grow along with these innovations in the coming years.
Despite the massive disruption we all faced from COVID-19, robotics helped us not only adapt to unforeseen circumstances, but become resilient for continued change. Through helping us find better ways to collaborate and get things done, robots were able to step up in areas where our human capabilities fell short. Once we eventually return to a semblance of normal life, the impact the pandemic had on the robotics industry will continue to redefine automation and help build a more sustainable future for all.
The content & opinions in this article are the author's and do not necessarily represent the views of RoboticsTomorrow
---
Comments (0)
This post does not have any comments. Be the first to leave a comment below.
---
Post A Comment
You must be logged in before you can post a comment. Login now.
Featured Product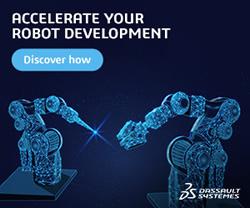 The 3DEXPERIENCE platform on the cloud provides robotics companies with a unified and collaborative solution to manage their end-to-end process in an effective way by bringing together all teams and disciplines involved and guarantee digital continuity during the entire product lifecycle. Connect the dots from robot design to marketing activities, from production to maintenance and bring your robot to market up to 30% faster!