Many production areas are already extremely short on space, so having a design that allows for streamlined goods-to-person capability is a game-changer. These benefits are combined with our best-in-class energy consumption.
Growth in the Automation of Distribution and Fulfillment Industry
Q&A with Eric Matheson and Jon Schechter | AutoStore
Tell us about AutoStore and your role with the company. (Jon Schechter)
AutoStore technology is the most flexible way to automate any fulfillment center. We've spent 25 years building out over 550 facilities across nearly every industry around the globe. We store inventory bins in a massive, scalable cube structure, like a Rubik's Cube, and use robots to deliver those bins to operators when and where they are needed. We have honed the hardware and software to ensure it delivers industry-leading density, flexibility, and reliability, and deploy our systems through a global network of top-tier integration partners.
We always want to make sure that any company considering a fulfillment center thinks about AutoStore first. That's why we created a global team of Business Development Managers to consult for new and retrofit projects. Each BDM has deep experience across the material handling industry and expertise within a certain vertical such as e-commerce, grocery, healthcare, industrials, micro-fulfillment, and 3PLs.
Several reports are projecting massive growth in the automation of distribution and fulfillment even prior to COVID. Why has this been happening and how have customer expectations changed through the pandemic? (Jon Schechter)
Even prior to the pandemic, customers always expected their online shipments to be fulfilled in a fast and efficient way. Two-day delivery turnaround is no longer sufficient. Some delivery promises are within hours, which means the cycle time allotted inside the facility is only minutes. We have customers striving for five-minute cycle times. And if you don't offer those expedited order cutoff times, your customers are going to the competitors who do. The key is finding the tools that enable that experience from end-to-end: shopping based on real-time inventory availability, last-mile delivery network with accurate driving times, warehouse software that orchestrates dynamically, and, of course, the right automation tools to support your workforce.
Even further, intense labor pressures, especially in logistics clusters, mean that just scaling with manual approaches doesn't necessarily work. Processes break down, cycle times increase, and inventory quality degrades. Instead, warehouse operators aim to grow with their existing workforce through technology boosts. Years ago, this meant buying your team forklifts or installing conveyors for pallets and cases. But distribution and fulfillment are now at the piece level, so today it means adding flexible robotic fleets to help manage small part inventory.
During COVID, no one could have predicted that digital and "Buy Online/Pickup-in-Store" (BOPIS) would become one of the most strategic channels for various industries in 2020. Now that customers have experimented with these offerings, the volume will be sticky, so the entire customer experience has shifted. Everyone should be asking if their existing store and supply chain assets are already prepared for this shift and flexible enough for the next rapid change in consumer behavior.
With so many options out there, how do customers even begin to consider upgrading their processes? (Jon Schechter)
I recommend focusing on three key pillars that automation needs to successfully deliver: density, flexibility, and reliability.
First, density enables growth without moving or building more space. We are rooted in the idea of doing more with less and being as lean as possible means eliminating wasted space.
Second, modular solutions create flexibility and scalability. Growth projections are always inaccurate, so any automation that forces you to determine what you'll need five years from now will inherently be wrong. Modern systems enable incremental growth independently in storage and throughput. For AutoStore, each customer site is unique. We spend time designing specifically for a customer's needs now in terms of storage and throughput, with an eye towards expansion only when required.
Last, reliability is critical. If the automation is great but breaks down often, then it is not an enhancement. Always seek to understand real throughput for your peak needs whenever a potential vendor suggests machine or hypothetical rates. Also, inquire about maintenance and other after-sales considerations. Good automation will fade into the background so an operation can get things done.
What is different about AutoStore than traditional Goods2Person automation? (Jon Schechter)
AutoStore was founded to solve an internal use-case. We started as a Norwegian electrical supply distributor. Only after spending nearly a decade perfecting that is when we brought the product to market. The result was inventing the perfect system based solely on features important to end customers: no waste of space, low maintenance, ergonomic workspaces, and so on.
Other forms of Goods2Person automation are rigid, unreliable, expensive, and require special height buildings, complex conveyor networks, proprietary WCS, and more. AutoStore is the exact opposite. Our automation is highly scalable with no single point of failure, fits any warehouse with limited conveyors, and offers a high-quality selection of integrated partners for you to choose from.
Reliability is so key for fulfillment, especially as fulfillment sites get smaller with even less technical staff. How does AutoStore achieve such high reliability and efficiency? (Eric Matheson)
The AutoStore solution is well-suited for today's smaller fulfillment sites thanks to our focus on providing a modular grid that achieves ultra-high-density storage and minimal use of energy. We are able to adapt well to a new purpose-built one million sq/ft warehouse, just as easily as an existing real estate asset that is being repurposed from a retail space into an urban micro-fulfillment center.
When we look at manufacturing, this can be an even more significant benefit. Many production areas are already extremely short on space, so having a design that allows for streamlined goods-to-person capability is a game-changer. These benefits are combined with our best-in-class energy consumption. We can operate at 60% less energy draw when compared to other technologies.
The reliability comes from the simple design. The entire AutoStore solution is made up of five modules with only two moving parts: the robots and ports, with no single point of failure. When you look inside an AutoStore robot, the emphasis on simple design and maintenance becomes obvious. This lean approach not only drives our industry-leading uptime of 99.7% but also reduces required maintenance. Before installation is even started, every design is thoroughly simulated based on the customer's data to ensure you have enough robots on the grid to maintain throughput.
Our recent software release, Router, improves this capability by increasing the efficiency of robot travel up to 40%. This means we can do more bin presentations with fewer robots than ever before. Our customers choose AutoStore because they see the strong reliability and efficiency of our technology.
Can you provide some insight into how the density of your solution impacts warehouse needs? (Eric Matheson)
We have seen many of our installations go into brownfield locations for precisely this reason. When looking at the potential expense of expanding real estate investments to accommodate the need for more space, most customers quickly realize that it makes more sense to utilize their existing space – but just more efficiently.
When you eliminate aisles and wasted shelf space by utilizing AutoStore, we typically see a greater than 75% reduction in floor space usage. It makes the most sense to go with an option that allows for the best new technology to fit into your building, rather than adjusting your facility to accommodate new tech.
However, it is also important to take into consideration some of the other benefits of moving towards automation – like redeploying skilled, high-cost labor to other operations. And when you no longer have the need for people to be walking up and down aisles to retrieve goods, additional savings can be realized with adjustments to the warehouse ecosystem. By no longer having to light the area or draw power for HVAC needs, the entire operation becomes more energy efficient.
Operations have long sought piece-picking to further automate the process. How does AutoStore fit into that environment? (Eric Matheson)
Random orientation piece-picking has been something of the Holy Grail in robotics development for some time now. Over the past few years, advancements in end-effector design and 3D vision systems have allowed for this capability to become a reality without arduous structured inventory or 3D modeling. With emerging robotic picking technologies, it is now much more realistic to have a robot present at the AutoStore port, rather than rely on manual labor. Incorporating picking robots with an AutoStore solution can provide reduced and more consistent pick times.
This merging of robotic technology also highlights the flexibility of the AutoStore solution. Some bins will contain SKUs where the end effector may struggle to pick effectively. So it is required to present that bin to a person. Many other AS/RS solutions do not provide that option. As a minimum requirement, a Goods2Person system that can present any inventory to any location should be a prerequisite for piece-picking automation. Traditional systems that cannot route inventory flexibly will make it harder to adopt this automation further down the road.
What new areas within manufacturing are you seeing robotics have an impact? (Eric Matheson)
There have been some exciting new concepts for robots in manufacturing. Certainly, the advancements in collaborative robots have had a huge impact on how easily and safely robotic solutions can be deployed to work alongside humans in the manufacturing environment. Robots have not only driven improved safety, but security is another area that has seen a great impact.
The manufacturing space, in particular, can have very high-cost items within their warehouses. I have worked with companies that see inventory shrinkage as high as $70,000 per month from their tool crib due to lack of inventory visibility. When a spare PLC or advanced 3D laser measurement head is misplaced, it is not only costly due to having to purchase another spare, but it can lead to unexpected downtime.
Many of these items are critical for the manufacturing process to continue and custom items can have long lead times. The AutoStore system eliminates this issue by providing complete accountability based on who is pulling items so that nothing goes missing. Only the robots have access to items inside the grid and all robot activity is tracked and stored. Inventory can only be accessed by a picker at one of the AutoStore ports, so untracked inventory movement is greatly reduced as an issue.
About Eric Matheson
Eric Matheson joined the AutoStore team in November 2020 and is focused on building relationships within the manufacturing and industrial space. Eric has spent the past 16 years supporting the development and integration of machine vision and automation technology throughout the United States. In his Business Development Manager role, he is driving brand awareness while consulting with customers on their AS/RS needs and initiatives. Eric studied at Ohio University in Athens, Ohio, and currently resides in Charlotte, North Carolina.
About Jon Schechter
Jon Schechter started with AutoStore in July 2020 and is responsible for driving market awareness focused on healthcare. As a Business Development Manager, he partners with customers in their fulfillment journey to identify whether AutoStore is the right fit for them. Jon has been designing robotic-based fulfillment centers since 2008 with prior experience at Kiva Systems, Amazon, and RightHand Robotics. Jon studied Mechanical Engineering at MIT and holds an MBA from Harvard Business School.
The content & opinions in this article are the author's and do not necessarily represent the views of RoboticsTomorrow
---
Comments (0)
This post does not have any comments. Be the first to leave a comment below.
---
Post A Comment
You must be logged in before you can post a comment. Login now.
Featured Product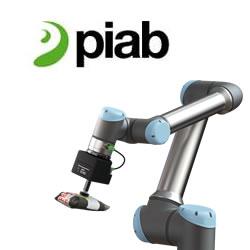 Piab's Kenos KCS gripper enables a collaborative robot to handle just about anything at any time. Combining Piab's proprietary air-driven COAX vacuum technology with an easily replaceable technical foam that molds itself around any surface or shape, the gripper can be used to safely grip, lift and handle any object. Standard interface (ISO) adapters enable the whole unit to be attached to any cobot type on the market with a body made in a lightweight 3D printed material. Approved by Universal Robots as a UR+ end effector.