Because supply chains consume resources on a large scale, they are responsible for a disproportionately large share of the world's carbon emissions.
2021 Top Article - Sustainable Supply Chains in the Era of Industry 4.0
Linh Dinh | Meili Robots
The supply chain industry was already confronted with profound disruption before meeting its worst nightmare yet — the global coronavirus pandemic. One area some may have been overlooking in the quest to adjust to the 'new normal' is the environment.
There has been an increased awareness of the earth's sustainability lately, especially after we got a glimpse of how our world would be without the normal brisk pace of human activity. While many tall tales of wildlife retaking the cities — with wolves, deer, and kangaroos spotted in roads usually teeming with traffic — some are confirmed real. And air pollution was down in places — residents of some Indian cities reported seeing the Himalayas for the first time in decades.
What happened in just a few weeks has made us all wonder if perhaps our actions can really make a difference to our environment after all. Consumers are adjusting their buying habits, and businesses have an opportunity to take initial steps to move toward sustainable supply chains, perhaps with the help of technological advancements.
Supply Chain Sustainability in a Changing World
Multiple disruptions with lockdowns and labour shortages don't seem to slow the growth of the supply chain industry. Remaining front and centre as we continue to survive and find the cure through a vaccine, the global supply chain & logistics industry market is projected to reach €2,660B in revenue by the end of this year — an increase of nearly €400B.
With supply chains for N95 masks, toilet paper, and other in-demand goods in the spotlight, the global Consumer Packaged Goods (CPG) market size is estimated to grow from €1,602B in 2020 to a staggering €1,913B by 2026, at a CAGR of 3.0% during 2021-2026.
SUPPLY CHAIN AND ENVIRONMENTAL CONCERNS
Because supply chains consume resources on a large scale, they are responsible for a disproportionately large share of the world's carbon emissions. Statistics show that CPG companies are responsible for emitting roughly 33 billion tonnes of CO2 into the atmosphere — which is equivalent to 66% of the whole world's emissions combined. Meanwhile, more than 80% of greenhouse gas emissions and more than 90% of the impact on air, land, water, biodiversity, and geological resources are accounted for by the CPG companies' supply chains, according to McKinsey.
In the Global Supply Chain Report 2020, published by CDP, 8,033 disclosing suppliers reported supply chain emissions that were, on average, 11.4 times higher than those produced through their direct operations — more than double the previous estimate. The report also emphasised that despite the stunning data on sustainability challenges and upstream emissions, only one-third of suppliers are taking action and engaging with their supply chains — 2% less than in 2019.
HOW IMPORTANT IS SUSTAINABILITY IN SUPPLY CHAINS?
A sustainable supply chain is one that ensures lesser environmental impact, better assurance of human rights, and ethical work practices across its complete supply chain cycle — from product design and development to material selection, manufacturing, packaging, transportation, warehousing, and distribution to consumption, return and disposal. It is clear that supply chains, for most organizations, have a far greater environmental and social impact than any other part of their operations.
Furthermore, according to statistics, it is predicted that roughly 2 billion people, who are more aware and concerned with sustainability and have the desire to support sustainable products and services, will join the global consumption class by 2025. In a 2019 survey of over 1500 participants, delivery speed was ahead of all other factors when it came to choosing a retailer. Yet, in many other surveys, data indicate that customers are willing to go the extra mile and pay premiums to ensure green logistics practices and transparent supply chains. Some might say that sustainable purchasing is becoming more of a personal imperative and less of a choice — up to 88% of respondents are more likely to be loyal to companies that demonstrate strong social and environmental responsibility, according to Cone Communications CSR Study.
More than ever, a reputation for sustainable and transparent supply chain practices can give businesses a competitive edge during difficult times. These trends will certainly affect a company's growth if it possesses a poor record on sustainability issues.
The Future Role of Technology
Technology has risen to dramatically alter the execution of supply chain functions. What is clear is that certain technologies will play an accelerated role in supply chain sustainability strategies — providing real-time tracking and analysing as well as deep and end-to-end visibility into companies' entire supply chain operation, including the most distant, low-tier suppliers.
ARTIFICIAL INTELLIGENCE AND MACHINE LEARNING
Artificial intelligence (AI) and machine learning is transforming all industries, and the supply chain industry is one of them. By 2027, the AI in the Supply Chain Market is expected to reach €18B, with a CAGR of 39.4% during 2019-2027. These technologies allow curation and analysis of multiple, disparate data sets across the supply chain, in use for synchromodality and collaborative shipping to name a few. This means that by using a real-time data system throughout transportation, the algorithm can select and continue shifting to the most cost-effective and environment-friendly delivery method possible.
In fact, according to PwC and Microsoft, AI can help reduce global greenhouse gas emissions by 4% in 2030 — equivalent to 2.4 billion tonnes of CO2 emissions. However, according to the latest annual MHI Industry Report, only 12% of surveyed 1,001 supply chain professionals in manufacturing, transportation and other industries are currently using AI in their operations. The reason for this could be a lack of technical talents or an inability to manage the data properly.
Robots and automation are other AI technologies that are invested heavily to enhance businesses' supply chain operations. According to Statista, the global warehouse automation market is expected to reach €24.8B by 2026. Meanwhile, mobile robots in material handling and logistics is estimated to be valued at €62 billion by 2027.
In addition to increasing productivity, efficiency, and product quality, robots and automation are now starting to help manufacturers become more sustainable. As they can be extremely accurate and minimise human error, they can make operations more efficient and reduce waste that can impact the environment. They also aid in the energy-saving process because they do not require as much energy to operate as humans do — to run, for example, sufficient lighting and heat. It is estimated that 20% of energy savings can be reached if no lights are required, and for 1°C reduced in factory heat levels, there is a potential of saving up to 8% on energy bills. With the help of universal fleet management systems, automated task allocation is enabled, which helps save more energy — by, for example, eliminating unnecessary fleet idle time or assigning tasks to the right robots based on dimensions and payload capacities.
Also known as 3D printing, the global additive manufacturing market is expected to be a highly disruptive force within the global manufacturing industry — projected to be sized at €25.1B in 2028. The ability to manufacture stock on-site and on-demand allows businesses to maintain virtual inventories, eliminating shipping and packing costs and energy. It also has the potential to use recycled materials from within the supply chain as the base materials.
There is no doubt that 3D printing is a greener, more energy-efficient, and cost-efficient production method. A study showed that 3D printing could reduce the CO2 emission intensities of industrial manufacturing by up to 5% by 2025.
INDUSTRIAL INTERNET OF THINGS (IIOT)
Over two-thirds of businesses who deployed industrial IoT solutions noticed improvements in environmental sustainability, as they disclosed in a 2018 survey. By using smart IoT technology, organisations can optimise machine performance and automate maintenance to reduce energy usage and eliminate redundancies in workflows. It can also be used in the transportation of goods by, for example, optimising routes planning, which in turn leads to a significant drop in fuel consumption.
The statistics project that the industrial Internet of Things (IIoT) market size worldwide will reach some €91B in 2025 — almost doubled in size after 8 years. Inmarsat emphasises the importance of IIoT solutions in the global economy — with IIoT to be increasing organisations' annual revenues by 10% by 2023.
To reduce the carbon footprint, transparency within the organisation and across value chains is key. This means that supply chain companies must be able to accurately and repeatedly collect and track reliable and trusted data. And blockchain technology offers that — a comprehensive longitudinal supply chain database at any stage across the supply chain. This will certainly provide a better line of sight into a product's history while improving practices like eliminating redundancies and bottlenecks, and eventually, consuming fewer resources.
The global blockchain supply chain market is expected to grow at a CAGR of around 87.6% from 2020 to 2027 and is expected to reach a market value of around €15T by 2027.
The global smart sensor market is growing at a 19% annual rate and is expected to reach €49.5B by 2022. The technology advancements in the supply chain assist with real-time behaviour status location, the temperature of vehicles, the pressure of vehicles, and more. This will broaden management visibility across the supply chain and will, as a result, reduce costs, improve asset efficiency, maximise operational efficiency, strengthen the product life cycle, and ultimately enhance customer experience.
MODERN DATABASES AND ERP SYSTEMS
The best sustainability solutions run on in-memory databases and ERP systems that can manage, process, and analyse big data for better decision making. The global enterprise resource planning (ERP) software market is forecasted to grow to around €80B by 2024.
Through insight-driven dashboards, organisations can determine what areas need adjustments, improvement, or removals through auditing the entire supply chain process from start to finish. A great example of this is controlling waste in the supply chain. Where is waste occurring? Looking at trends can help reveal the issues — whether obvious or less so.
Creating a green supply chain is a long process, requiring support from all parties involved. Additionally, efforts put towards sustainable development should serve as a means of generating profit, in parallel with impacting positively on society and the environment.
Pressure on cost-reduction and overall spend will always be a major concern; hence, innovative solutions are a way to go — to drive development without compromising profit, or creating negative externalities on people or the environment.
The content & opinions in this article are the author's and do not necessarily represent the views of RoboticsTomorrow
---
Comments (0)
This post does not have any comments. Be the first to leave a comment below.
---
Post A Comment
You must be logged in before you can post a comment. Login now.
Featured Product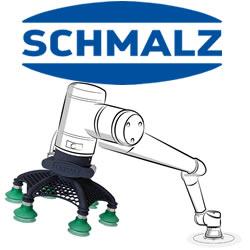 In order to interact with their environment and perform the tasks, lightweight robots, like all industrial robots, depend on tools - and in many cases these are vacuum grippers. These form the interface to the workpiece and are therefore a decisive part of the overall system. With their help, the robots can pick up, move, position, process, sort, stack and deposit a wide variety of goods and components. Vacuum gripping systems allow particularly gentle handling of workpieces, a compact and space-saving system design and gripping from above. Precisely because the object does not have to be gripped, the vacuum suction cupenables gapless positioning next to each other.