Logistics is a constant race to deliver at fast speeds while maintaining a standard of impeccable accuracy at the lowest possible cost. The rise of intense competition makes next-generation applications essential for becoming a trendsetter in this industry.
Four Ways to Improve Your Logistics Applications
Article from | Omron Automation
Logistics is a constant race to deliver at fast speeds while maintaining a standard of impeccable accuracy at the lowest possible cost. The rise of intense competition makes next-generation applications essential for becoming a trendsetter in this industry.
Omron Automation Americas offers wide-ranging automation technologies that can be used in materials handling, order picking, AS/RS and traceability systems to help customers overcome logistics automation challenges.
Let's take a look at four major technology trends that are currently transforming the logistics industry.
Robotic pallet handling
Frequent SKU shuffling requires flexible floor arrangements and efficient usage of warehouse space. More space equals more product inventory, which in turn means higher product availability and faster delivery. Automated systems add value without reducing the amount of available storage space.
One of Omron's many strengths is in our autonomous mobile robot (AMR) technology that safely navigates through narrow, dynamic and peopled environments with advanced onboard mapping software and safety features. The Fleet Manager platform is also available to maximize uptime and increase flexibility by coordinating multiple AMRs.
The Omron HD-1500 mobile robot combined with a collaborative robot provides a compact solution for palletizing, depalletizing and transportation. This solution's flexibility lets warehouses automate previously non-automatable tasks, such as the transport of extremely heavy, pallet-size loads. It can also automate tasks that are traditionally completed with forklifts, reducing the risk of injury.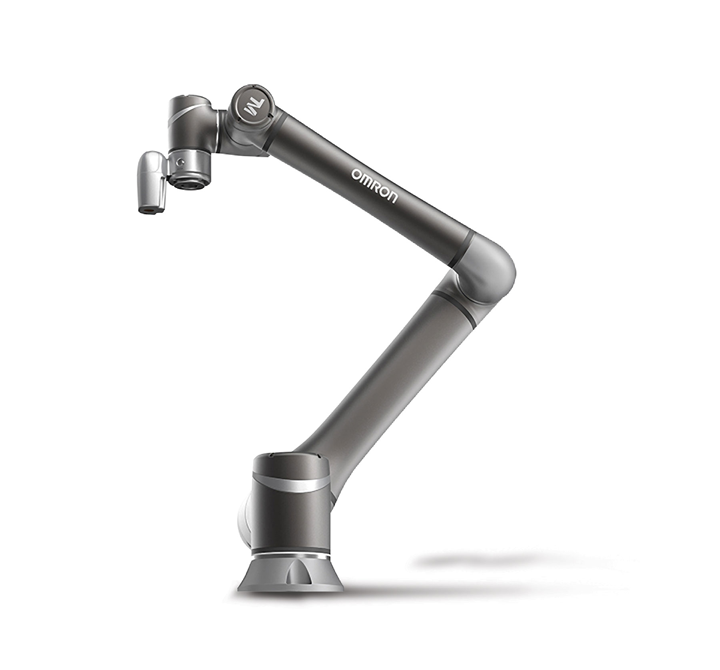 IIoT and data analytics
Identifying the causes of system errors is a key step in achieving competitive productivity levels. Industrial Internet of Things (IIoT) technologies and artificial intelligence (AI) can enhance customers' ability to understand the performance of a warehouse system. These innovations process massive amounts of data to produce insights into machine function and system performance.
Omron offers AI controllers for machine-level anomaly detection on conveyor and sortation systems that warn warehouse managers of potential issues before repairs are necessary. The featured IIoT solutions from Omron include the NX controller that provides timestamped data for machine performance analytics and the Aveva Edge platform for system data visualization.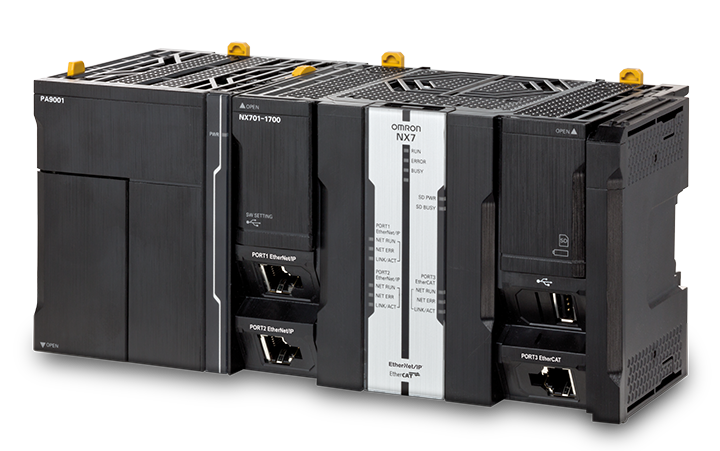 Safety products and services
Whether or not a warehouse is connected to the manufacturing floor, workers and machine safety are always the top concern in the logistics industry. In fact, collisions account for a large percentage of accidents that take place inside a warehouse, and these safety incidents can lead to costly and lengthy periods of operational downtime.
Omron offers across-the-board safety solutions that encompasses safety scanners like the OS32C for AMRs, safety light curtains like the F3SG-SR, pull cords for conveyor safety, and safety controllers like the G9SP. The F3SG-SR stands out among other light curtains with its top-notch muting system and broad operating temperature range that allows for cold storage.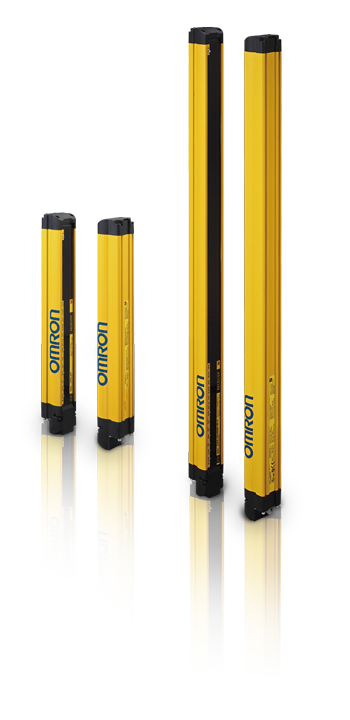 Label inspection and traceability
For suppliers or logistics service providers, items delivered with incorrect or unrecognizable labels lead to penalties charged by the end users. Therefore, it's critical for fulfillment and distribution centers to have a robust label inspection system. Packaging labels must be fully readable and accurately represent the type of product contained in the package.
Omron offers comprehensive label inspection solutions that prevent inaccurate and low-quality labels from being sent out unwittingly. The systems grade labels comply with a variety of ISO and GS1 print quality standards.
These four applications are just a sampling of ways in which today's advanced technologies can vastly improve the efficiency and accuracy of your logistics operations. Getting started now on implementing these solutions can help you stay ahead of the competition in the long term.
The content & opinions in this article are the author's and do not necessarily represent the views of RoboticsTomorrow

Omron Automation
Omron is an industrial automation partner that creates, sells and services fully integrated automation solutions that include robotics, sensing, motion, logic, safety, and more for manufacturers in the automotive, semiconductor, food and beverage packaging and other industries. Established in 1933, Omron helps businesses solve problems with creativity worldwide, with more than 37,000 employees serving over 110 countries. Adept Technologies is now a valued part of the Omron family.
Other Articles
Successful AMR implementation requires careful consideration of several key factors: space analysis, floor conditions, and environmental factors, among others.
One of the key advantages of AMRs lies in their adaptability. Manufacturing processes often require frequent changes, reconfigurations, or repositioning of equipment and materials. AMRs can quickly and easily adapt to these changing requirements.
As we will discuss in this article, cobots can add tremendous value to your operations, but you should be sure to pay attention to risk assessments and safeguarding requirements.
---
Comments (0)
This post does not have any comments. Be the first to leave a comment below.
---
Post A Comment
You must be logged in before you can post a comment. Login now.
Featured Product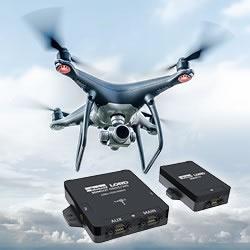 The new complete inertial navigation solution comes with GNSS/INS 3DMGQ7 sensor, 3DMRTK correction modem and real time SensorCloud RTK correction network. The sensor comes with Dual antenna GNSS, tactical grade IMU with centimeter-level accuracy with RTK. Low profile and light weight at 78 grams, this sensor is The sensor is optimized for size and weight in Unmanned Ground Vehicles, mobile robots and autonomous vehicles. The network interface 3DMRTK modem is seamlessly integrated into the 3DMGQ7 sensor supports industry-standard NMEA and RTCM 3.1 protocols. The network RTK support comes with cellular data plan. The SensorCloud RTK is a cloud-based RTK correction system with private encrypted data stream. Check out our G Series and C Series OEM products.