Horosys was able to standardize, add flexibility and optimize the cost of the Smart Micro Factory using the world's smallest and most precise industrial robot.
Smart Micro Factories for the Watchmaking Industry
Case Study from | Mecademic
When Horosys, a Swiss integrator specializing in desktop automation for watchmaking, saw the ultra-compact and highly precise Meca500 robot, the idea for the Smart Micro Factory (SMF) project was born. Horosys developed the SMF concept to fulfill the automation needs of the Swiss watchmaking industry and give access to automation and robotics to manufacturers producing in low volumes, with limited investments, and requiring a quick payback.
The modular desktop factory can assemble, rivet and push fit jewels and multiple watchmaking components. With its tiny footprint, embedded controller and open programming environment, the Meca500 is an integral part of the solution. Horosys was able to standardize, add flexibility and optimize the cost of the Smart Micro Factory using the world's smallest and most precise industrial robot.
Challenge
Traditionally a labour intensive industry, the lack of skilled workers and precision requirements of the watchmaking space is pushing Swiss manufacturers to automate. However, most industrial robots are too large and bulky to handle parts weighing just a few grams. Collaborative robots and other small non-industrial robots lack the needed high precision to handle such delicate and precise parts.
Furthermore, the systems need to be small enough to fit on existing workshop benches. Although custom linear XYZ stages can be considered in some applications, many require at least 5 or 6 degrees of freedom, so an articulated robot arm is necessary.
The systems also need to be modular, easily programmable and be able to integrate and communicate with many other types of equipment.
Solution
To meet all these needs, Horosys developed the Smart Micro Factory concept around the Meca500. The modules (also called stations) can be equipped with different Cognex cameras, bowl feeders, flexible feeders, presses and other standard and custom metrology equipment. The modules can be combined as needed for different processes to form an entire production line.
One of many possible modules for the Smart Micro Factory. Copyright Horosys SA.
The SMF is controlled by a B&R Automation IPC or a Beckhoff IPC. The Meca500 is controlled directly by the B&R IPC through the TCP/IP protocol or by the Beckhoff directly with the EtherCat protocol and a standard set of commands.The user also has access to control and troubleshoot the system and the robot remotely through a web server.
Take a look at this video presenting Gimmel Rouages, a supplier of miniature components for some of the most renowned luxury watchmakers, featuring one of Horosys' SMF.
Results
Increased Product Quality
The Meca500's unmatched precision of 0.005 mm guarantees that the whole process can meet the tight requirement of 0.01 mm of positional repeatability for many processes in watchmaking.
Save Space
The modules typically measure 600 mm × 600 mm only. This desktop solution is only possible because of the embedded controller and tiny size of the Meca500. Although there exist a couple of other robots comparable in size, these robots are bulkier and, most importantly, have large external controllers, teach pendants and cumbersome cables.
Save Power
Since the Meca500 consumes on average less than 30 W of power, this makes the whole SMF solution very energy efficient, consuming less than 80 W in many configurations. Similar solutions with linear motors can easily take 1-2 kW.
Save Costs (Standardize and Add Flexibility)
A 6-axis robot is significantly more flexible than custom 3-axis XYZ systems. This means that it could work with a much greater variety of components and equipment. Therefore the systems become modular and have much greater flexibility, reducing overall costs.
About Horosys
Horosys is a Swiss integrator based in the Canton of Neuchâtel, the heart of the Swiss "Watch Valley" and home to some of the most famous watchmakers: Breitling, Patek Philippe, Rolex, Tissot, and others. Horosys develops ultra-compact, automated workstations for the watchmaking industry. Horosys partnered with Mecademic from the very beginning, seeing the Meca500 miniature robot as the perfect fit for desktop factory automation. The company even developed a high-end protection cover for the Meca500, called the HoroBot.

The images and video in this post are courtesy of Horosys SA.
The content & opinions in this article are the author's and do not necessarily represent the views of RoboticsTomorrow
---
Comments (0)
This post does not have any comments. Be the first to leave a comment below.
---
Post A Comment
You must be logged in before you can post a comment. Login now.
Featured Product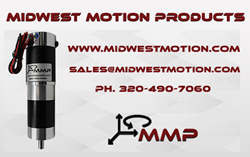 MMP specializes in supplying high-quality Brushed & Brushless DC Motors & Gearmotors for Robotics and Automation Equipment with a wide range of motor windings and gear ratios. With an impressive track record of more than 8,000 released DC Gearmotors designs and over 2,000,000 individual part numbers, we are renowned for our ability to handle large-scale orders. Due to our huge on-hand inventory, we are also well known for lightning-fast delivery of our standard products. We take pride in our dedicated customer service and our team of knowledgeable sales and engineering experts who are ready to assist you with custom design solutions tailored to your specific application. Additionally, we also offer a wide range of complimentary products, such as DC Motor Controls, DC Linear Actuators, AC-DC power Supplies, and DC Servo Amplifiers and others.