Solving the challenge of the last mile using traditional methods, like human teams and traditional automation systems, can require a massive upfront investment of capital and time – and often isn't enough to gain an edge in an already cutthroat market.
Parcel: A Lower-Cost Way To Automate Last-Mile Delivery Hubs
Article from | Tompkins Robotics
2020 was the year of online ordering. E-commerce sales grew rapidly, outpacing 2019 figures by nearly 33% and driving an extra $105 billion in revenue, according to Digital Commerce 360. That increased demand comes with higher expectations: Today's customers expect fast, and often free, delivery. Same-day deliveries grew 36% year over year, according to McKinsey.
This explosion in demand has strained existing delivery logistics and made the cost and inefficiency of last-mile deliveries even worse. While many retail businesses have rushed to improve their technology and supply chain to increase volume, cut costs, and shorten delivery time, the last mile continues to be a big pain point.
Solving the challenge of the last mile using traditional methods, like human teams and traditional automation systems, can require a massive upfront investment of capital and time – and often isn't enough to gain an edge in an already cutthroat market. E-commerce businesses that invest in updated automated fulfillment systems will be better positioned to thrive in a post-COVID world.
The Challenge of the Last Mile
The last mile is the final step of any delivery process when the parcel is sorted and moved from a transportation hub to the final destination. It's one of the most expensive and time-consuming parts of the delivery journey – and it's also often the key to satisfying the customer.
Today's customers rarely think about the costs and logistics that go into fulfilling online orders. They just want their order delivered quickly, accurately and affordably. According to Shopify, one of the top five major trends that will emerge in e-commerce this year is online fulfillment as a business differentiator. As the market becomes more competitive, businesses need to improve efficiencies in their last mile deliveries to survive in the market.
Automated Parcel Fulfillment Is the Way Forward
Traditionally, a shipper would sort outbound packages to a handful of carriers: often UPS, USPS, or FedEx. This was a pretty straighforward sort and did not require sophisticated material handling. Today, there has been a proliferation of carriers, services and sort destinations that requires a more advanced sortation approach.
Automated solutions, including robotic fulfillment and sorting, can save companies overhead costs and generate additional revenue. For example an autonomous mobile robotic system helps e-commerce shippers by sorting items and parcels to consolidation points, allowing for optimization of client distribution performance and capabilities. There are also many new last mile delivery hub operations that need the ability to economically sort at the route level. Robotic sortation enhances flexibility and is easy to retrofit into older facilitiesor move the sortation unit to a new location, often with a smaller footprint.
Here are a few of additional ways robotic fulfillment solutions help businesses save:
Labor Cost
Traditional fulfillment methods depend on human labor and increasing wage demands. But automated solutions require minimal human interaction and can produce results more efficiently.
Downtime
Robots and robotic solutions are set to run 24/7, working quicker and more efficiently than human counterparts, resulting in sustained productivity. They can also maintain a high sort density in compact spaces, which results in larger fulfillment batches.
Returns
Automated systems mean fewer human errors. When systems work full speed ahead with accuracy, order returns decrease, minimizing waste so businesses don't have to hold onto or resell handled or used stock.
Space
Robotic sortation supports maximum efficiency, using up to 25% less space compared with traditional sortation solutions. Real-time controls and portable modular components allow unit and parcel sortation to be easily controlled, stored and used separately or together in multiple spaces.
Investment
Robotic systems cost a full 40%-50% less than tilt trays, cross belts and other traditional system counterparts. They can be installed or purchased as needed, depending on client requirements and capacity, so clients can invest as they scale and utilize this asset to its fullest extent.
Setup
Robotic systems require about half the lead time of traditional fixed track systems to implement and begin producing results. Once they are in place, these solutions allow for easy and quick expansion, thanks to robots' modular makeup and flexible infrastructure.
With these efficiencies and savings, businesses can increase their return on investment (ROI) by up to 200%, not to mention their ability to stand out in the market with an up-to-date, fully automated fulfillment solution.
Scalability
Automated solutions, especially robotic systems, are built for effortless moving, storing, and scaling. Unlike traditional solutions, these portable, modular systems can be switched out or added to almost instantly. Their "Lift and Shift" capabilities make for easy transport and set up at other sites, allowing distribution and fulfillment centers to better evolve in today's dynamic e-commerce landscape.
In the United States, lockdowns have been replaced with reopening plans, and businesses that struggled through the past 18 months are finally regaining their footing. E-commerce held an undisputed sway over consumers in 2020, and there's no doubt it's here to stay. Regardless of these backwinds, online fulfillment will continue to face stiff competition — and the last mile will continue to be the determining factor on customer satisfaction and loyalty.
Businesses can stand out from the competition by examining gaps in their supply chain and upgrading their fulfillment systems with advanced technologies, like robotics. This attention to detail – and ability to keep up with increasing demand – will be their key to scaling successfully post-COVID.
The content & opinions in this article are the author's and do not necessarily represent the views of RoboticsTomorrow
---
Comments (0)
This post does not have any comments. Be the first to leave a comment below.
---
Post A Comment
You must be logged in before you can post a comment. Login now.
Featured Product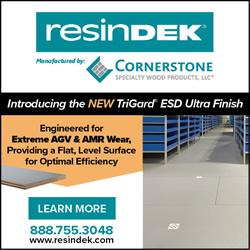 To maximize the productivity of an autonomous mobile robot (AMR) or automatic guided vehicle (AGV) deployment, it's critical to create the optimal environment that allows the vehicles to perform at their peak. For that reason, Cornerstone Specialty Wood Products, LLC® (www.resindek.com) created the TriGard® ESD Ultra finish for its ResinDek® engineered flooring panels. The TriGard ESD Ultra finish is ideal for high-traffic robotic applications characterized by highly repetitive movement patterns and defined travel paths.