For the aircraft conversion, Zimmer Group supplied an air-cooled spindle including EtherCAT operator terminal and frequency converter.
Converting Passenger Aircraft to Freight Aircraft - the Zimmer Group Is on Board!
Case Study from | Zimmer Group
The COVID-19 pandemic has disrupted supply chains around the world, paralyzed production lines and caused major cities to go into lockdown. For more than a year, the economy has been in a state of emergency. The airline industry has been hit particularly hard. Thousands of flights have been canceled, and in some cases entire aircraft fleets have been parked and mothballed - COVID-19 has impacted air traffic globally to an unprecedented extent.
The measures to contain the virus are hitting not only passenger traffic but also airfreight (including airmail), because passenger aircraft transport a large proportion (around 50%) of airfreight. Profiteers of the current crisis are cargo airlines/mixed carriers (freighters and PAX aircraft) and charter airlines, which will most likely look back on record results in these times. Driven by the air cargo boom and the growth of online commerce, the need to convert unused passenger aircraft into freighters is thus increasing. This is described by the term "passenger to freighter" (P2F). Based on the current market, analysts (source Reuters https://www.reuters.com/article/us-health-coronavirus-airlines-freight-idUSKBN28O02U) expect growing demand in this area. In addition to opportunities for aircraft manufacturers, maintenance companies, airlines and leasing companies will also benefit from the conversions.
Complex aircraft conversion
However, an aircraft conversion is technically very complex. It requires highly qualified technicians and a large number of parts whose processing must be coordinated to ensure a smooth process and timely completion. Only a few years ago, many work steps were carried out manually, but today, even in the aircraft industry, more and more so-called MRO ((Maintenance/Repair / Operation) processes are being automated. Reinforcing the floor structure of passenger aircraft to accommodate heavier payloads, for example, is one such labor-intensive process that involves drilling thousands of holes. Here, the aerospace division of Singapore-based ST Engineering Aerospace Ltd - a specialist in aircraft conversion - relies on the support of a robotic cell. For this purpose, the company has been working with Helios Applied Systems, also based in Singapore, since 2019 to automate such elaborate processes.

The Zimmer Group HF145-001 series air-cooled spindle has a power of 6 kW and a maximum speed of 24,000 rpm Source: Helios
Robot partnership
The robotic cell drills dozens of holes in the floor grids of Boeing's 767-300ER aircraft at ST Engineering's plant near Paya Lebah to convert it into a freighter in accordance with Boeing's STC*. To do this, the robotic cell moves along the floor structure, allowing the robot to drill the appropriate holes according to a predefined plan. The cell is located in a hangar that is conveniently adjacent to the converted aircraft. The robotic cell consists of a hydraulically liftable moving platform, a Yaskawa robot with a 180-kilogram payload, an end-of-arm tool with a special image processing system developed by Helios, and a motor spindle with 6 kilowatts of power, as well as a hollow shank taper fixture for automatic tool changing.
A spindle makes the difference
In addition to parameters such as concentricity and high speeds, the most important prerequisite for selecting the right spindle was the possibility of easily adapting the spindle to the existing robot by means of robot changing units. Helios found what it was looking for with the automation specialist Zimmer Group from Rheinau in Germany. This company has 13 branches worldwide - three of which are also in Asia. Zimmer Group supplied Helios with its HF145-001 series air-cooled spindle, which has a power rating of 6 kW and a maximum speed of 24,000 rpm, complete with EtherCAT operating terminal, all necessary cables and the matched frequency converter. This is particularly suitable for precise positioning tasks with integrated safety technology (STO) and for operations at low or high speed. In addition, the inverter offers optimum performance or power output with perfect coordination of spindle and frequency inverter.
In order to be more flexible for future applications, the spindle was mounted directly on a robot changing unit (WWS100F-001/WWWS100L-001) - also from the Zimmer Group. This robot changing unit allows the motor spindle to be exchanged for another tool or handling unit, thus enabling multiple use of a robot. In addition, Zimmer Group also supplied a storage station for the tool holder. The HSK fixtures and tools themselves were provided on site by Helios. Helios uses the Zimmer spindle with a fieldbus connection (EtherCAT) and also received the complete parameterization from the Rheinau-based automation expert. The Zimmer Group also supports Helios during the installation and afterwards with its extensive support for the products and also for software questions.
Successful cooperation
"Due to the rigid design and the very smooth running of the spindle, even at higher speeds, the drilling result is very good. You have to keep in mind that these parts are light and not completely flat, so the vision system detects the position and angle of each hole," says Sunil Raibagi, project manager and vice president of business development and strategy at Zimmer Group. The customer Helios is also satisfied: "We appreciate Zimmer Group as a long-term partner and are absolutely convinced of the qualities of the spindle. We were also particularly impressed with the service provided by Zimmer Group, who were always on hand to help us throughout the installation," says Managing Director Shyi-Herng Kan.
Busy in the future
While the robot is currently focused on drilling floor grids, the ST Engineering team is working with Helios to program the machine so it can also be used to set countersunk rivets. "We believe the robots can handle [these types of processes] well," said Hui Fung Lee, SVP and head of innovation and continuous improvement at ST Engineering Aerospace in an interview with cargo facts magazine.
In the coming months, the robot will also be programmed at ST Engineering to perform other functions and work on other aircraft models, including Airbus freighter conversions. "We know that the P2F process is very complex and requires many people for the entire conversion process," Lee explains. "Therefore, we are constantly looking for ways to improve our productivity," Lee continues. Tasks that lend themselves to automation tend to be standardized and highly repetitive, Lee says. Starting next year, ST Engineering plans to automate the drilling of floor grilles for the A321-200P2F conversion programs it owns through EFW, a joint venture with Airbus.
You can find out more about the Zimmer Group's air-cooled and water-cooled spindles and machine technology at https://www.zimmer-group.com/en/technologies-components/components/machine-tooling-technology/motor-spindles.

The Helios robotic cell including Zimmer Group's spindle drills dozens of holes in the floor grilles of Boeing's 767-300ER aircraft at the plant near Paya Lebah to convert it into a cargo plane. Source: Helios
*Supplemental Type Certificate (STC) is a change to the type certificate of an aircraft approved by an aviation authority.
Zimmer group offers both air and fluid control motor spindles for metal, aluminium, plastic, and wood processing. Zimmer Spindles stand out for high reliability, superior power density, and wide range of compatibility. We can also offer C axis in case you want to rotate the workpiece or tool. The tool interfaces are compatible with all conventional market standards for example, HSK F63, HSK C 32 or Solidfix S3.
The content & opinions in this article are the author's and do not necessarily represent the views of RoboticsTomorrow

Zimmer Group US, Inc.
Are you interested in premium products in the fields of mechanical and plant engineering? Do you want to learn more about our solutions in the fields of automation, damping, linear, processing, tooling, and machine tooling technology?
Other Articles
The camera control, which gives the robot the flexibility for an infinite variety of parts, and the EasyControl graphical user interface with its easy-to-understand input screens that allow users to automate without any robot knowledge.
Industrial Dampers cushion vibrations in machines. In order to fulfill this task perfectly, there are a large number of different types. To find the right variant for your own application, the load cases should be examined in detail.
Almost all tasks that previously had to be carried out by hand at Zimm are now performed fully au-tomatically by a KR QUANTEC and a KR AGILUS from KUKA. The five-axis milling machine is supplied with raw material via a lift system.
---
Comments (0)
This post does not have any comments. Be the first to leave a comment below.
---
Post A Comment
You must be logged in before you can post a comment. Login now.
Featured Product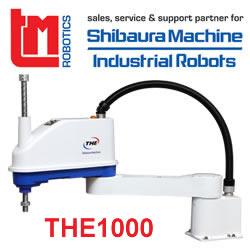 Designed for assembly and inspection applications in the electronics equipment and automobile components industries, the THE600 SCARA is a powerful automation tool. Advancing from the specifications of the existing THE400 SCARA, the THE600 has been developed to meet growing demand for fast-cycle automation. The THE600 model includes improvements in synchronised control and tracking precision. The THE600 is compact in design and offers improved high speed, with 60 per cent higher payload capacity than competing SCARA models in the same price range, making it the price-to-performance leader. Affordable price, impressive performance.