The topic of retrofitting, i.e., the modernization of machines and systems into the digital age, is also an important trend in terms of sustainability, energy saving and resource optimization that we are also serving.
Trends Shaping the Automation Industry
Q&A with Ryan Lilly, President & Roman Rieger, Founder & VP | senswork Inc.
Tell us about yourself and senswork.
senswork is a growing and ambitious German-based company with more than ten years of experience in the field of industrial image processing, optical inspection, and test device construction. Our solutions for automation and quality assurance are used every day in numerous industries such as the automotive industry, the food industry and for mechanical engineering. senswork is a One-Stop-Shop and we offer both hardware and software. From concept design to the integration of the finished system, and of course the subsequent support, we do everything in-house. Our vision is to continue creating innovative turnkey solutions, produce new products that are missing on the market and ensuring the future of quality assurance in the machine vision industry.
Roman: "Due to great work experiences with American clients, we decided to enter the US market. Just like in Germany, we want to offer the US market our turn-key inspection solutions and services with the goal to guarantee the highest quality and offer our clients a high ROI with our full-spectrum machine vision systems."
Ryan: "After studying economics at the University of Tennessee and at the Justus Liebig University in Gießen, Germany, where I met Roman, I worked for various German manufacturing companies that were expanding into the USA. Since 2020, I have been managing director / president of the American subsidiary senswork Inc."
Which technologies does senswork Inc use?
We specialize in turnkey solutions as well as custom-made hardware and software and offer image processing systems in a wide range of products. This includes 2D measurement technology, 3D measurement technology, label inspection (OCR and OCV), position detection, surface inspection and completeness checks. We also use deep learning for complex inspection tasks.
Our technologies can drastically reduce costs, ensure quality, and guarantee the traceability of products. The investment pays for itself after a very short time. They also help to identify rejects in production in good time and thus keep the use of resources low.
Do you work with OEMs or other system integrators?
When it comes to components (cameras, lenses, and lighting), we rely on high-quality products from well-known manufacturers such as the leading supplier Cognex. Ultimately, we always decide on the most suitable technology based on individual requirements and, if necessary, also develop special solutions.
Which trends are currently shaping the automation industry the most?
A major trend is the use of artificial intelligence (AI), or more precisely machine learning or deep learning technologies. Technical progress over the past ten years has made it possible to develop powerful computers, large data memories and high-performance software that significantly expand the scope of application of AI in image processing. Production plants will become more efficient and reliable with the help of AI, and in the long run the factory of the future will optimize itself. With senswork having experience in machine vision, automation and AI we are able to offer turnkey AI solutions for manufacturing quality insurance.
This trend is accompanied by the Industrial Internet of Things (IIoT). The automation of processes requires data that must be collected, processed and available for use in the right place and in the appropriate format. Deep learning supports people in making effective use of the increasing amount of data from production.
Technologies must be simplified in such a way that machine builders with little experience in image processing can find a solution quickly and independently. Technology must be easy to understand and easy to use. That is why we often aim for plug-and-play solutions when designing our systems.
The topic of retrofitting, i.e., the modernization of machines and systems into the digital age, is also an important trend in terms of sustainability, energy saving and resource optimization that we are also serving.
What challenges do you currently see the industry facing and how do you master them?
Corona dominates many branches of industry equally. Due to the lockdown in spring 2020, many areas of industrial production were shut down. Numerous companies suffered production collapses and were affected by supply bottlenecks on the part of their suppliers. senswork also felt the delivery problems with certain materials and had to resort to new suppliers at short notice or plan longer waiting times.
At the same time, it is becoming apparent that the pandemic is accelerating trends such as automation and digitalization. More and more companies see the need for robot-assisted quality assurance in their production lines. This is where senswork comes into play as an expert in industrial image processing. Small and medium-sized companies also use optical inspection technologies. So, we got through the crisis relatively well.
In order to be able to meet the increasing demand in electromobility, vehicle manufacturers are demanding quality and automated solutions in battery production. How does senswork support automobile manufacturers in matters of quality assurance?
When manufacturing electric motors, many OEMs rely on stators with hairpins - U-shaped bent coils made of coated copper instead of the classic copper wire winding. This technology offers decisive advantages: The motor has a high output with low weight and the drives can be produced in large numbers. The challenge here is quality assurance in the manufacture of the stators. 160 to 220 hairpins are welded together during assembly. However, the welding process depends on numerous factors and is therefore too complex to determine its quality using conventional methods.
To ensure an exact and stable laser welding process, senswork is developing a 3D inspection system based on artificial intelligence (AI). With the new test method, the quality of the welded joints can be monitored 100 percent inline. With the help of deep learning, complex relationships can be modeled, and knowledge generated without needing a deep understanding of the underlying physics. In this way, deviations in upstream process steps can also be recognized and compensated for at an early stage. With the AI-supported fault inspection, laser welding can be efficiently automated, which ensures long-term quality in battery production and significantly increases the efficiency of electric motor production.
Will the complexity of manufacturing processes continue to increase in the future, or do you see limits here?
Nowadays the complexity in production areas with combination of manufacturing process with logistic processes can be very high. I personally think that this cannot be projected to the future with increasing complexity. Now manufacturers should be thinking of finding the right Smart Factory concepts for their whole manufacturing value stream.
The Smart Factory concept is not about adding more computers and robots to the manufacturing floor. It is about implementing new technologies and methods that simplify production processes. This reduces the manufacturing complexity and saves production time and resources. This concept will increase in the future.
What should be the main motivation of a responsible manager to use new technologies in manufacturing?
High quality assurance and control, increased sustainability and new feasibilities of processes that were not possible without machine vision should be motivation alone. There are many reasons why machine vision should be used. It is safer, faster and can provide optimized processes, while being user friendly. Saving potential such as resources, space, personnel, or identifying product errors or rejects in time, drives the ROI.
What new markets and technologies do you see for senswork Inc for the future?
senswork's inspection solutions are used in the automotive, electronics, and food industries. However, just like in Germany we will screen the US manufacturing market for chances in other industries. One field is the energy sector with production of battery pack systems for EV and stationary use. As to technologies, AI or deep learning technologies will be key to solving the most complex inspection tasks.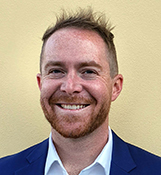 About Ryan Lilly, President, senswork Inc.
Ryan Lilly has been working for senswork, Inc in Johnson City, Tennessee since the subsidiary was created in 2020. Ryan's experience assisting German manufacturing companies expand to the US market goes back to 2014 when he began work to establish a warehouse and team for a spring manufacturing company. In 2017 Ryan began working in a similar role to create a US presence for a German aerospace manufacturing company. Working on similar development tasks for these companies in various industries has given Ryan a good perspective about the path to entering the American market for small and medium sized businesses.
Ryan is a native Tennessean and completed his bachelor's degree in World Business from University of Tennessee in Knoxville and a master's degree in Economics from Justus-Liebig Universität in Gießen, Germany. His time spent living in Germany has given him a good understanding of the German language and culture and being able to apply this to teamwork during the US expansion process has been significantly helpful. Ryan's familiarity with the region is helpful, but more important is Tennessee's strong business environment that will help foster growth for all manufacturing companies as the next chapter of industry evolves.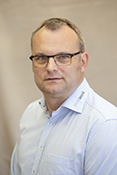 Roman Rieger, Founder senswork GmbH, VP senswork Inc.
Given the rapid pace of technological development in the automation industry, it is imperative to stay on the edge of innovation. Hardware and software must be precisely designed, developed and coordinated. Solving the most complex inspection challenges to guarantee quality assurance where a zero-error rate is essential, is what drives us at senswork."
In 2011, Roman Rieger along with Rainer Obergrussberger founded the machine vision company senswork GmbH in Germany and opened the subsidiary senswork Inc in USA in 2021.
Roman graduated from Rosenheim Technical University of Applied Sciences with Degrees in Production Engineering and MBA Management & Leadership.
His main responsibilities include planning and implementation of design and production. He is additionally responsible for business development and the establishment of senswork Inc in Tennessee, USA.
System integration and inspection equipment manufacturing are among his strengths. As an engineer, precision mechanic and production technician, Roman strives to find the best solutions to the most complex inspection problems and implement them to simplify the production process. For senswork's customers, this means high reliability, high ROI, and cost and time savings. This has been proven many times in many Tier 1 and Tier 2 automotive industry projects. Roman is also strongly committed to the electronics industry. Optical measurement and inspection systems for electric motors, wafers, batteries, PCBs are part of his area of expertise.
His goal is that of his customers: Find solutions to reduce costs and ensure product quality by detecting and minimizing rejects early in the manufacturing process. His enthusiasm, expertise and commitment to machine vision has contributed to senswork's success. With 25 employees, 2 locations in Germany and 1 location in the USA, Roman's goal is to make senswork's services and products global, ensuring product quality.
His vision is to continue to develop innovative turnkey solutions, produce new products that are missing in the market, and secure the future of quality assurance in the machine vision industry.
The content & opinions in this article are the author's and do not necessarily represent the views of RoboticsTomorrow
---
Comments (0)
This post does not have any comments. Be the first to leave a comment below.
---
Post A Comment
You must be logged in before you can post a comment. Login now.
Featured Product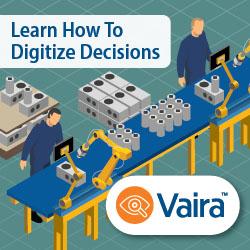 Vaira™ helps manufacturers digitize, automate, and upgrade error-prone manual processes and decisions to boost productivity and increase profits by helping humans make decisions consistent, reliable, and traceable. The camera-based solution is powered by a scalable suite of shop floor-ready apps built on proven machine vision and AI expertise for frontline manufacturing operations, with two-way integration to resource planning tools to help drive continuous analysis, insight, and improvements. Start digitizing immediately, streamlining processes customized to your unique requirements and reduce errors that lead to costs, delays, and quality concerns.