A business model that was originally envisioned as a hardware sale has morphed into a Data-As-A-Service subscription model that unburdens the customer from capital expenditures, infrastructure changes, hardware maintenance or operation of complex systems.
Vimaan CEO Reflects on Coming Out of Stealth
S.K. ("KG") Ganapathi | VIMAAN Robotics
It has been an exciting and dynamic 4 years leading up to Vimaan's launch and emergence from stealth. What started as a hardware systems play has stretched into an end-to-end solution – including hardware, computer vision algorithms, and a software backend. What started as a point solution to address cycle counting in large B2B warehouses has broadened into a wall-to-wall solution in every warehouse – B2B, Retail or E-Commerce. And finally, a business model that was originally envisioned as a hardware sale has morphed into a Data-As-A-Service subscription model that unburdens the customer from capital expenditures, infrastructure changes, hardware maintenance or operation of complex systems.
Much More Than Drones
When I founded Vimaan, the original intent was to leverage drones in indoor environments as "aerial robots": to enhance labor productivity, efficiency, and safety. Warehouse environments were attractive targets because of the need to constantly monitor ever-changing inventory at various shelf heights in huge and tall warehouses, the growing trends towards e-commerce, and the industry's increasing acceptance and adoption of robotics in logistics.
We successfully launched our drone-based product to track stored inventory and went live with cycle counting functions, but as it turned out, drones were just the beginning. In talking with customers, I realized that cycle counting was only a small subset of customers' pain points relating to inventory management, and that in fact, Vimaan's underlying technology platform could be used to address a much larger and broader gap in the logistics chain – all related to automated inventory tracking and accuracy. So, our team of computer vision and machine learning engineers spent months in customers' warehouses, studying their current workflows and practices, and understanding the problems. Our goal was to address the biggest and most commonly experienced inventory tracking challenges without disrupting what was already working for them. This understanding allowed us to develop solutions that plugged directly into existing warehouse workflows, thus making it easier for our customers to adopt and benefit from Vimaan's inventory tracking technology without any infrastructure changes.
Delivering THE TRUTH to the Customer's WMS
For decades, the logistics industry has relied on Warehouse Management Systems (WMS) to track their inventory and to manage their Receiving, Storage, Packing and Shipping workflows. These WMS solutions are provided by highly established companies – such as SAP, Manhattan Associates or Blue Yonder – and have been the lifeblood of the operations that drive warehouses. However, a WMS can only be as good as the data it receives from the warehouse floor. Errors and omissions in data input by warehouse associates – caused by high volumes, lack of training, lack of proper quality and inventory management systems, and high labor costs – create situations where the WMS is no longer an accurate representation of what is happening on the warehouse floor. This disconnect between WMS and actual inventory status in turn leads to shipment delays and penalties, incorrect shipments (resulting in increased reverse logistics costs and chargebacks), and sometimes stopped production lines if a warehouse is tasked with feeding an assembly line.
Inventory Accuracy Needs More Than Barcodes
Barcodes are still a helpful means of capturing inventory data, but there is so much more that goes into inventory management that is not contained in a barcode. Vimaan combines barcodes, RFID tags and a host of other information on the labels and boxes or pallets to identify and track inventory , and ensures that the WMS is not only accurate and up-to-date at all times, but also provides richer context about the inventory. This allows leaders and teams to make better decisions. Some examples of Vimaan's capabilities include:
reading text or logo information
storage space utilization
object dimensioning
counting and segregation
detecting damage
identifying safety risks such as damaged racks or protruding inventory from shelves
Vimaan collects and tracks all this information in a fully automated manner – which significantly reduces the cost of labor associated with inventory tracking. Because we collect and "read" millions of inventory items at a multitude of customer sites, our proprietary machine learning models continuously "learn" from this data and get ever more accurate over time.
What's Next For VIMAAN?
I want to thank our customers and partners that have supported our development and deployment process. These are some of the best and brightest warehousing minds in the 3PL, Retail and Manufacturing sectors – and they are innovation leaders in their sectors. They let us inside their facilities to learn what makes their operations world-class and to see their biggest challenges firsthand. We are now excited about the opportunity to introduce this paradigm shifting technology to warehouses across the industry – we believe all our customers will see significant ROI, improved operational efficiencies, and higher customer satisfaction. Now that we have launched our product, we look forward to spending even more time with our customers and prospects in their warehouses – understanding their inventory tracking problems and how we can bring our products and solutions to deliver significant improvement.
We plan to be at MODEX in Atlanta, GA in March 2022. If you plan to attend, please stop by our booth and ask for "KG"; it would be my pleasure to meet you.
If you're not attending MODEX and want to learn more, contact our team of automation experts at www.vimaan.ai.
The content & opinions in this article are the author's and do not necessarily represent the views of RoboticsTomorrow
---
Comments (0)
This post does not have any comments. Be the first to leave a comment below.
---
Post A Comment
You must be logged in before you can post a comment. Login now.
Featured Product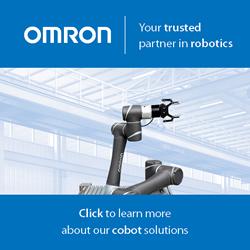 Humans and robots can now share tasks - and this new partnership is on the verge of revolutionizing the production line. Today's drivers like data-driven services, decreasing product lifetimes and the need for product differentiation are putting flexibility paramount, and no technology is better suited to meet these needs than the Omron TM Series Collaborative Robot. With force feedback, collision detection technology and an intuitive, hand-guided teaching mechanism, the TM Series cobot is designed to work in immediate proximity to a human worker and is easier than ever to train on new tasks.