Robots were first introduced to manufacturing assembly lines in 1978. Since then, the hardware (mechanics and control systems) has improved significantly. Yet the way these robots are programmed has not changed very much.
Why Are You Still Manually Programming Your Robot?
Article from | Robotmaster
The vast majority of jobs are still programmed manually. However, new offline robot programming (OLP) tools are rapidly changing and being adopted.
If we look closely at manufacturing, oftentimes many different pieces of equipment and technology are used to get the job done. CNC machines, for example, were introduced to achieve high-precision machining and reduce the number of workers needed to do the physical work. Because the CNC was initially programmed manually on a controller, it was only as precise as the programmer who wrote the program.
Over time, the programming of CNCs was made more efficient by leveraging offline programming software to generate the g-code required to operate these machines. This led to increased accuracy, reduction of machine downtime, production of more complex parts, profitability in high-mix low-volume production runs, elimination of human error, and overall reduction in manufacturing costs.
Nowadays, manual CNC programming is exclusively reserved for programming very basic work in high-volume production runs. The use of powerful and easy-to-use offline software to program CNC machines has become the standard in the CNC world.
In the field of industrial robotics, there are three main ways to program robots:
1. Teach pendant programming
This programming method involves using the teach pendant. A control box is used to program the motions of the robot. You move the robot arm into each desired position and then save the position as a point in the program. The output is a program in the brand-specific programming language of the robot arm.
Benefits:
Traditional programming method
Comes with the robot arm therefore no additional investment needed
Drawbacks:
Subject to human error and inaccurate results
Increases robot downtime as the robot is taken away from production during programming
Requires robotics and programming expertise
Requires a learning curve for each robot brand, as each robot controller functions differently
2. Physical teaching
Certain robots are capable of being programmed by physically moving the robot arm and logging each position into the teach pendant. This is generally only an option for collaborative robots (robots designed to work safely alongside humans).
Benefits:
Very intuitive and visual method
Ideal for simple part programming
Not as time-consuming and tedious as teach pendant programming
Drawbacks:
Lack of precision
Not ideal for all robotic applications
Time-consuming for complex parts / programming
Increases robot downtime as the robot is taken away from production during programming
Not a viable programming method for most industrial robots
3. Offline programming software
The latest technology created to program industrial robots is offline programming (OLP) software. Similar to using CNC software to program a CNC machine, OLP software is the ideal programming method to program industrial robot arms.
How does it work? Offline programming software enables the user to program the robot on a computer, independently of the hardware, rather than taking the robot away from production. By importing the CAD model of the part, the software can automatically generate the path trajectories and create the program in a matter of minutes. OLP software also provides program optimization and validation through the virtual/simulation environment that matches the real-world robot cell to ensure the generated program is error- and collision-free.
Benefits:
Powerful and simple to use, quick program generation
Can be brand agnostic providing one software solution for all robot brands
High level of accuracy can be achieved
No programming or robotics expertise required
Reduction of robot downtime and increase in production time
Drawbacks:
Powerful offline programming software is an additional cost
Requires the use of a computer
Today, industrial automation is the sweeping trend in the manufacturing world. It delivers the promise of producing more, with higher accuracy and in a fraction of the time. The supply chain disruption and severe labor shortage caused by the pandemic has further expedited the push towards automation.
Robots are key to automation. They are being used in a wide spectrum of applications, from simple pick-and-place to complex 3D manufacturing processes such as cutting, polishing and 3D printing. Furthermore, an increasing number of manufacturing facilities are producing low-volume batches of many different parts. These opposing needs cannot be fulfilled by manual teaching anymore. Only a good offline programming software can harness the full potential of robots in your facility.
Software has proven to be the game-changing component in the world of CNC programming, and the same is now happening in the world of industrial robots.
Are you using the best programming method for your robots? If you wish to talk with one of your experts regarding your robotic application to determine the best way to program your industrial robot arm, contact us.
The content & opinions in this article are the author's and do not necessarily represent the views of RoboticsTomorrow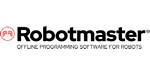 Robotmaster
Robotmaster, a Hypertherm Associates brand, is an offline, is an offline robot programming software that helps manufacturers maximize their robot's productivity with easy and efficient robot programming for a variety of applications such as cutting, trimming, milling, welding, spraying, polishing, sanding, grinding, deburring, and more. Robotmaster uses integrated CAD/CAM functionality to make robotic programming easy and intuitive for everyone, even first-time users.
Other Articles
We recently hosted a webinar titled: "Unlock Value-Stream Productivity with Robotic Cutting". During this webinar, we polled audience members. Our first question: Have you looked at automating fabrication tasks in the past. Most respondents said yes, they had, in fact, explored this.
Their biggest challenge and opportunity for automation was the manual, labor-intensive tube rolling process. Because each chiller was a customized product, there was no single standardization to the hole patterns—adding to the complexity of a potential automation process.
Because there is more to automation than selecting a robot, working with a robot or system integrator can be extremely valuable to ensure the full robotic system is properly designed to achieve the desired results.
---
Comments (0)
This post does not have any comments. Be the first to leave a comment below.
---
Post A Comment
You must be logged in before you can post a comment. Login now.
Featured Product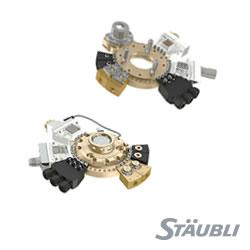 Stäubli is a pioneer in the construction and development of robotic tool changing systems. Our customers benefit from our many years of expertise in all industry sectors, as well as our modular product concept, which offers three efficient solution paths: MPS COMPLETE offers preconfigured robotic tool changers for immediate use. MPS MODULAR allows the user to determine the configuration, while MPS CUSTOMIZED allows the construction of special, application-specific systems.