Automate marks the US launch of Shibaura Machine's latest robot models — the THE800 and THE1000. These high-performance robots have been designed to meet demand for fast paced assembly applications with higher loads.

Q&A with Nigel Smith, CEO and President | TM Robotics
Tell us about your company.
TM Robotics is the official North, South and Central American distributor for Shibaura Machine, the Japanese industrial robot manufacturer known until 2020 as Toshiba Machine. Shibaura Machine is one of the few robotics manufacturers to offer a full spectrum of SCARA, 6-axis and Cartesian robots, making it much simpler to find the perfect robot for a particular end application.
Well-regarded for their reliability, accuracy and ease-of-programming, Shibaura Machine is the supplier of choice for original equipment manufacturers (OEMs) and end-users alike who are looking for cost-effective, high-quality robots.
As the official international sales and support partner for Shibaura Machine, TM Robotics has over 20 years' experience in the robotics sector. The team has lent its expertise to all kinds of applications, from cheese packaging to the production of cricket balls, and excels at working collaboratively with customers to achieve the optimum result.
Your company will be exhibiting at AUTOMATE, what is it that makes this an important event for your company?
Automate marks the US launch of Shibaura Machine's latest robot models. Shibaura Machine has expanded its SCARA range with two new additions — the THE800 and THE1000. These high-performance robots have been designed to meet demand for fast paced assembly applications with higher loads. In fact, the cycle time is just 0.4 seconds with a 2kg load. The maximum payload for the THE1000 is 20kg.
The new models boast double the maximum operating speed compared to conventional alternatives, with an impressive 8,400mm per second and 9,500 mm per second joint speed respectively.
At Automate, the THE800 will demonstrate electric battery assembly. As demand for electric vehicles (EVs) increases, Shibaura Machine has developed robots that rise to the challenges of battery manufacturing — particularly regarding cycle time and payload.

What makes your booth a must visit for AUTOMATE Attendees?
Visitors to the Shibaura Machine booth will be among the first to see the new THE800 and THE1000 models in action. Not only that, but the new THE SCARAs will be demonstrated alongside the TS5000 robot controller and TP5000 teach pendant.
The new controller has been engineered by Shibaura Machine's experts in Japan and offers users improved robot synchronization and control. Importantly, the controller is also enhanced with Internet of Things (IoT) capabilities, enabling automated data capture for improved robot maintenance.
Those calling in at booth #2844 will also be treated to a demonstration of the Supata Smart Feeder from EPF, the Italian distributor and service partner of Shibaura Machine injection molding machines. The Smart Feeder is a vibratory feeder designed to handle components of any size or shape. Designed and manufactured in Italy, the system works in collaboration with a Shibaura Machine 6-axis robot for fast and precise operation.
Plus, the friendly TM Robotics team will be on hand to help with any of your automation queries, no matter how complex.
When you get a chance to walk the exhibit hall floor yourself, what is it you will be most interested to see? Any educational sessions, pavilions etc. you plan on attending?
A walk around the Automate exhibition floor is always inspiring — even more so this year as it's been a while since we were able to. I'm excited to see plenty of novel, innovative applications using robots and witness boundaries being pushed in robotics. I'm also looking forward to catching up with lots of our distributors, customers and collaborators — old and new.
The factory floor is undertaking rapid advancements, be it automation, robotics, machine vision or data. Automation Technology is a huge part for many manufacturers, give us an idea on how your company and product is being utilized now in the smart factory.
The THE800 and THE1000 robots and the TS5000 controller have been developed with smart factories in mind. In particular, the TS5000 uses artificial intelligence (AI) to capture data and conduct analysis on robot performance. For example, vibration analysis can determine predictive maintenance suggestions for the robot operator, reducing the amount of unplanned downtime and avoiding unanticipated breakdowns.
Due to its advanced communication capabilities, the TS5000 is able to transmit data in real-time. This is crucial for ensuring reliability, monitoring and control of the robot in a fast-paced industrial environment.
Give us your thoughts on what the future holds for manufacturers and automation technology.
It is an exciting time for the automation market in the Americas. We're seeing a rapid increase in new applications for articulated robots, as well as new industries integrating robots into their facilities. We also expect the integration between robotics and digital technologies to continue to flourish, with greater use of AI, machine learning, vision technologies to create truly smart factories.
At Automate, we're looking to connect with potential distributors as well as customers, so if you're interested in learning more about partnering with Shibaura Machine and TM Robotics, please drop by booth #2844.
The content & opinions in this article are the author's and do not necessarily represent the views of RoboticsTomorrow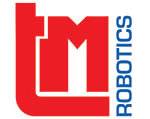 TM Robotics (Americas) Inc
TM Robotics, in partnership with Shibaura Machine, formerly known as Toshiba Machine until 1st April 2020, offers a comprehensive range of industrial robots ideally suited for high-precision assembly, machine loading/unloading and material-handling applications that can be dust proof, clean room, or IP65/67. The company's extensive product line starts with a Cartesian solution available in thousands of combinations from single actuators to four-axis solutions; six-axis solutions that can include precise vision-control; and a complete range of SCARAs from low cost to the industry-leading SCARA with 1200-mm reach that can carry up to 20 kgs. TM Robotics sells and services robots throughout Europe, the Middle East, India, Russia, and Africa, as well as North, Central, and South America, from headquarters in Hertfordshire, England and Elk Grove Village, IL, USA. For more information, visit www.tmrobotics.com or follow us on Twitter, LinkedIn and YouTube.
Other Articles
At the booth, visitors can see the TH650A robot perform a live screw feeding demonstration, developed by ASG. This is just one of many solutions TM Robotics is involved with.
You have lots of cartons coming into a typical warehouse, let's say 600 boxes per hour, and razor blades are used to cut these boxes while keeping up with intake speeds. This invites risks and employees still get injured, despite safety precautions.
As electronics get smaller and manufacturers come under greater pressure to improve efficiency and throughput, the traditional hand soldering method is no longer up to scratch.
---
Comments (0)
This post does not have any comments. Be the first to leave a comment below.
---
Post A Comment
You must be logged in before you can post a comment. Login now.
Featured Product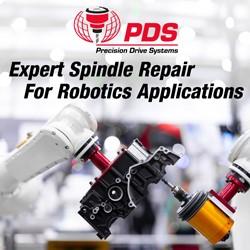 Precision components machined by CNC robot machining systems require compact, lightweight, and high-speed motorized spindles capable of delivering higher efficiency, performance, and reliability than those used in many other industries. That's why manufacturers of milling, cutting, trimming, grinding, polishing, and deburring trust Precision Drive Systems (PDS) to provide accurate and dependable spindle repair to perform to the most exacting standards.