Our remotely operated forklifts allow operators to do their jobs from up to thousands of miles away. This is critically important to our customers, who have been dealing for decades with a labor shortage that recently has become even more acute than ever before.
2022 Top Article - Using Remote Operation to Help Solve Labor Shortage Issues in the Supply Chain
Q&A with Elliot Katz, Co-founder and Chief Business Officer | Phantom Auto
Tell us about Phantom Auto and what you provide in material handling?
Phantom Auto specializes in remote operation of logistics vehicles. Our human-centered solutions are interoperable and enable people to remotely supervise, assist, and drive unmanned vehicle fleets from up to thousands of miles away – including forklifts, robots, trucks, and more. Part of our secret sauce is how our software delivers secure, low-latency communication over volatile wireless networks for reliable sensor streaming and safe vehicle control.
What does it mean to provide a human-centered solution?
Simply put, it means that we bring people who want to work, to jobs that need to be filled, regardless of their geographic location. Remote operation technology does not displace jobs; it's humans and technology working hand-in-hand together. Elon Musk once famously stated: "humans are underrated". At Phantom, we believe that humans are underutilized as well. Our technology channels our worldview that humans are a critical piece to ensuring that operations can remain safe and productive — even as more automation is introduced in the warehouse.
How does remote operation help solve labor shortage issues in the supply chain?
We have customers that have thousands of open positions which need to be filled across the country. With remotely operated forklifts, we're effectively eliminating geographic restrictions to hiring – enabling our customers to tap into labor, on-demand, from anywhere. This technology is attractive to workers because it also leads to a safer work environment. By removing operators from hazardous warehouse environments, we're helping our partners increase employee safety, satisfaction, and comfort, which can lead to increased retention.
How does Phantom expand labor access in the supply chain? Why is that important?
Our remotely operated forklifts allow operators to do their jobs from up to thousands of miles away. This is critically important to our customers, who have been dealing for decades with a labor shortage that recently has become even more acute than ever before. Previously, our customers had to hire operators that were within commuting distance of their warehouses and facilities. Now, we've opened their potential hiring pool to anywhere in the country.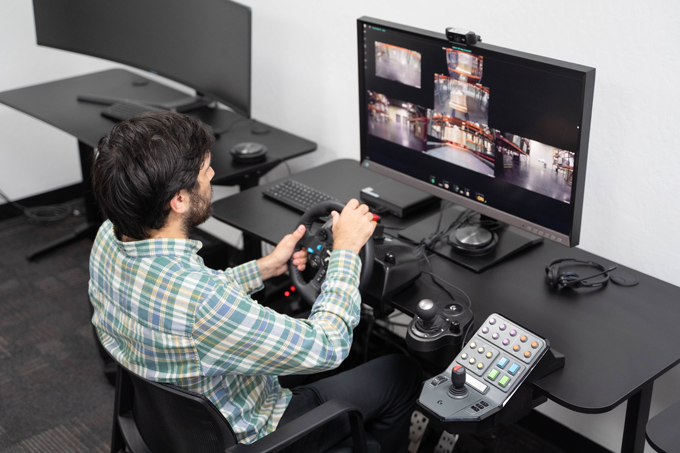 Can you tell us about Phantom's commitment to making forklift jobs more accessible?
If the pandemic has taught us anything, it's that people can and want to work remotely. With our technology, we're enabling people that do physical labor to have that privilege as well.
And in addition to expanding the labor pool, we are also diversifying it. Meaning: people who have traditionally been underrepresented in the material handling sector can now do this job too. A few examples include neurodiverse individuals, such as people with autism, who can be trained to operate vehicles remotely but were previously not empowered to do this type of work; digital natives, who are looking for career opportunities with cutting-edge technology; and operators who were previously injured manually operating forklifts. 1 in 10 forklifts gets into an accident each year, often unfortunately resulting in serious injury to vehicle operators, and sometimes even death. With our technology, that risk of operator injury drops to virtually zero; and at the same time, it can enable operators who previously suffered on-the-job injuries – inhibiting them from physically operating forklifts – to continue operating forklifts, albeit remotely.
What are the advantages of a distributed labor model vs only hiring drivers locally (decoupling labor from location)?
With a distributed labor model there are a myriad of benefits for both the employer and the employee. For example: as an employer, you can tap into labor from anywhere, and establish 24-hour operations by hiring in multiple time zones for seamless handoffs between workers located around the world. Within a single site, you can reduce the amount of time that workers spend moving between vehicles. For the employees, they benefit from a safer, more comfortable work environment.
What is Phantom's vision for the next 10 years?
We offer an innovative technology that the market has been receptive to, especially in light of the global supply chain crisis. The status quo in the logistics industry for decades has been a labor shortage, but recently that labor shortage has become much more acute, and many experts believe this has become our new normal. So not only do we provide remote operation technology, we are quickly becoming a one-stop shop for accessing remote labor on-demand; with highly trained remote operators who will be handling the actual remote operation. So if you are a company that is having trouble hiring and/or retaining forklift operators, we can completely remove that problem from your docket.
About Elliot Katz
Elliot Katz is co-founder and Chief Business Officer at Phantom Auto, the leading remote operation platform that is solving the supply chain labor shortage by enabling material handling equipment operators to work remotely. Having been a part of the unmanned vehicle space for a decade, Elliot has a unique multi-faceted viewpoint as a result of his work on both the business/strategy and legal/policy side of the sector. An advocate for safe deployment, Elliot speaks at unmanned vehicle events throughout the world, and has discussed his views with The New York Times, The Wall Street Journal, BBC, NBC Today Show, CBS This Morning, CNBC, Forbes, Bloomberg, Wired, Reuters, and TechCrunch.
The content & opinions in this article are the author's and do not necessarily represent the views of RoboticsTomorrow
---
Comments (0)
This post does not have any comments. Be the first to leave a comment below.
---
Post A Comment
You must be logged in before you can post a comment. Login now.
Featured Product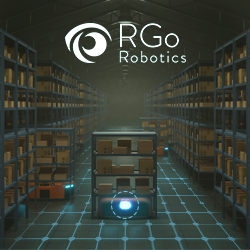 RGo's intelligent vision and AI system, Perception Engine™, provides mobile robots with 3D perception capabilities, enabling them to understand complex surroundings and operate autonomously just like humans. Its camera-based system operates is able to localize, map, and perceive in even the most robust environments including indoor/outdoor and dynamic or unstructured environments.