Selecting an automated solution based on an understanding of how that solution benefits a customer's business operations, with accurate simulations and modeling, will lay the foundation for success.
Lowering the Barrier to Entry with "Robotics-as-a-Service" (RaaS)
Q&A with Mike Futch, CEO | Tompkins Robotics
How many warehouses are utilizing robotics/automation today?
Of the estimated 20,000 warehouses in the US, only 20% use some level of automation be it conveyor, robotics, automated storage retrieval systems "ASRS", automated guided vehicles "AGVs", or autonomous mobile robots "AMRs". The fastest growing automation solutions are with AMRs and robotics. The robotics sector is anticipated grow annually at a CAGR above 11% for the next five years. With the shift in consumer habits and rise in E-Commerce and direct to consumer purchasing, Fortune 100 companies are forced to find a way to become faster and more efficient. Adopting automation has been the solution to increased customer expectations and demands. Smaller companies are slower to adopt new technology and automation is not necessarily the right solution for all firms.
Why is automation more important now than ever before?
Labor is the foremost driver for automation. Competition for labor, plus the rising cost of wages are becoming a major challenge for companies. Automation is shown to make work easier, more interesting and provide better health & working conditions for employees. This helps attract as well as retain employees to companies utilizing automation.
The growth in work content due to the rise in individual items picked for ecommerce orders and more real time replenishment throughout the network, adds even more pressure to the supply chain system. As the handling of individual items increases and the processing of caseloads diminishes, the old supply chain workflows breakdown and become inefficient. Consumer expectations are higher, old ways of working are slower, and inefficient businesses lose customers and revenue. Automation solutions that are flexible and scalable are key in allowing sustainable growth and profitability for a company.
What critical pain points does automation solve for a business' distribution/fulfillment processes.
Labor and system capacity concerns are adversely affecting the supply chain process. Automation provides increases in productivity, reduction of human error, more efficient use of existing space, and the ability for around the clock operations performing at peak performance levels. Changes in the workforce see today's employers struggle to retain quality employees while simultaneously attempting to hire new employees to deal with burgeoning demand placed upon the supply chain network. Employers who can automate processes remove repetitive and difficult job tasks from workers, elevating them to manage robotic fleets, and create value for their business, customers and workforce.
What are the major barriers preventing a company from adopting robotics?
Two of the major barriers to implementation of robotics are change and misinformation. Company leadership that is not visionary or is unable to examine new technology and the data points associated with that technology greatly hinders automation success. The perception that automation is a long journey and creates inflexibility in the supply chain is a misconception. Selecting the right solution for the right requirements and situation can be highly successful when planned and managed effectively. Being fearful of change and not viewing their supply chain as a profit center or way to gain a strategic advantage against market competition are other narrow-minded thoughts that prevent adoption to automation.
Misinformation or bad data points also contribute to implementing automation. The assumption that robotic technology is expensive and requires tremendous capital outlay is inaccurate. There are CapEx, lease and OpEx (Robots as a Service or RaaS) options available in the market. Inaccurate comparisons using unrealistic cost of labor numbers result in flawed budget comparisons. Only using planned costs per hour as a data point is short-sighted when not including real costs like turnover, training, sick days, reduction in productivity over a shift, human errors, etc. Also, the thought that every robotic solution requires new talent and costs like an expanded IT department or engineering staff, are not usually the case. Selecting an automated solution based on an understanding of how that solution benefits a customer's business operations, with accurate simulations and modeling, will lay the foundation for success. Finally, selecting the right solution provider that can demonstrate proven successful and measurable results, is always a requirement to achieve the planned results.
What solutions are available for a business to introduce robotics/automation into their processes, without significant investment?
Tompkins Robotics designed our tSort autonomous mobile robot (AMR) sortation solution to be elegantly simple and provide a great "point-of-entry" for companies that have a limited budget, limited space, and limited resources to implement and manage automation. The lifecycle service and total cost of ownership is also simple, easy-to-use, reliable without the need for a highly sophisticated maintenance, IT or engineering staff. Purchasing options like RaaS allow for companies to implement the robotic automation with capacity they require today, but with the flexibility to scale as the business grows.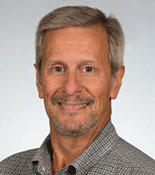 Mike Futch, President and CEO, Tompkins Robotics
Mike is the President, CEO and one of the original leaders that has created Tompkins Robotics and brought the tSort sortation system to life for global customers. tSort is the world's leading robotic, truly scalable, portable, and intelligently adaptable automated sortation system that is changing the way firms execute in their supply chains. He has been involved from day one in the evolution of this unique and innovative system – recognizing the potential, designing the applications, and creating the value proposition for Tompkins Robotics' customers. He continues to lead the design and forward movement of the company. He drives much of the new application development, new product conceptualization, and the integration with partners solving unique problems with complimentary robotic automation. His focus is to deliver Tompkins Robotics and its systems to customers across the globe to maximize their service, performance, and operations in ways never before thought possible. Mike has had a long, successful, prior career in the US Air Force and as a leader in consulting practices at several firms. He now brings that same level of success to the leadership of Tompkins Robotics and its customers.
The content & opinions in this article are the author's and do not necessarily represent the views of RoboticsTomorrow
---
Comments (0)
This post does not have any comments. Be the first to leave a comment below.
---
Post A Comment
You must be logged in before you can post a comment. Login now.
Featured Product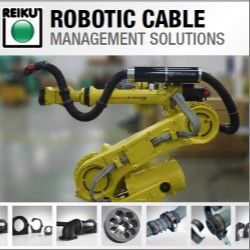 REIKU's Cable Saver™ Solution eliminates downtime, loss of revenue, expensive cable and hose replacement costs, maintenance labor costs. It's available in three sizes 36, 52 and 70 mm. All of the robots cables and hoses are protected when routed through the Cable Saver™ corrugated tubing.The Cable Saver™ uses a spring retraction system housed inside the Energy Tube™ to keep this service loop out of harms way in safe location at the rear of the Robot when not required. The Cable Saver™ is a COMPLETE solution for any make or model of robot. It installs quickly-on either side of the robot and has been tested to resist over 15 million repetitive cycles. REIKU is committed to providing the most modular, effective options for ensuring your robotic components operate without downtime due to cable management. www.CableSaver.com