As the time comes by, the role of robotic welders is growing. To step up into Industry 4.0 and head into Industry 5.0, more and more manufacturers are applying the concepts and principles of automated welding.
Robotic Welding on a Way to Automation
Article from | DOBOT
Multiple manufacturers can benefit from robotic welding by applying it to their manufacturing lines. Robotic welding is a key to automation in manufacturing ensuring a high level of precision, increasing safety, and as a result, quality of operations.
When George Devol and Joseph Engelberger invented the first robotic welder in 1962, it was not perfect. It was heavy and oversized, taking up a vast workspace in the plant. It was deployed to increase human safety and decrease the number of hazardous welding tasks such as spot welding.
As the time comes by, the role of robotic welders is growing. To step up into Industry 4.0 and head into Industry 5.0, more and more manufacturers are applying the concepts and principles of automated welding.
Features of Robotic Welding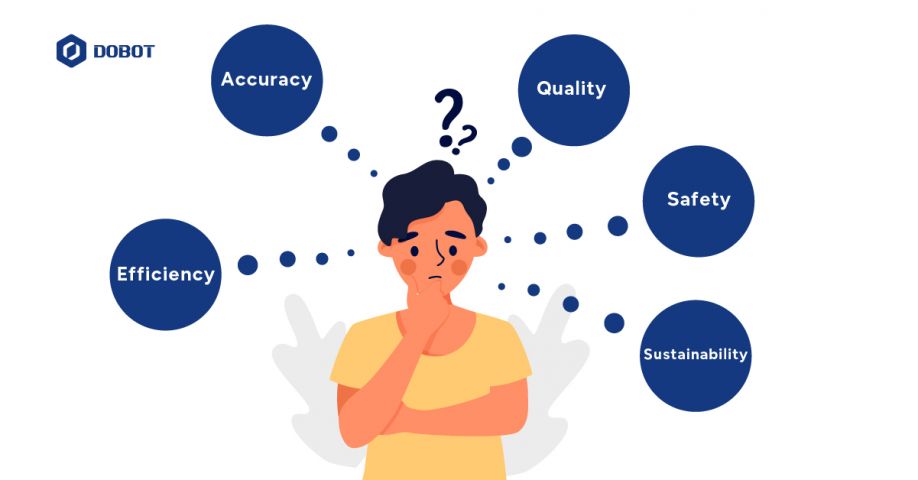 Cobots welding is time-saving and safe for workers. It prevents multiple hazards while workers can complete more complicated tasks, not requiring working in a hazardous environment.
1. Increasing Quality
One of the most critical features of robotic welding is increasing quality while decreasing the number of errors. Welding tasks are dangerous and overwhelming, requiring a high level of accuracy. Ensuring high precision of manual welding operation during 8 to 12 hours is almost unachievable. Hence, the number of human errors is growing due to the human factor leading to a decreased quality.
At the same time, manufacturers have a choice of robotic welding that keeps the quality and eliminates the number of errors. Operators can also control robotic arms remotely to ensure accurate welding processes.
DOBOT cobots are accurate in every weld task, including arc welding and laser welding. Our DOBOT CR10 robotic welder is responsible for arc welding demonstrating high-precision skills:
2. Growing Efficiency
Robotic welding enhances efficiency by reducing downtime to a minimum. Collaborative robots can optimize the cycle time of welding procedures by speeding up the process and making it consistent. Cobots are reliable friends; they are never tired, and they will definitely save extra costs in the long run.
3. Increasing Sustainability & Safety
Automated welders will protect workers from hazardous tasks, leading them to a sustainable future with cobots on board. Robotic arms are safe, eliminating the risk of inhaling toxic fumes.
DOBOT robotic arms embrace automation by providing sustainable and safe welding tasks.
There is only one step from robotic welding features to the implementation of cobot welders and their adoption by manufacturers. Let us further explore their diverse variety.
Areas of Robotic Welding Deployment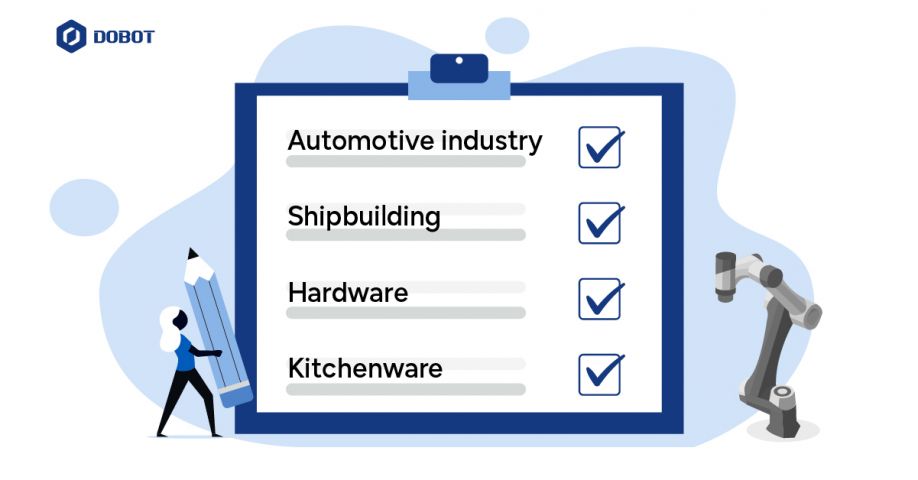 Today many businesses adopt robotic welding to meet the increasing demand for Industry 4.0. There is a wide variety of industries where cobot welders can be implemented.
Automotive Industry
One of the major industries for automated welding is the automotive industry. Having a significant production volume, the automotive industry benefits a lot from robotic welding. Various auto parts such as pumps and motors are suitable for cobot welding.
For example, DOBOT CR series cobots having a payload from 3 to 16 kg are applicable for robotic welding as they are precise and reliable. Discover more features of the 6 axis robot DOBOT CR series:
Shipbuilding
Shipbuilding has vast opportunities for robotic welding deployment. Cobot welding ensures the high quality of massive vessels for the navy. For now, it is challenging to find skilled welders. Thus, automating weld operations to become more competitive in shipbuilding is today's basic need, not a wish.
Kitchenware
DOBOT robotic arms apply to laser welding in kitchenware. The traditional welding of stainless steel kitchenware is tiresome, while robotic welding has an excellent surface effect along with the cost reduction for surface polishing. Laser welding can combat cumbersome challenges and improve welding equipment.
Robotic arms assist manufacturers in becoming more competitive and robust in the market.
Find out the perks of manufacturing optimization and explore robotic welding with the DOBOT CR series.
The content & opinions in this article are the author's and do not necessarily represent the views of RoboticsTomorrow
---
Comments (0)
This post does not have any comments. Be the first to leave a comment below.
---
Post A Comment
You must be logged in before you can post a comment. Login now.
Featured Product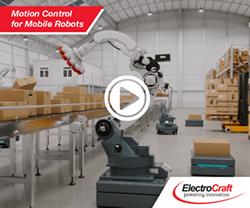 ElectroCraft is showcasing its award-winning mobile robot technology including their powerful and compact wheel drives, high-torque-density brushless DC motors, precision linear actuators as well as servo motor drive technology at a variety of conferences and tradeshows including the Boston Robotics Summit. Robotics Summit is the premier symposium for the sharing of ideas, technology, and market developments for robotic technologies across industries. Beyond a showcase and pitch of product, ElectroCraft is eager to participate in the collaborative discussion of challenges and opportunities that will shape the near and long-term robotic marketplace.