Mauser Packaging Solutions (Mauser) is a global packaging leader with over 180 facilities worldwide. Their team needed a solution for their 24/7 production schedule, which their existing AGV system couldn't meet.
Improving Uptime and Safety with Autonomous Mobile Robots
Case Study from | OTTO Motors
The Material Handling Problem
Safety, productivity, and uptime are equally essential success metrics in manufacturing facilities. With global demand increasing and the hiring and retaining of workers becoming more challenging, manufacturers looked to automated guided vehicles (AGVs) to ensure business continuity and safety in their fast-paced, 24/7 operations.
Mauser Packaging Solutions, a leader in packaging and container manufacturing, introduced AGVs into their Langley, British Columbia operation to help improve their material handling functions. But even with AGVs in operation, the Mauser team still struggled to meet their production goals.
The challenge for Mauser was that while AGVs could replace some human material handling functions, they could not make dynamic decisions based on what was happening on the facility floor and were not meeting uptime requirements. Mauser didn't want to make a trade-off between predictability and flexibility, so they switched to the OTTO 1500 autonomous mobile robot (AMR).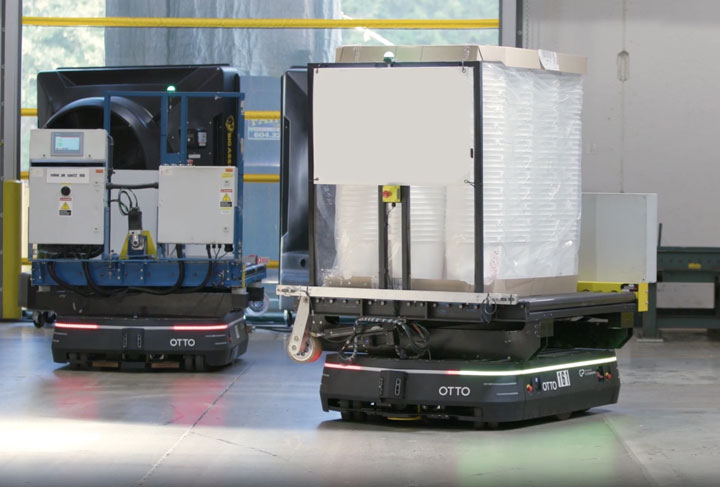 2 OTTO 1500s in Mauser's Langley facility.
The (Autonomous) Solution
Mauser started with two OTTO 1500 AMRs at their Langley, British Columbia facility supporting their 24/7 operation. The OTTO AMRs work seamlessly and safely alongside human workers moving materials through the facility.
The AMRs mission is to take rigid plastic containers from conveyor belts and transfer them to a packing station where they are stretch-wrapped. The AMR arrives at its pickup station and automatically loads the material. The AMR can safely navigate the floor to deliver the payload to a stretch-wrapper at the packing station before returning for a new load.
OTTO AMRs deliver intelligent flexibility with a simple-to-program interface in the OTTO Fleet Manager system. Dilip Bhulabhai, a production manager at Mauser, said that he was surprised at how easy it was to manage the OTTO AMRs.
"The OTTO is such an easy system to work with. I'm not that technical and don't use computers often, but I found that this system was easy to understand and navigate through." Dilip Bhulabhai
The Results
Mauser realized exceptional uptime and safety improvements with the OTTO 1500 implementation. They have seen a 600% increase in throughput since the OTTO AMRs were implemented. The derivation of this metric is based on the number of total missions OTTO completes before going to the charger during regular operation, and not the OTTO's maximum 13 hours run time. The traditional AGV system completed about 3-4 missions before going to the charging station, where it spent 25-30 minutes to charge enough to complete another 3-4 missions. A single OTTO AMR can complete up to 36 missions before going to the charger at about 70% of the battery level. The AGV system completed only 3-4 tasks before dropping to 15% of the battery level.
The results were so positive that Mauser has since deployed an additional two OTTO 1500 AMRs at their Oakville, Ontario facility.
Putting OTTO into operation has resulted in the following:
Three workers were re-allocated to higher value-added roles
Replaced two traditional manual forklifts
Improved safety by reducing manual forklift traffic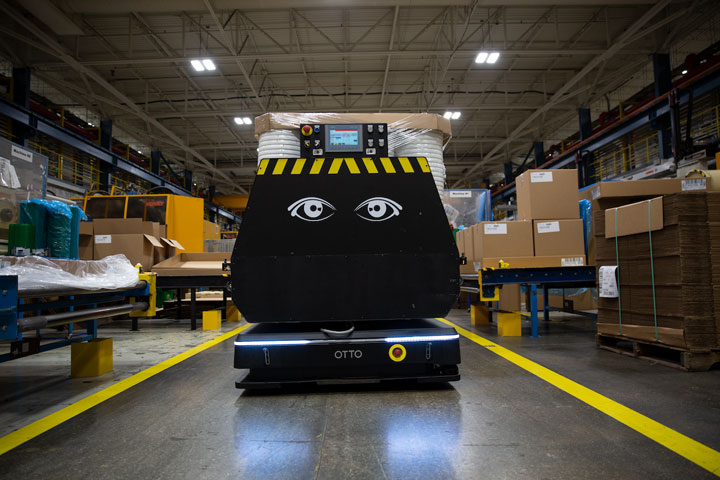 OTTO 1500 in Mauser's Oakville facility.
"No other AGV or AMR provider offered us the same uptime and productivity. OTTO is the only AMR that offers 13 hours of continuous runtime at top driving speeds of 2m/s with the highest payload rating. Another essential factor was OTTO's ability to be easily integrated and customized to fit our plant's specific needs and objectives." — Wojciech Tymczak, Corporate Automation Engineer, Mauser Packaging Solutions
The content & opinions in this article are the author's and do not necessarily represent the views of RoboticsTomorrow
---
Comments (0)
This post does not have any comments. Be the first to leave a comment below.
---
Post A Comment
You must be logged in before you can post a comment. Login now.
Featured Product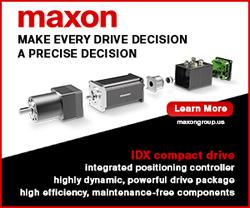 The compact brushless EC-i motor combined with an EPOS4 positioning controller delivers a highly dynamic, powerful drive package with field-oriented control (FOC), high efficiency, and maintenance-free components in a high-quality industrial housing. The maxon IDX drives are suitable for use across the entire speed range (from standstill to maximum speed) and have an extremely high overload capability. Together with a positioning controller, the integrated sensor (single turn) enables absolute positioning.