Here, Knight Optical – the leading supplier of metrology-tested, high-precision optical components – investigates the fascinating metaverse and explores some of the most recent advances.
Metaverse Companies: The World of the Virtually Limitless Possibilities
Article from | Knight Optical
There are big plans for the metaverse in the coming years, with many metaverse companies on the rise. It is set to revolutionise how we live, and there's so much confidence in the technology that the leading social platform, Facebook, rebranded itself to 'Meta', affirming its dedication to the immersive virtual world.
Here, Knight Optical – the leading supplier of metrology-tested, high-precision optical components – investigates the fascinating metaverse and explores some of the most recent advances.
The Evolution of Technology
When you consider modern-day technology, it's incredible to think of how far it's come in such a short period of time. Devices that were once deemed 'forward thinking' and 'top of the range' are now considered standard. For example, once awarded the 'coolest gadget' in the early 2000s amongst millennials, camera phones can now be found in the back pockets of most generations.
Another relatable instance for many is the smartwatch. Although the concept at its most basic dates to the 1920s, the modern features behind today's devices really took off in the early 2000s. While early 2010s models boasted features like heart rate monitors, later, newer devices have developed to pick up things like accidental falls.
These are just two ground-breaking technologies that have significantly impacted how we live. Now, we're heading into, what's been crowned 'the next big thing' – the virtual metaverse. And, like it or not, most of us will be using it in some way or another in the future.
What is the Metaverse?
In a somewhat contradicting approach, the metaverse aims to inject realism into a virtual world. Normally accessed through the means of headsets, which allows users to interact and participate in online experiences in real-time, the metaverse comprises elements like avatars (graphically designed to mimic your appearance), games and even has its own currency.
Essentially, the metaverse combines the virtual world with our sphere, eliminating the need for solely desk-based, screen-bound experiences.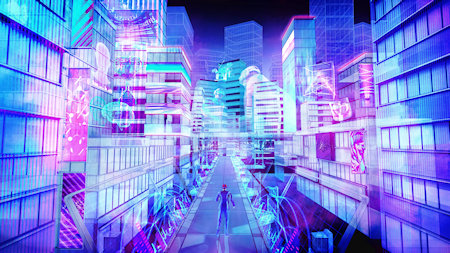 Who Uses the Metaverse?
Although it's currently in its infancy, more and more people are switching on to the benefits of metaverse-based experiences, and brands are attempting to figure out how to reach potential customers in the virtual world by transforming themselves into metaverse companies.
Let's explore how various industries are attempting to tap into the metaverse.
The Fashion Industry:
On-Trend Avatars
Focusing on avatars and personal identities, the fashion industry is filtering into the metaverse via passages like Idoru, an app that allows users to build up their metaverse identities with avatars that can reflect personal style.
Much like other metaverse companies – such as Roblox (arguably one of the most successful games in the virtual realm), which allows users to dress their avatars with stylish clothing from high-end names like Burberry, Ralph Lauren, and Gucci – Idoru plans to reduce the financial restrictions of wearing designer goods – albeit digitally.
Read more about Idoru and how the fashion industry is unlocking the metaverse here.
The Music Industry:
Spectacular Digital Experiences
We've mentioned one of the most-known names associated with the metaverse – Roblox. However, many other games also prevail in this realm, such as Minecraft and Fortnite, the latter of which has gone as far to host virtual concerts, such as the one by American rapper Travis Scott, which was remarkably watched by a whopping 45.8 million viewers across five shows1.
Likewise, away from Fortnite, American singer Justin Bieber also held a concert in a similar, metaverse-based method to release a new song in 2021. Returning back to Roblox, American rapper Lil Nas X has also been known to hold such performances, with his in-game concert racking up 33 million views1.
The Automobile Sector: The Metaverse is Stepping Up a Gear
Holoride: a mix of VR and AR
Of course, the automobile sector is starting to make its move into the metaverse sector. For example, Audi has positioned itself as one of the leading metaverse companies by releasing details on mixing virtual reality/augmented reality (VR/AR) with the real world with an 'Extended Reality (XR)' system, a mix between VR and AR. Named 'holoride', it is intended as an in-car, passenger experience, which is accessed via a headset.
holoride transfers the user into a game-style virtual world and shapes the user experience by taking into account vehicle data. This means the XR experience will be 'shaped' by the car accelerating, turning, and braking.
As well as keeping passengers occupied during long journeys, the XR experience has also been reported to reduce motion sickness. The whole experience has proved so successful that as of autumn this year, several Audi models have been made available with the technology.
Find out more about holoride, here.
The Metaverse on Wheels
Another example is by Swiss industrial deep-tech company, WayRay. Labelled the 'Metaverse on Wheels', the Holograktor is a high-tech True AR™ technology car that you can drive "conventionally" or remotely via VR remote control. According to the cutting-edge tech company, the Holograktor provides "a seamless connection between the real and virtual worlds through the windshield and side windows, thanks to WayRay's Deep Reality Display® technology".
Envisioning the future of travel, the Holograktor pushes the boundaries of technologically advanced design and even comes with armrests equipped with joysticks for gaming in the metaverse with other users.
What's more, when accessed via the VR headset, users have panoramic views of "the real world around the car thanks to sensors and cameras located on the actual car" (not pictured).
Learn more about Holograktor here.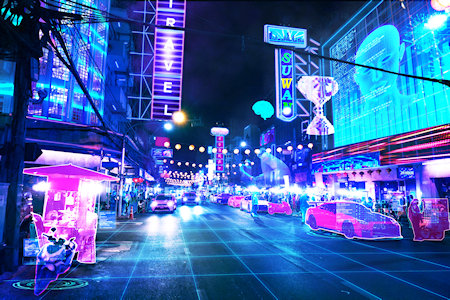 State-Of-The-Art Headsets
As declared, the majority of these metaverse experiences are accessed through headsets. With a discerning customer base – including gamers from Gen Z and the youngest generation, Gen Alpha; both of which have a shrewd taste for first-class technology – quality rules the roost in the world of headsets.
The concept behind these headsets, and the entire metaverse model, is to make the experience as realistic as possible. Alongside the software that allows metaverse companies' technology to transport its user into an alternate, virtual universe, there's also a range of hardware that goes into headsets', too.
Deep within these devices, sensors, batteries and, of course, the highest quality optical components are usually present. For example, lenses are generally the most prominent optics in the design of headsets; however, you can also find other optics integrated into their designs. Of course, every device has its own design, but they often incorporate optics such as Lightguides, Fresnel Lenses and Windows.
Alongside the final product, initial and ongoing prototyping and simulation-based studies also use a variety of different lenses to test visual elements, such as distortion, for example, in the finished device.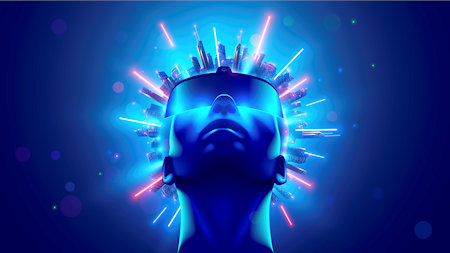 Why Choose Knight Optical for your Application?
Discerning customers rely on Knight Optical not only for the premium quality of our output and in-house state-of-the-art Metrology Laboratory and QA Department's capabilities but because – as well as a range of Stock Optics (available for next-day dispatch) – we also offer our optics as Custom-Made Components.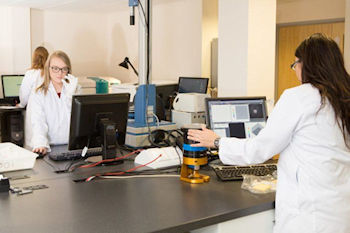 With over three decades' experience under our belt and a host of long-standing world-renowned customers on our books, we are proud to have worked on some of the most ground-breaking innovations.
The content & opinions in this article are the author's and do not necessarily represent the views of RoboticsTomorrow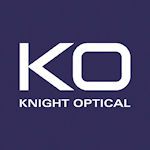 Knight Optical (USA) LLC
We are a trusted leading global figure in the production and distribution of scientific, stock and custom precision optics with over 30 years' experience providing optical solutions for a huge range of instrumentation in most industrial and research sectors, building strong reliable relationships. Our team supplies customized precision optical components in UV-VIS-NIR materials. No product is released to the customer until it has been examined in our advanced metrology laboratory.
Other Articles
Brace yourself as we dive into the top 10 incredible advancements that arose after 2020 and are radically changing the way we live, work and play.
Robotics and automation have greatly enhanced the development of oil and gas by improving maintenance and repair, production efficiency, and safety monitoring.
Optical components play a key role in the optimal performance of today's cobots, allowing them to see and respond to their environment in real-time and ensuring that they operate safely and effectively.
---
Comments (0)
This post does not have any comments. Be the first to leave a comment below.
---
Post A Comment
You must be logged in before you can post a comment. Login now.
Featured Product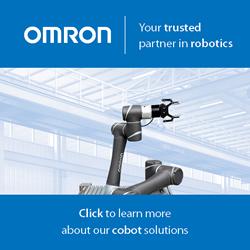 Humans and robots can now share tasks - and this new partnership is on the verge of revolutionizing the production line. Today's drivers like data-driven services, decreasing product lifetimes and the need for product differentiation are putting flexibility paramount, and no technology is better suited to meet these needs than the Omron TM Series Collaborative Robot. With force feedback, collision detection technology and an intuitive, hand-guided teaching mechanism, the TM Series cobot is designed to work in immediate proximity to a human worker and is easier than ever to train on new tasks.