Despite numerous acquisitions the mobile robot market is in fact not consolidating. More vendors emerge each year and more industrial companies are launching AMRs.
When Will the Mobile Robot Vendor Base Consolidate?
Ash Sharma, Managing Director | Interact Analysis
Despite numerous acquisitions the mobile robot market is in fact not consolidating. More vendors emerge each year and more industrial companies are launching AMRs. The combined market share of the top 10 and top 20 leading vendors barely changed between 2018 and 2020 and indeed dropped in 2021. Over the past six years of researching this industry, we consistently identify new players (both start-ups and existing companies from adjacent markets that now offer AMRs).
Fragmentation
Given the dramatic growth rates and huge variance in regional and vertical industry performance, further fragmentation of the supplier base looks likely – especially when considering the large number of current vendors and the continual emergence of new ones. As shown in the figure below, the top 10 vendors of mobile robots, captured just 36% of total industry revenues in 2021. Compare this to the more mature industrial robot market and there the top 10 vendors enjoy a 73% combined market share. The same figure for collaborative robot arms is even higher, at nearly 85%.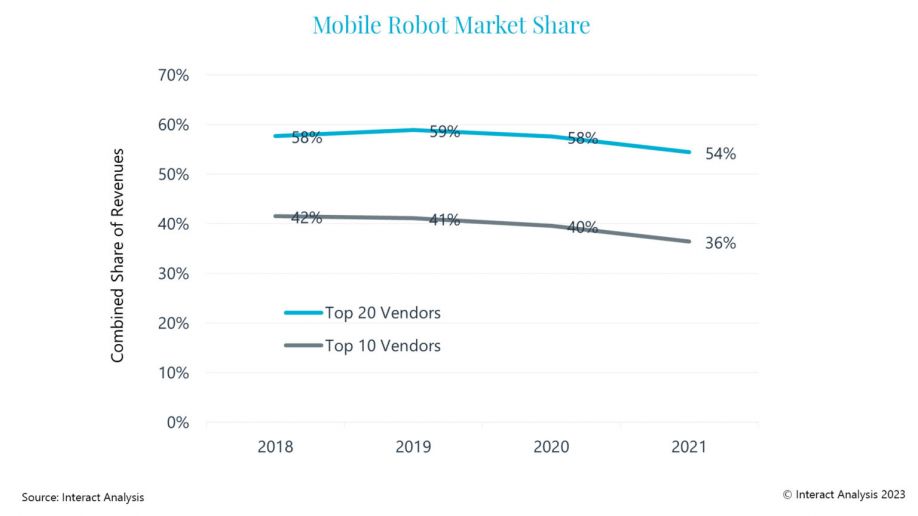 Start-Ups Grow Up
Many of the AMR start-ups from yester-year are now generating significant revenues (>$20m) having successfully expanded on pilots conducted in previous years. US-based Locus Robotics became the industry's first "unicorn" being valued at over $1bn following its $150m fund-raising round close to two years ago. Chinese rival, Geek+ has long been rumored to be planning its IPO (perhaps when industry and macro conditions improve), further highlighting how far these once-start-ups have come.
The slightly more established players have also seen their businesses grow to the next level. Having considerably expanded their customer and distribution bases, they are benefiting from customers installing larger numbers of AMRs as the technology becomes more proven.
Vendor Performance Varies Hugely
Part of the reason that the industry is not yet consolidating is the fact that "mobile automation" captures a multitude of robot types, industries and applications. From automated tugger trains on automotive production lines, through to mobile manipulators picking individual items in a fulfillment center. As such, vendor performance varies hugely, and often has little to do with their strategy, product or performance but more to do with riding the waves of their industry sector.
Overall revenue growth rates for vendors ranged from ~150% to negative 50% in 2021. How a vendor performed was largely linked to the main end industries and regions they were exposed to as well as the type(s) of mobile robot they offer.
What does the Future Hold?
Major industry consolidation appears unlikely in the next 2-3 years. However, given the current economic environment and interest in mobile automation, it's likely some of the smaller players will try to 'cash in their chips'. At the same time, we are also likely to see even more vendors emerge over the coming years. The net result will likely be neither consolidation nor further fragmentation.
Some high profile and leading AMR vendors have been acquired in the past two years (notably Fetch Robotics and ASTI Mobile Robotics). However, both were acquired by companies without an existing mobile robot portfolio, so this did not help consolidate or concentrate market revenues. There have been examples of mobile robot companies acquiring one another. In September 2021, Locus Robotics acquired Waypoint Robotics. And late last year Teradyne announced the merger of its two mobile robot acquisitions (MiR and AutoGuide). At first glance this may indicate market consolidation, but on closer inspection it shows this M&A activity was somewhat insignificant as AutoGuide and Waypoint combined accounted for less than 1% of total industry revenues at the point of acquisition.
Future acquisitions look likely, particularly from industrial companies wishing to capitalize on the high growth and margins seen in the mobile automation sector. However, our expectation is that this would come from companies not already active within the sector.
Other potential buyers could be retailers or logistics companies (a lá Amazon/Kiva) or larger warehouse automation system integrators (the likes of Dematic or Honeywell Intelligrated). But in our opinion that seems unlikely and unwise at this time. With so many different mobile robot vendors and technologies out there, acquiring a single AMR company today brings little value and puts all their eggs in one basket. Instead, it would be far better for a retailer or logistics company to be able to buy from multiple robot companies, choosing the best-in-breed for the task at hand. Similar for a system integrator, it would be far more compelling to be able to offer its customers the technology from several robot vendors (assuming they can get distribution agreements) rather than from a single one it had acquired.
Of course, being able to take advantage of using AMR technologies from multiple vendors does come with its own challenges – most notably mixed fleet orchestration. But that is another topic entirely!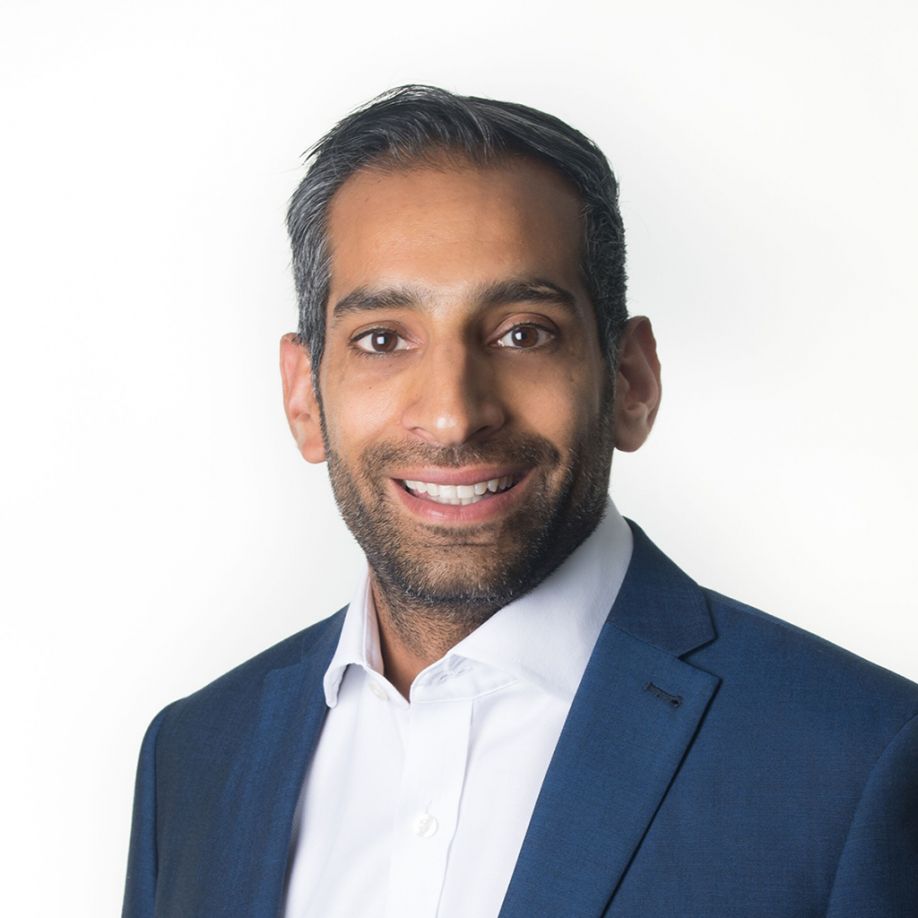 About Ash Sharma
Ash is the MD of IA and lead for our Robotics and Warehouse Automation Division. He brings 20 years of experience to the table in sectors ranging from industrial automation and smart manufacturing to drones, robotics and medical technology.
The content & opinions in this article are the author's and do not necessarily represent the views of RoboticsTomorrow
---
Comments (0)
This post does not have any comments. Be the first to leave a comment below.
---
Post A Comment
You must be logged in before you can post a comment. Login now.
Featured Product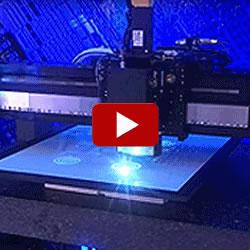 A traditional gantry system employs X-Y or X-Y-Z range of motion. Mounted on a base plate, usually granite, 2 parallel rails constitute the synchronized Y axis motion while the cross axis (bridge axis) provides the X motion. A vertical axis can be added on the bridge for the Z motion. A Split Bridge system can be less complex than a traditional gantry system because synchronization of the two parallel linear motors is not required. Both systems are used in industrial production, testing, and additive manufacturing.