Selecting the right AI-powered automation for your e-retail warehouse or parcel fulfillment center is an important decision with long-lasting implications.
10 Key Questions to Evaluate AI-Powered Automation
Article from | Kindred AI
1) How long has your tech company been in business?
The tech industry is a fast-paced world. Many companies with novel tech ideas today will be gone tomorrow. Be sure you select a technology provider who will be around to service your investment for the life of the technology.
2) How long has your product/solution been used in the field?
Technology that works great in an ideal lab setting, or demos well on a tradeshow floor, doesn't always deliver under real-world conditions. Be sure to understand what stage of development the technology is in. Being a beta-tester can have advantages in shaping technology to better meet your specific needs, but you should know this before purchase.
3) Have you worked with any customers/brands that I'm familiar with?
It's one thing for a company to say they have customers using their technology; it's another to verify it with a testimonial or case study. Knowing which companies have invested and benefited from it will give you a lot more insight that you can apply to your business situation to make a more informed purchase decision.
4) Do you have proof points that demonstrate your AI gets smarter over time?
Automation powered by artificial intelligence should help improve key performance indicators over time as the AI learns and becomes smarter, faster, and more efficient at its task. Ask companies to provide examples that demonstrate how their AI performs over time to be sure the algorithm learns and advances.
5) How do you guide customers through an installation?
Adopting new technology always comes with a learning curve. Whether it's upgrading to the newest smartphone or incorporating an INDUCT workcell into your warehouse, the amount of support you get learning the new system can play a major role in its success. Ask providers how this process works, especially for any employees that will be interacting with the system.
6) Do you provide any ongoing support after the purchase?
AI-powered automation is rarely 100% autonomous, so be sure to understand what type of support the company provides after the equipment is installed. Most systems also yield incredible amounts of data that can identify opportunities and bottlenecks but can take time to mine for insights, is there support for this?
7) Can I customize data dashboards to meet my needs better?
While all businesses have similarities, they all have unique differences as well. For some companies, the ability to customize data dashboards or reports to meet specific needs is vital, so be sure to understand capabilities upfront.
8) How long will it take to generate a return on the investment?
Unlike automation alone, AI-powered solutions often reap financial rewards faster because the system improves KPIs year-over-year. Different companies also offer different cost models, which can range from a traditional capital expense to Robots as a service (RaaS). Ask the provider if they can estimate the ROI for your business needs, and let them crunch numbers for you.
9) Does your company have strong financial backing?
Financial stability is an important assessment, especially for new emerging technologies. If you are beta-testing something new, will the company be able to afford updates to the system if things aren't going well, or will you be left paying the haul-away fees if they go belly-up?
10) Do you have any other innovation in your pipeline?
The technology world is full of one-hit wonders. Asking companies about their innovation funnel will you assess which ones will be here for the long haul and what other areas of your business they can potentially help with in the future.
The content & opinions in this article are the author's and do not necessarily represent the views of RoboticsTomorrow
---
Comments (0)
This post does not have any comments. Be the first to leave a comment below.
---
Post A Comment
You must be logged in before you can post a comment. Login now.
Featured Product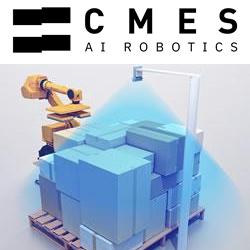 Powered by AI, CMES Robotics enables 3D vision for factory robots. CMES AI vision software enables robots to recognize unstructured, flexible, or deformed objects, pick them up, and loading and unloading. CMES Vision software has been deployed worldwide for random palletization and depalletization along with void filling applications. CMES Robotics automates your warehouse, logistics, and supply chain. For more information, please visit: cmesrobotics.com or email info@cmesrobotics.com.