Robotics simulation can be defined as a digital tool used to engineer robotics-based automated production systems. Essentially, robot simulation employs a digital representation to enable dynamic interaction with robot models and machines in a virtual environment.
How Simulation Can Secure Your Robotics Investment
Stephane Rolland, Robotics Roles Portfolio Director | 3DS DELMIA
It might sound like something from the realm of science fiction – but robots and robotics are transforming the production landscape. Robotics simulation has steadily evolved to keep up with the growing capabilities of industrial robots.
Robotics simulation can be defined as a digital tool used to engineer robotics-based automated production systems. Essentially, robot simulation employs a digital representation (or a digital twin) to enable dynamic interaction with robot models and machines in a virtual environment. Robot an automation simulation aims to bring automation systems online much faster and initiate production with fewer errors than conventional automation engineering.
In this article, we chat with Stephane Rolland, DELMIA Robotics Roles Portfolio Director, to find out how Dassault Systemes is using its innovative and pioneering 3DEXPERIENCE platform to improve capability, lower cost, and boost production.

Why do we need robotics simulation?
DELMIA customers use robotics to help facilitate the manufacturing of just about everything. The activities involved in manufacturing products includes Robot simulation, and we are fully dedicated to simulation in the virtual world with a virtual model. Robot simulation is used to complete the robot work cell or complete the robot line to produce the end product.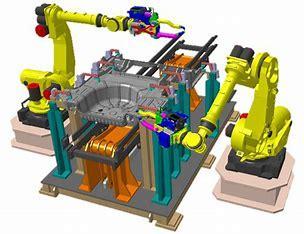 Image source: DELMIA Robotics - Bing images
What size companies would benefit most from robotics?
Robotics can benefit a wide range of companies, from small companies using one robot to larger companies, such as OEMs (Original Equipment Manufacturers) using multiple robots throughout a plant. It could be possible to have a company with only one or several on the shop floor. The DELMIA Robot simulation tools simulate the production scenarios before physical implementation. This ensures everything progresses smoothly and the automation process can be introduced successfully.
Robot simulation can be applied to many aspects, whether the plant has one robot to do the work, or the enterprise is an extensive global OEM or manufacturer.
How can robotic simulation save costs?
Ultimately every business wants to know how they can save money. One way to achieve this is to use robotic simulation. However, some significant things need to be considered, namely the shop site and the time it takes to produce one product or a set of products.
When a company sets out to invest in a robot, they want to know how this can impact its production. It's essential to establish whether investing in robotics will allow you to secure your return on investment. Therefore, it's crucial to have peace of mind that the robotics you install will be able to produce the number of products you expect, to allow you to reach your productivity goals.
How can robotic simulation increase capability?
This is where robotic simulation plays such a significant role. Thanks to the ability to Test the Robot cell before it's built, and before it is used, we can help the client establish whether the robot can produce the specific part in the exact time available.
"We are now able to address most robotics processes in the 3DEXPERIENCE platform, especially as its expanded to a platform mobility solution. There's also the increased capability that robotic simulation offers. We can calculate the power consumption of the robot, any device, or production cycle-- where a compromise can be found between the power consumption and the robot performance. Thanks to robotic simulation, we are able to evaluate and implement changes to ensure a different scenario or outcome. This all helps us to plan the best protocol for the production," explains Stephane.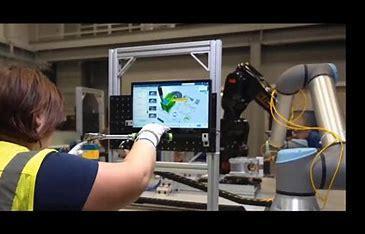 Image source: DELMIA Robotics - Bing images
How do we ensure safety with robotic simulation?
Tooling and equipment designed around the robot or robots is never the only consideration. You might also have tooling in front of the worker and some grippers to grab the part. This is complex equipment, and we have to be sure that, when in motion, the equipment does not collide.
The scenario has to be designed clearly and correctly to ensure that there will not be any collision between this equipment. This includes incidents between the product being manufactured the worker, and the production line. There is a way to ensure that there are no collisions, which lies in validating the design of the tools and process before producing it.
The simulation provides time to discover any flaws in the design. Because you have to modify it directly on the shop floor, it takes additional time to rectify these problems. Therefore, it's better to confirm the design in many areas before the equipment's manufacturing commences and placement for layout optimization takes place.
Why is layout optimization important?
"When we talk about layout, we are talking about the different devices in the work cell. This is where you can decide: where will the robot be? Will it be tooling in front of a worker? It's considerably easier and more efficient to move the robot 10 or 20 meters back during the simulation testing than to have the worker discover that during a real-time physical scenario, the robot is too far or too close in the shop row for the job at hand," explains Stephane.
What is Point Cloud, and how can it improve the efficiency of robotic simulation?
DELMIA can also works with a scanned Point Cloud image, so we can scan images into DELMIA and have this Point Cloud data available to guide our robot simulations. Point Cloud scanning uses a 3D laser scanner to capture different points, measuring an area. The robot simulation team can quickly generate a Point Cloud with mobile mapping devices to capture dimensions, size and layout data.
Because it takes too much time to modelize in 3D an existing environment, this Point Cloud information can be given to the robot inside to determine if there is enough space for it to work in the existing setup and beyond
"This capability is very easy to use. It might be possible to keep the design, or you may have to redesign everything or run through different robot models to see which is best suited for the specific task. You can do that in half an hour on your phone. With Point Cloud, you can use the information gathered in the scans to test beyond what has already been designed," explains Stephane.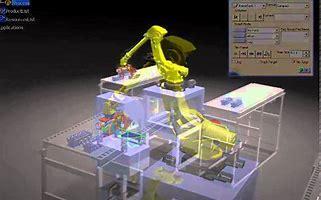 Image source: DELMIA Robotics - Bing images
What is Virtual Commissioning?
Virtual Commissioning is of capability commissioning the system using robot simulation. For instance, it's used to find the installation point on the connection between the equipment to ensure the equipment and the whole line work seamlessly together. It's done on a computer by managing the complete work cell. It is possible to do commissioning on every piece of equipment in the robotic or cell, including the PLC (programmable logic controller). This provides complete validation and total peace of mind.
Virtual commissioning is carried out on all the programs used to run the system, including the robot and the PLC program and all other equipment. If something new is detected in the work cell, we will be able to confirm that it works well.
Humans can't validate everything in an actual physical setting, so we require a simulation. With that, we can validate everything to ensure every movement on every machine around the robot is executed correctly. This also allows for an early start on production because it is possible to create the entire work cell program as well as the PLC program, while having all this equipment available in the virtual work cell. It's also critical to validate the robot's trajectories.
Everything you have designed regarding movement is available directly from the virtual twin . This is done to avoid a physical collision. If a mistake were made in the PLC program, this would most likely cause some type of collision. In the real world, this would result in potentially serious damage to the equipment, which can have significant implications in cost, delays, and the downtime required to repair it. We can avoid this type of problem within a virtual setting by preventing collision and damage.
How important is training in robotic simulation?
Virtual commissioning allows the DELMIA robotics simulation to be used to train the operator to react – to operate the machine when everything is going smoothly, but also to respond in the event of failure. We can address all these scenarios with different types of training.
This is yet another important capability of robot simulation – providing targeted training for the operator before the equipment is available and up and running. DELMIA remains on the site until production begins, assessing and assisting with training where necessary.
Another consideration, for instance, is new products in the production line or integrating new options without any production interference, to establish whether it's possible to integrate this new value into the product. Now it is all about continuous robot cell improvement, so you don't have to interrupt production. This is a major benefit of a simulated scenario. If production can be improved, you can do that later on in the real robot as long as the improvement has been validated before simulation.
What can robotic simulation be used for?
There is so much potential regarding what robots can accomplish and how effective simulation can be. Some of the most important robotic processes include pick and place, lifting material on lines, machine tending as well as arc welding, spot welding, and using a robot to paint. Yes, DELMIA also simulates robot painting. It's fascinating to observe the precise process involved in painting to ensure that every surface is painted correctly, and the coverage is just right. Simulation can also be used in shot peening.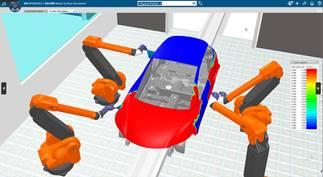 This image shows the paint thickness thanks to a color code
All of these processes can be achieved using simulation in a virtual world. These include some highly complex processes. The extraordinary effectiveness of DELMIA's robotics software has already been proven by many customers worldwide. However, this is just the tip of the iceberg; there are many more incredible applications and advancements in the pipeline.
How can you join the DELMIA Community?
At DELMIA, we place particular emphasis on providing our users with all the necessary support, training and guidance. For a wealth of information and advice and to keep up to date with all our exciting latest developments, be sure to join the exclusive DELMIA Virtual Factory & Robotics Community, where you can interact, ask questions or even share tips and tricks. Here you'll be the first to discover new products, functionalities and possibilities.
The content & opinions in this article are the author's and do not necessarily represent the views of RoboticsTomorrow
---
Comments (0)
This post does not have any comments. Be the first to leave a comment below.
---
Post A Comment
You must be logged in before you can post a comment. Login now.
Featured Product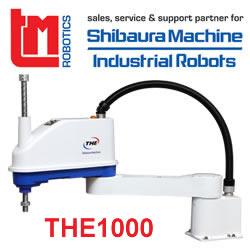 Designed for assembly and inspection applications in the electronics equipment and automobile components industries, the THE600 SCARA is a powerful automation tool. Advancing from the specifications of the existing THE400 SCARA, the THE600 has been developed to meet growing demand for fast-cycle automation. The THE600 model includes improvements in synchronised control and tracking precision. The THE600 is compact in design and offers improved high speed, with 60 per cent higher payload capacity than competing SCARA models in the same price range, making it the price-to-performance leader. Affordable price, impressive performance.