Perception Engine, provides mobile robots with advanced perception capabilities. It delivers a revolutionary way of learning an environment and performing localization, obstacle detection, mapping, free space detection and other, higher levels of perception.
AI-powered Perception Engine for Mobile Robots
Q&A with Amir Bousani, CEO and Cofounder | RGo Robotics
Tell us about yourself and what prompted you to found RGo Robotics?
The other founders and I saw first-hand how hard it was for machine and robot manufacturers to develop basic visual perception on their own. Most mobile robots today are 'blind' and unable to navigate intelligently in complex, real-world environments. Our technology changes this. Leveraging the most advanced AI and computer vision technologies and a world class team of over 50 experts, we allow mobile machines to see and understand the world around them so they can move autonomously, safely, and intelligently in any environment. Over time, we see this unlocking entirely new applications and uses for mobile robots.
Tell us about your AI-powered Perception Engine. How is it different from existing solutions on the market?
RGo's intelligent vision and AI system, Perception Engine, provides mobile robots with advanced perception capabilities. It delivers a revolutionary way of learning an environment and performing localization, obstacle detection, mapping, free space detection and other, higher levels of perception. Spatial and perception data are presented as layered maps, allowing easy and intuitive utilization of information over the API. It provides all the layers of information a robot needs to be able to move in complex, real life environments. The data is also valuable to higher level systems including fleet managers and WMSs.
Currently, most AMRs and mobile robots rely on 2D LiDAR laser scanners for localization and obstacle detection. These scanners see just a slice of the world, at the scanner height, and so it is not surprising that they fail when there are too many changes in the environment, too much movement, or when objects are above or below the scanner height (e.g. forklift forks).
Perception Engine creates true, 3D robotic perception, using cameras to see and memorize the environment.
One of the biggest values of Perception Engine is its ability to lower the total cost of ownership. One of the impediments to deploying AMRs today is the complex and time-intensive setup process, requiring skilled talent and multiple days of field installation. Perception Engine quickly learns an environment and automatically creates the localization map. And, importantly, it continuously updates it throughout changes in the facility or the equipment. This is a game changer because it eliminates a costly and disruptive remapping process.
What new types of mobile robots and applications is your solution enabling?
We are targeting robotic manufacturers in a broad range of markets. The applications for Perception Engine are nearly endless. AGV/AMRs in logistics and manufacturing, outdoor robots, service and delivery robots in commercial and consumer markets are all great fits. Any mobile robot with wheels can benefit from our solution, and we hope to be the leader democratizing human-level perception for robotics. In fact, I believe the largest robotic applications of the future will be the ones we haven't imagined yet.
We are also seeing demand for non-robotic machines like forklifts by helping the driver navigate, reduce accidents, and collect valuable data while the machine is driving. Perception Engine can address those needs effectively as well as support semi-autonomous models like teleoperated machines or ones that operate in a hybrid model. Location and perception allow these machines to be smarter and perform their job more efficiently.

Can you share with us any use cases with your solutions?
Our first customer engagements are on different types of mobile machines, including outdoor machinery, industrial automation, logistics, forklifts, service robots and more. Some have been for robotic applications, and some for man driven machines. So far, we have secured several customers and closed over $12M in customer deals. The design wins are with global, market leading robot OEMs.
We recently announced a partnership with Capra Robotics and I think they are great example. Capra is pioneering what they call interlogistics which bridges the gap between indoor and outdoor logistics. Existing localization and perception technologies work either indoor or outdoor, but not both. Perception Engine operates robustly in both environments to enable seamless operation throughout both.
A main driver for the demand we are seeing is from robot manufacturers that have tried to do it themselves but struggled to scale or to achieve high reliability in complex and dynamic environments which, inevitably, exist in most real world deployments. By working with us, they accelerate time to market with their product and are able focus their development teams on their core competencies at the application level.
What do you see as the biggest challenge facing the industry over the next 5 years?
In terms of the mobile robotics industry, I believe interoperability will be a major challenge. In larger logistics and manufacturing deployments, end users are deploying mobile robots from multiple vendors. For G2P, they are deploying AMRs from robot manufacturers specializing in this application. But for heavy pallet handling they are using autonomous forklifts and tuggers from different manufacturers. Having multiple maps, coordinate systems, fleet management tools, and WMS/MES integrations is creating complexity and considerable costs. A big advantage of RGo's solution is that it creates a unified localization, map and perception stack that can be shared across multi-vendor fleets.
What is your vision for robotic perception in the future?
Our vision is to enable any machine to move autonomously in any environment with what we call Intelligent Autonomy. AMRs have come a long way from the basic line-following capability of a traditional AGV. But they are still awkward and are not '5 nines' reliable, especially in dynamic and changing environments, and around humans and moving objects.
Better visual perception and 'context' is needed for mobile robot behaviors to become human level. For example, Perception Engine can detect texture and color, and is able to distinguish between the edge of a surface or line. This enables an AMR to precisely navigate along a marked path, just the way a human would. And when a human or other moving object (e.g., a forklift) enters the intended path, the higher levels of the perception stack will direct the robot to dynamically update its path to naturally steer clear. This is an example of the behavioral intelligence that will mark the next wave of innovation that we are enabling with mobile robot manufacturers. In addition, our attractive cost of ownership will allow AMRs to bring ROI to smaller customers and entirely new, more price sensitive applications.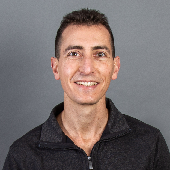 About Amir Bousani
Amir Bousani is the co-founder and CEO of RGo Robotics which is pioneering an artificial perception technology that enables mobile robots to understand complex surroundings and operate autonomously just like humans. Prior to founding RGo Robotics, Bousani lead the Advanced Technologies and System Innovation Groups at Intel RealSense.
The content & opinions in this article are the author's and do not necessarily represent the views of RoboticsTomorrow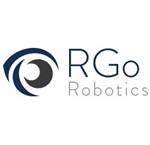 RGo Robotics
RGo Robotics is pioneering an artificial perception technology that enables mobile robots to understand complex surroundings and operate autonomously just like humans. Patent-pending computer vision and AI technology comprise Perception Engine, which runs on ultra-low-cost, low-power hardware.

---
Comments (1)
Great article! The development of an AI-powered perception engine for mobile robots is truly fascinating. The advancements in artificial intelligence are revolutionizing the capabilities of robots, enabling them to perceive and interact with their surroundings in a more intelligent and intuitive manner. If you're as intrigued by this topic as I am, I invite you to visit my website https://www.consegicbusinessintelligence.com/robotic-process-automation-rpa-market to delve deeper into the latest developments in AI, robotics, and related technologies.
Post A Comment
You must be logged in before you can post a comment. Login now.
Featured Product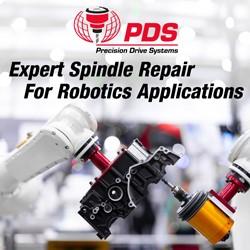 Precision components machined by CNC robot machining systems require compact, lightweight, and high-speed motorized spindles capable of delivering higher efficiency, performance, and reliability than those used in many other industries. That's why manufacturers of milling, cutting, trimming, grinding, polishing, and deburring trust Precision Drive Systems (PDS) to provide accurate and dependable spindle repair to perform to the most exacting standards.