Their biggest challenge and opportunity for automation was the manual, labor-intensive tube rolling process. Because each chiller was a customized product, there was no single standardization to the hole patterns—adding to the complexity of a potential automation process.
Trane® Saves Over 80 Hours of Robot Programming Time
Case Study from | Robotmaster
The Customer
Trane® – by Trane Technologies a global climate innovator – established in 1885 by James Trane in La Cross, WI, is a leader in sustainable heating, ventilation and air conditioning (HVAC) solutions. Together with his son, Rueben Trane, they developed the first low-pressure steam heating system. While, Trane has multiple manufacturing facilities around the world, it is most recognized for its La Crosse facility which manufactures the CenTraVac® water-cooled chillers, ranging from 200 to 4,000 tons in cooling capacity. For over one hundred years, Trane has been both a pillar and leading employer of the La Crosse community, a population of ~60,000 people.
The Challenge
Trane chillers are highly-customized products, engineered to meet multiple customer specifications. These high-mix custom products require extensive manual labor. In a small rural community, it can be difficult to recruit and retain a skilled labor force. According to Doug Watkins, Senior Welding Engineer at Trane, "A study of the labor environment currently and the projected labor force in our area for the next 30 years made the automation implementation a core strategy." Trane implemented three welding cells using Fanuc robotics systems. As a result of this initial investment into automation, they were able to overcome the skilled labor shortage gap and benefit from an overall reduction in operating costs.
However, their biggest challenge and opportunity for automation was the manual, labor-intensive tube rolling process. Because each chiller was a customized product, there was no single standardization to the hole patterns—adding to the complexity of a potential automation process. Using the Rapid Hawk Assisted Tube Rolling system, an operator typically manually rolled and trimmed thousands of tubes which is a very time-consuming operation. An additional challenge was identifying the missing tubes, which the operator had to inspect manually. Finding a missing hole in a bed of thousands of holes was like finding a needle in a haystack. And, because it was a manual inspection, there was no guessing how long the inspection step would take. This was a huge risk to missing Takt time (measures the average time interval between the start of production of one unit and the start of production of the next unit when items are produced sequentially) in the building process, leading to the risk of missed shipments.
Another reason Trane was hesitant to implement an automated solution for this tube rolling application was the intensive teach pendant programming time that this customized process would require. An operator would have to dedicate over 80 hours to the programming, all while keeping the robot offline, and out of production costing the company time and money with this programming process. The team at Trane agreed that the manual labor process along with the teach pendant programming was not sustainable and too challenging and time-consuming.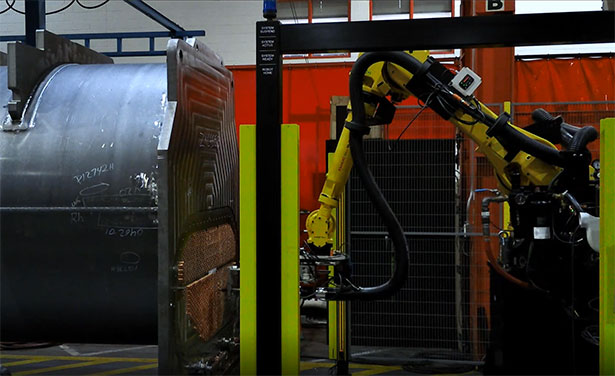 The Solution
At the International Technology and Manufacturing Show (IMTS), Chicago 2018, Doug noticed Robotmaster's offline programming capability. Cory John, Software Sales Manager, Hypertherm, was quick to give an overview and demo of the program. Their series of conversations after the show eventually led to an onsite meeting at Plant 7 of the Trane La Crosse facility. To better understand the robotic welding processes, challenges, and risks, the team also consulted with John Huster, President of Sofos Robotics Co., a trusted Robotmaster integrator partner.
Excited about the prospect of reducing programming time without taking the robot offline, Doug was quick to work with Sofos Robotics to implement the Robotmaster software in their welding cells. Further enhancing the benefits they reveled in by implementing the robotic systems, they were able to reduce the need for skilled labor and operating costs. As a result of a successful implementation and working with an experienced integrator partner Trane immediately saw the benefits and the potential to utilize Robotmaster software in other areas, including the tube rolling process. Excitement was phenomenal.
Within the software, Trane can import the CAD model of their parts, select the end points of the pipes, and use Robotmaster's auto paths to create the cycle routine automatically. Using Robotmaster's path optimization technology, the software can use a path ordering algorithm to ensure the robot is taking the most optimal path between holes, reducing the overall cycle time as demonstrated in the cycle time calculator feature.
Doug mentioned, "When we saw the capabilities of Robotmaster, we quickly jumped on it. Using the Robotmaster OLP method, it takes us 30 minutes to program the tube-rolling cell, without taking the robot offline. Using a teach pendant method it would have required 80+ hours of programming time."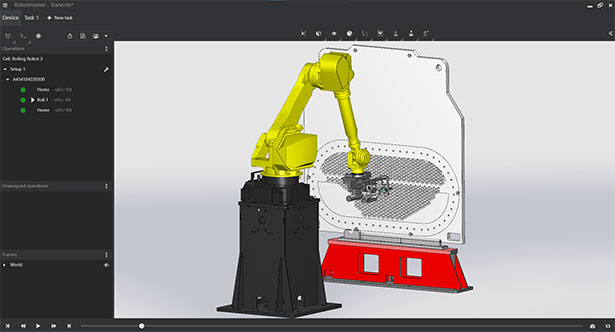 The Results:
Trane is seeing tremendous results from using Robotmaster. Robotic tube rolling has delivered benefits on multiple fronts. First, robotic tube rolling has replaced one of the most labor-intensive steps in the chiller building process. Their robotic systems increased their output by 50% with zero missed tubes. Trane is seeing ~38% improvement in their cycle time since implementing the Robotmaster OLP solution.
According to John Huster, "Robotmaster software goes beyond cell programming. We have been able to use it as an engineering tool that allows us to test different cell designs and perform workspace analysis to ensure we have the right robot and tooling for the job, like Trane's tube rolling process. In addition, we can more accurately simulate the process, allowing us the ability to resolve any issues before implementing on the production floor."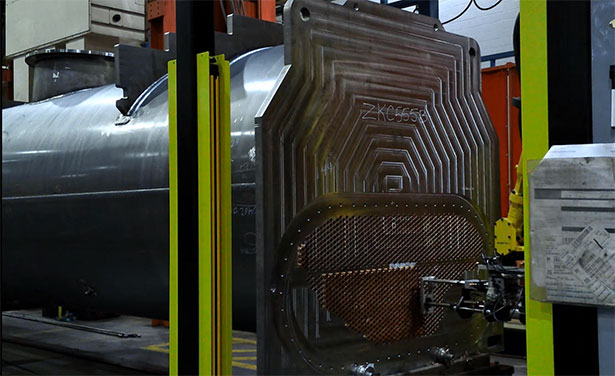 In addition to the cycle time improvements, the new robotic tube rolling system has created a safer work environment. With a manual process, human operators were exposed to flying copper pieces from the trimming machine. The automated process has eliminated this risk.
Finally, Trane has been able to soften the labor shortage pressure through robotic automation. They have been able to reskill/upskill tube-rolling employees to other functions within the organization. According to Doug Watkins, "Our automation strategy is focused on taking the long physically demanding labor times and creating opportunities for our operators to be more involved in the creative processes. My team is very creative, we dream up new ideas weekly and seek for opportunities to create a value-added system for our customers."
The content & opinions in this article are the author's and do not necessarily represent the views of RoboticsTomorrow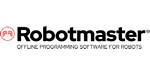 Robotmaster
Robotmaster, a Hypertherm Associates brand, is an offline, is an offline robot programming software that helps manufacturers maximize their robot's productivity with easy and efficient robot programming for a variety of applications such as cutting, trimming, milling, welding, spraying, polishing, sanding, grinding, deburring, and more. Robotmaster uses integrated CAD/CAM functionality to make robotic programming easy and intuitive for everyone, even first-time users.
Other Articles
We recently hosted a webinar titled: "Unlock Value-Stream Productivity with Robotic Cutting". During this webinar, we polled audience members. Our first question: Have you looked at automating fabrication tasks in the past. Most respondents said yes, they had, in fact, explored this.
Because there is more to automation than selecting a robot, working with a robot or system integrator can be extremely valuable to ensure the full robotic system is properly designed to achieve the desired results.
One of the strengths of offline programming (OLP) software is that it combines two powerful capabilities: simulation and programming. These two capabilities fit together like two perfect puzzle pieces when it comes to effectively programming robots offline.
---
Comments (0)
This post does not have any comments. Be the first to leave a comment below.
---
Post A Comment
You must be logged in before you can post a comment. Login now.
Featured Product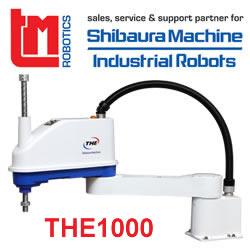 Designed for assembly and inspection applications in the electronics equipment and automobile components industries, the THE600 SCARA is a powerful automation tool. Advancing from the specifications of the existing THE400 SCARA, the THE600 has been developed to meet growing demand for fast-cycle automation. The THE600 model includes improvements in synchronised control and tracking precision. The THE600 is compact in design and offers improved high speed, with 60 per cent higher payload capacity than competing SCARA models in the same price range, making it the price-to-performance leader. Affordable price, impressive performance.