Ease of use will be prioritized, with user-friendly programming interfaces and modular designs, while industry-specific solutions and cost reductions will drive wider adoption across various sectors.
Bringing Robotics to Small Manufacturing
Q&A with | Kinova
Tell us about the company Kinova
Based in Montreal, Canada, Kinova has been building collaborative automation for over 17 years, for human assistance, surgical procedures, research applications and now helping to solve labor shortages and reshoring challenges in the industrial market. Kinova has a team of 240 employees and sells its technology in close to 40 countries. Its robots are used by organizations including Google and Johns Hopkins University. We have for mission to provide humanity with robots that empower them to achieve the extraordinary everyday.
You have a lot of competitors in the industrial space who are promoting their robots as "safe" and "flexible to deploy". Is this also true for Kinova's products?
At Kinova, we believe every application is unique and has specific safety and flexibility criteria to ensure success. Many manufacturers will strive to implement a collaborative robot solution on their own with the assumption that "safe" and "flexible to deploy" means that anyone can do it. This is often not the case. It is true that collaborative robots offer lower cost, smaller size, and easier programming, there are still many other variables which can quickly overwhelm a novice. Buyers need to consider safe and sturdy mounting arrangements for the cobot, how to interface with other production equipment, system networking, custom gripper arrangement, potential changeover arrangements for high-mix environments and safety risk assessments. We absolutely encourage our clients to be creative and bold with their automation discovery process, but to be careful and practical when it comes to deployment. A professional system integrator, or Kinova's dedicated Applications Team can be the differentiator between success and failure in your project.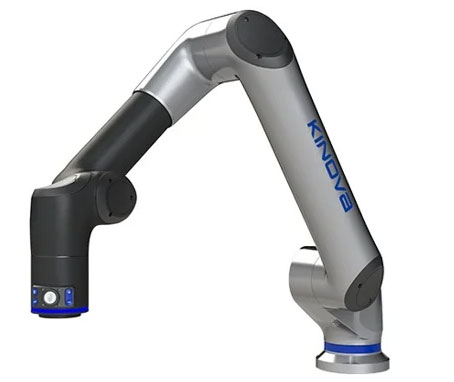 Kinova's Link 6 robot does incorporate speed-and-force limitation technology, which allows the robot to function in the same workspace as a human without risk of serious injury from the robot arm. Regarding "flexible to deploy", Kinova offers an intuitive tile-based programming interface, plus a hand-guiding option for point programming, plus off-the shelf plug-ins for a variety of different gripper types which help to simplify the redeployment in some processes.
What obstacles are slowing the adoption of robotics in North American manufacturing?
Larger companies already know the process and have either established their network of trusted integration partners or developed their own internal teams to handling manufacturing automation projects. For those companies the adoption of automation solutions is steady.
For smaller companies, the process is more challenging. They are typically not as well networked and do not know where to get information or who to trust. These are the companies who are hardest hit by labor shortages and also lack the technical staff to lead an automation investment project. So, the specific obstacles here are: limited understanding of how to automate, and no resources to guide them through the learning process.
At Kinova, we are attempting to reach those smaller companies and offer our complimentary services to educate them on the process and connect them with resources matching their specific needs.
What advice do you have for small manufacturing companies who want to perform their own robot installations?
First, if you are a company who strives to be competitive, sustainable, and profitable you should at least be evaluating the possibility of how robotics and automation might fit into your business. If this is not on your strategic development map then you will fall behind your domestic and international competitors.
Second, don't think of an investment in a robot as a one-time project. Automation and robotics are core to world-class manufacturing and should be thought of as a journey which has no end.
And last, don't underestimate what it takes to implement a successful project. Robots are installed in factories everyday, and unfortunately a percentage of those installations will not meet the company's performance goals. We've all heard a few stories about robots sitting in a corner because they couldn't achieve performance goals. Our teams and partners at Kinova can help you evaluate and plan your project for success.
Tell us about Link 6 and what level of expertise is required for the deployment of a collaborative robot like the Link 6?
The Link 6 was designed for ease of use and does not require advanced programming skills like traditional robots. Programming can be done through a graphical user interface or a manual point and teach mode. Both are very intuitive making our robots deployable by all regardless of robotic skill level or experience. We also offer advanced programming functionality for experienced code writers.
Why would you use a collaborative robot versus a traditional industrial robot?
Both of these robotic technologies have very unique features, and much consideration must be given when selecting the correct type of robot for a specific application. Collaborative robots can have the capability of direct human interaction without the need for fencing or additional safety devices. Ease of programming means less time spent in the development phase and can lead to a faster start up. The programming features also allow for the robot to be reconfigured and rapidly deployed to perform a multitude of tasks giving increased flexibility to manufacturers.
Does the Link 6 collaborative robot have any unique features that separate it from similar robots in the marketplace?
This is where Link 6 shines and there are too many to list in a short answer. Put simply, there are unique features that can be experienced by users with all skill levels. The wrist functionality and LED indicators make point and teach programming easy for beginners. Pass through wiring, a built-in camera option and stackable accessories make the set up of an entire cell easy for mid level robot users. Finally, the industry leading, powerful controller allows for advanced programming for demanding applications like high-speed vision and AI.
What has you most excited about the next 5 years in the world of collaborative robots and why?
In the coming years, collaborative robots (cobots) are likely to become more sophisticated, with advanced sensing and perception capabilities that enhance their interaction with humans and environments. They will increasingly integrate artificial intelligence, enabling quicker adaptation to new tasks and environments. Improved safety features and compliance with evolving regulations will make cobots safer for human interaction. Ease of use will be prioritized, with user-friendly programming interfaces and modular designs, while industry-specific solutions and cost reductions will drive wider adoption across various sectors.
The content & opinions in this article are the author's and do not necessarily represent the views of RoboticsTomorrow
---
Comments (0)
This post does not have any comments. Be the first to leave a comment below.
---
Post A Comment
You must be logged in before you can post a comment. Login now.
Featured Product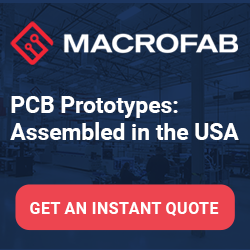 At MacroFab, we understand the challenges engineers face when searching for the perfect partner to bring their visions to life. Traditional overseas prototype factories may offer low-cost solutions but often have hidden compromises. Say goodbye to subpar quality, communication barriers, and frustrating delays - choose MacroFab for a stress-free, reliable, and professional prototyping experience.