Delta Line motors, particularly those in its rapidly expanding frameless range, offer exceptional power density and are well suited to meet the need for compact yet powerful motion solutions.
Case Study: Delta Line Motion System Solutions for Robotics
Case Study from | Delta Line Motion Systems
Robotics is a fast growing field with modern technology allowing the development of, for example, prosthetics with versatility and performance that only a few years ago would have been impossible to achieve, and robotic solutions in industry that can be readily and inexpensively programmed and reprogrammed to meet changing product and process requirements. Without exception, all robots depend on precisely controlled mechanical movement and, in very many cases, this is provided by motion systems solutions based on small motors.
Selecting the right motion system solution for a particular robotic application presents many challenges but Delta Line, a company that combines expertise with proven experience in this specialised field, is uniquely well placed to help.
Among the challenges faced by robotic system designers, one of the most frequent is the need to fit more and more into a very limited space. This is particularly true in applications like prosthetics where overall size is a crucial factor, but it also applies in less specialised applications such as industrial robots, where users expect ever smaller units to deliver more and more power. Delta Line motors, particularly those in its rapidly expanding frameless range, offer exceptional power density and are well suited to meet the need for compact yet powerful motion solutions.
Size is, of course, not the only factor. Typical robotics applications also require smooth motion, with minimal cogging or torque ripple and, in many cases, specialised feedback from devices such as absolute shaft encoders, to enable precise positioning. Motion solutions to meet these needs involve more than just the motor – they require complete systems including the drive electronics, feedback devices and, in some cases, a gear train.
Delta Line specialises in developing and supplying complete solutions of this type. The company's engineers work with customers to develop solutions that are optimised in terms of performance, reliability, longevity, size and cost. Such collaborations not only help the customer to produce a better end product, but they can also significantly reduce the time to market for new products as Delta Line engineers can call on their wide expertise to minimise development time, and the company offers a rapid response service for prototypes.
Because the market for robotic systems is growing so rapidly, it is served by a large number of manufacturers, which means that it is highly competitive. This inevitably means that cost is a factor when motion system solutions are under consideration. The very wide range of products in the Delta Line range, which includes frameless, brushless DC (BLDC), coreless and flat motors, means that the company can, in most cases, call on a well-priced standard product to meet the user's requirements. Should this not be possible, customising standard products is often an attractive and cost-effective alternative.
Fully customised motion system solutions developed from scratch to meet special requirements are also offered by Delta Line, and the costs are much lower than might be anticipated, especially as the company imposes no minimum order quantities or small order surcharges. It is also worth noting that a customised solution often leads to indirect savings: it may, for example, reduce assembly time or allow a smaller and less expensive housing to be used for the finished product.
The company's engineers are ready to help at every project stage, from the initial design stages to the provision of spares well into the future. And with a vast range of products to call on, complemented by proven expertise in robotics applications, customers in this sector can be sure that Delta Line motion solutions will meet and exceed their expectations at an affordable price, as the following examples illustrate.
Dual Arm Cobot
This application requires motion system solutions for five to seven axes, depending on the specification and model of the cobot. The motors had to interface easily with the customer's control system. Delta Line provided competitively priced frameless motors with ratings from 60 W to 180 W to meet the needs of all cobot models. Problem-free interfacing was guaranteed by supplying the motors with customised windings. Overall, the Delta Line solution enabled the cobot manufacturer to use fewer components in its products, and thanks to the compact construction of the Delta Line motors, it could accommodate them within the body of the cobot.
Drive System for Automated Guided Vehicle
To meet the requirements for a motion system solution for the main drive wheel of an automated guided vehicle intended for use in healthcare environments, Delta Line worked closely with the end user to develop a completely custom designed gearbox and housing. Delta Line supplies this as a complete and fully tested assembly, meaning the customer benefits from reduced logistics costs and faster, easier vehicle assembly.
Cobotic Arm
The arms in this application have either five or seven axis joint motors and require very high positional accuracy. Delta Line provided motion system solutions using flat brushless DC motors ranging in size from 45 to 61 mm. To achieve the high positional accuracy needed, the motors were equipped with encoders, and, as an added benefit, they were supplied with hollow shafts to accommodate the connecting leads. This arrangement saves space and ensures that the leads are well protected against mechanical damage.
In conclusion, the rapid growth of the robotics industry has driven the need for precise and compact motion system solutions that are reliable, affordable, and easy to integrate into various applications. Delta Line has established itself as a leading provider of such solutions, offering a vast range of products and extensive expertise in robotics. The company's commitment to close collaboration with its customers, from design to after-sales support, ensures that its motion system solutions meet and exceed customer expectations. With experience in various robotic applications, Delta Line has demonstrated its ability to optimise customised and standardised solutions for performance, reliability, longevity, size and cost.
More about Delta Line
Delta Line is a global motion solution manufacturer with product options ranging from individual motor, actuator, and gearbox offerings to fully customized motion systems. Our extensive portfolio includes brushed ironless and brushless DC motors, servo motors, integrated motors, stepper motors, linear actuators, gearboxes, encoders, and intelligent drives. Delta Line's unique corporate structure with headquarters in Switzerland and a subsidiary in Denver, Colorado (USA) combines several co-owned brands with manufacturing facilities on three continents, offering an optimal combination of production flexibility and personalized service, with direct, constant access to our expert commercial and technical engineering teams.
Delta Line defines its success by the success of its customers' projects. Design, manufacturing, and service work in synergy to generate the right solution for each engineering challenge.
The content & opinions in this article are the author's and do not necessarily represent the views of RoboticsTomorrow
---
Comments (0)
This post does not have any comments. Be the first to leave a comment below.
---
Post A Comment
You must be logged in before you can post a comment. Login now.
Featured Product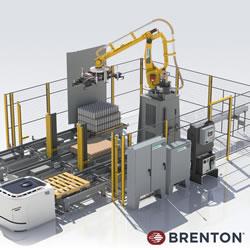 Brenton is a leader in robotic solutions with standard product offerings including palletizing and depalletizing for efficient an option for carrying hard-to-handle products, as well as larger scale systems with an optimized footprint; and case and carton loading solutions for numerous industries. In addition, Brenton works with customers on integrated solutions, offering robotics in a broad spectrum of robotics to fully integrate end of line systems. Brenton helps packaging customers protect their reputation and grow the trust of their consumers.