Manufacturing

Marketing Partner
---

ATI Industrial Automation
ATI Industrial Automation is a world-leading developer of robotic accessories and robot arm tooling, including Automatic Tool Changers, Multi-Axis Force/Torque Sensing Systems, Utility Couplers, Robotic Deburring Tools, Robotic Collision Sensors, Manual Tool Changers, and Compliance Devices.
---
Mailing Address:
1031 Goodworth Drive
Apex, NC 27539
United States of America
Tel: (919) 772-0115
Fax:
Email: info@ati-ia.com
Website: http://www.ati-ia.com
Company Category: Industrial Robotics
Geographic Region: USA - South East
Company Sector: Manufacturing
Keywords:
Partner Status: Marketing Partner
---
Products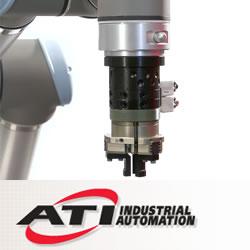 The ATI Robotic Tool Changer provides the flexibility to automatically change end-effectors or other peripheral tooling. These tool changers are designed to function reliably for millions of cycles at rated load while maintaining extremely high repeatability. For this reason, the ATI Tool Changer has become the number-one tool changer of choice around the world. ATI Tool Changer models cover a wide range of applications, from very small payloads to heavy payload applications requiring significantly large moment capacity.
---
Articles
Without tool changers, we have to manually detach the tool from the robot with bolts and thumbscrews, wheel the tool away on a cart, and attach a new tool the same way. This is tedious and not possible for one person to do by themselves.
The NSpect family of Non-Destructive Inspection (NDI) Systems from Genesis Systems Group is making quite an impression. By combining ATI End Effectors, KUKA Robots, and vast engineering expertise, Genesis creates more efficient methods of NDI that encourage safety and increase quality. Genesis' customers have confidence in NSpect Products as well–the company has integrated more than 30 NSpect Systems in the last five years.
We will feature four live robotic demonstrations and a variety of products on display in our booth. Our knowledgeable account managers will be on site as well to help with your specific applications.
---
White Papers
This Company does not currently have any White Papers
---
---