Manufacturing

Marketing Partner
---

Elmo Motion Control INC.
Elmo develops and manufactures cutting-edge servo drives and network motion controllers that are one-stop solutions for any motion control technology. As a leading global company with over 25 years of experience and millions of servo drives at work, we provide our clients with profitability and success. With a focus on highest performance, efficiency, reliability, safety, ease-of-use and standards compliance, Elmo's solutions are used by leading machine manufacturers in nearly every industry.
---
Mailing Address:
60 Amal St. P.O. Box 3078
Petach-Tikva, Staffordshire 4951360
Israel
Tel: 6038219979
Fax:
Email: jmclaughlin@elmomc.com
Website: http://www.elmomc.com
Company Category: Industrial Robotics
Geographic Region: USA - North East
Company Sector: Manufacturing
Keywords: robotics automation,Motion control, servo drives,
Partner Status: Marketing Partner
---
Products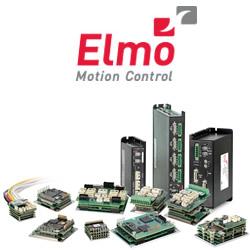 Gold Solo Triple Twitter is an ultra-high-current servo drive, capable of delivering up to 270A/60VDC, 240A/80VDC, 210A/100VDC and 100A/200VDC. The drive delivers up to 17 kW electrical power in a compact package (EtherCAT: 152.68 cm3 or CAN: 144.32 cm3). This advanced, high power density servo drive provides top performance, advanced networking and built-in safety, as well as a fully featured motion controller and local intelligence. As part of the Gold product line, it is fully programmable with the Elmo Motion Control language. The Gold Solo Triple Twitter is available in a variety of models. There are multiple power rating options, different communication options, a number of feedback options and different I/O configuration possibilities. The Gold Solo Triple Twitter can be used in a variety of industrial applications, including medical, robotics, semiconductors and material handling fields.
---
Articles
Booth #7729 - the new 4 In 1 servo drive that presents a complete motion control solution in the palm of your hand (We are unveiling it in this exhibition).
Elmo has doubled the power of its ultra-small, already powerful servo drive, the Gold Twitter, to suit the most demanding applications in the era of Industry 4.0.
---
White Papers
This Company does not currently have any White Papers
---
---