Manufacturing

Marketing Partner
---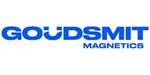 Goudsmit Magnetic Systems BV
Goudsmit is an international industrial company dedicated to the design and manufacture of magnetic systems for metal separation, recycling, transport, lifting, holding and demagnetization in various branches of industry. Like magnetic robot-end-of-arm tooling, sheet separators, lifting magnets and scrap conveyors for automated processes, system integrators and metal manufacturing. Goudsmit is driven by magnetism since 1959 so has a lot of knowledge and experience.
---
Mailing Address:
Petunialaan 19
Waalre, Noord-Brabant 5582 HA
Netherlands
Tel: +31 (0)40-2213283
Fax:
Email: info@goudsmitmagnets.com
Website: https://www.goudsmitmagnets.com/en/
Company Category: Factory Automation
Geographic Region: Europe - West
Company Sector: Manufacturing
Keywords: Goudsmit Magnetics: robot-end-of-arm-tooling
Partner Status: Marketing Partner
---
Products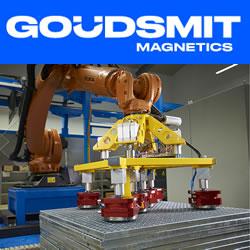 Magnetic robot end-of-arm tooling are suitable for the automated pick-up and positioning of steel or other ferromagnetic objects. They can be switched on and off and have a threaded mounting hole for robots. Magnetic grippers are an efficient alternative for traditional robot grippers. Application in automated production lines and for robots and pick-and-place systems. Magnetic product handling reduces the duration and number of operations. Goudsmit Magnetics is driven by magnetism since 1959. See how it works: https://youtu.be/hcXJ98mXHZE
---
Articles
The palletizing magnet design recently modified by Goudsmit Magnetics consists of modules that vary in design. The low-maintenance magnet is suitable for palletizing and depalletizing cans, aerosols, canisters and glass jars with steel lids.
---
White Papers
OPTIMIZATION OF MAGNETIC SYSTEMS THROUGH FINITE-ELEMENT MODELLING
Finite-element modelling (FEM) is a well-established means for system analysis and optimization that can substantially reduce product development time and costs. With this modelling tool the domain of interest is split up in small elements over each of which the fundamental physics equations are solved. For a company involved in magnetics such as Goudsmit Magnetic Systems it is important tool because of the ability of relatively accurately predicting the performance of its electro-magnetic systems. In this paper the FEM method, as currently applied at Goudsmit, is outlined in more detail and a variety of applications of this method are discussed, as encountered at Goudsmit.
---
---