Manufacturing

Marketing Partner
---

MMP Inc. / MIDWEST MOTION PRODUCTS, INC.
The Leader in Rapid Prototyping of High-Quality Motion Control Solutions. MMP is actively engaged in the design, manufacturing and distribution of standard and custom motion control equipment, including fully reversible brushed and brushless DC gearmotors, motors with failsafe brakes and servomotors with feedback devices such as analog tachometers and encoders. We also provide fully-sealed IP-65 motor speed controls @ 12/24/48 VDC, AC~DC power supplies and a wide variety of 12/24 VDC linear actuators. If you need a sample right away, we can be a project saving convenience for you. We provide more than 8000+ released DC Gearmotor designs with cost-effective solutions for robotics and automation companies. These designs are unique and custom-built to suit the specific application requirements of the motion control projects.
---
Mailing Address:
1000 Industries Circle
Howard Lake, MN. 55349
United States of America
Tel: 320-490-7060
Email: sales@midwestmotion.com
Website: http://www.midwestmotion.com
Company Category: Factory Automation
Company Sector: Manufacturing
Keywords: DC Gearmotors, Motor Controls, Actuators,
Partner Status: Marketing Partner
---
Products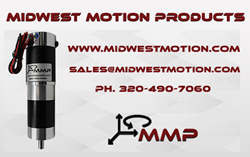 MMP specializes in supplying high-quality Brushed & Brushless DC Motors & Gearmotors for Robotics and Automation Equipment with a wide range of motor windings and gear ratios. With an impressive track record of more than 8,000 released DC Gearmotors designs and over 2,000,000 individual part numbers, we are renowned for our ability to handle large-scale orders. Due to our huge on-hand inventory, we are also well known for lightning-fast delivery of our standard products. We take pride in our dedicated customer service and our team of knowledgeable sales and engineering experts who are ready to assist you with custom design solutions tailored to your specific application. Additionally, we also offer a wide range of complimentary products, such as DC Motor Controls, DC Linear Actuators, AC-DC power Supplies, and DC Servo Amplifiers and others.
---
Articles
They had the perfect motor and the planetary gearmotor, but finding the right angle gearbox, positioned between the two, designed to their specifications was the challenge.
If the duty is continuous, that means the motor, if properly sized, will reach thermal equilibrium typically in about 20 Minutes of continual operation (possibly more, depending on the size of the unit).
---
White Papers
This Company does not currently have any White Papers
---
---